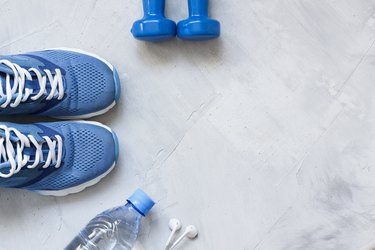 Staying active through exercise and daily tasks is a top priority for many seniors. And choosing proper footwear to help support these activities is critical. That's why the best shoes for seniors are ones that fit the foot, provide support and feel good while walking.
With that in mind, choosing the best footwear for walking will require some research and time trying different styles to see what fits the best. But before you head out to the store, there are a few things you should consider when it comes to the best shoes for seniors.
SeniorLiving.org, a website devoted to providing seniors and their caregivers with the best information regarding senior living options, recommends Propet Women's W3851 and Propet Men's Life Walker Strap Sneaker for active footwear that is easy to get on and off, provides extra support and has a sole that grips when you walk. Two other brands known for designing shoes for seniors are Hush Puppies and New Balance.
Beyond specific brands, there are several features to be aware of when choosing shoes. Footwear with a non-slip sole and no laces are top priorities when comparing shoes. You also want to look for ones that are soft, padded and breathable.
Guidelines for Choosing Shoes
Knowing what to look for in a quality shoe can be overwhelming, especially since there are hundreds of styles and special features available. The good news is, the American Podiatric Medical Association (APMA) has guidelines for choosing shoes for older adults with balance problems.
When shopping for your next pair of shoes, the first thing to do is press on both sides of the heel area. If the heel is stiff and doesn't collapse, the next step is to check for toe flexibility. Try bending the shoe to see how much it bends in the toe box area.
The less bend, the better fit for a senior. That said, it shouldn't be too stiff and inflexible either. The last thing to check is the middle of the shoe. While twisting the shoe, check to make sure it doesn't twist in the middle.
If you have questions or concerns while testing a pair of shoes, ask a fitting expert to help you determine if the shoe you're considering is right for you. Before you make any decisions, check for the APMA Seal of Acceptance for good foot health. This seal is given to the best shoes for seniors for walking, performing daily activities and other physical activity.
Special Considerations for Seniors
If you have any health or medical conditions that may affect the health of your feet or your ability to walk, consider talking with your doctor or a podiatrist about the best footwear for your needs. Chronic diseases and other health-related issues that may impact your feet or gait include diabetes, arthritis, osteoporosis, bunions, hammertoes and problems with balance and walking.
For back pain, knee pain and heel pain, the American Association of Retired People (AARP) suggests supportive footwear with cushioning under the heel. And if you have bunions, consider buying a wider shoe.
Depending on your arch type, the Mayo Clinic suggests buying shoes that accommodate low arch or flat feet and feet with high arches. For low arches, consider a walking shoe with motion control to stabilize your feet and look for cushioning to compensate for lack of shock absorption that comes with high arches.
The best shoes for older adults with balance problems should have a lower heel, come with non-skid soles, be more firm rather than soft and fit your foot at all times. To get the best fit, shop for shoes at the end of the day when your feet may be swollen. This will help ensure that you find footwear that can accommodate swelling throughout the day.