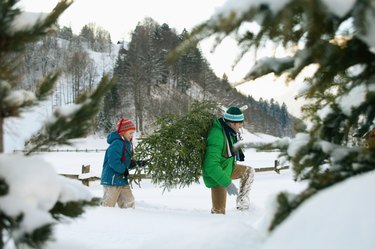 Walking in the winter is a great way to get a workout and warm up at the same time. In the winter, though, you need warmer footwear with better traction than your regular walking shoes.
When shopping for winter walking shoes, look for a hiking-boot style that provides additional warmth. Your biggest problem while walking in winter weather isn't always snow. Look for lightweight hiker-style boots with a low ankle or mid-height ankle that are waterproof or at least water-resistant, so that when you encounter slushy puddles, you don't end up with a shoe full of slush. A thick but not heavy sole that provides good traction will keep you safe on icy patches.
However, if you need more protection, look into purchasing leg gaiters to protect your legs from snow and wet, and crampons to keep you from slipping on ice.
Best Winter Walking Shoes for Women: The North Face Women's Yukiona Mid
Don't forget to bring socks of the same thickness and style that you'll wear during the winter with you when you try on winter walking shoes. If you think you'll wear two pairs of socks sometimes, then bring them both. It's an awful feeling to put on your new walking shoes only to find that they're impossible to lace properly because you have too many layers underneath.
Don't buy a shoe or boot that provides too much warmth. Since you'll be using them to walk a lot, you'll keep your feet pretty warm just by being active. It's better to get a lighter boot with a good sole and wear very warm wool or polar fleece socks, rather than a heavy boot with lots of insulation and only a thin sock.
If the shoes you select aren't waterproof, seal them with water sealer before heading out on your winter walks.
Winter walking shoes or boots can be purchased at sporting goods stores, outdoor adventure stores and online. The Walking Company has a variety of shoes on its website suitable for winter walking, as does Zappos.com.
While you can't try on your shoes ahead of time when you buy online, most online shoe stores such as Zappos will pay for shipping both ways if you have to return them for another size or style.
Best Winter Walking Shoes for Men: The North Face Men's Chilkat Evo II
Winter walking shoes range between $50 and $200 at sporting goods stores. Shoes with rubber "Hypergrip" soles for enhanced snow and ice protection as well as waterproof Gore-Tex membranes to protect your feet from water will typically cost $90 and up.