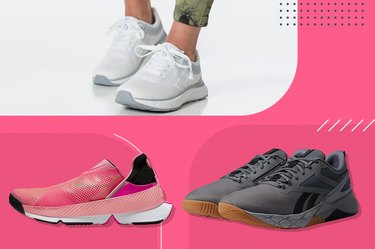 Not every sports bra or exercise short works for every body. And workout shoes are no exception.
While we still have a long way to go, more and more brands are producing adaptive workout shoes. Although pairs from brand to brand are different, they're built with features that cater to people with varying physical abilities.
So, if you're hunting for a pair of accessible shoes that can hold up through a tough workout and support your movement style, you're in the right place.
We chatted with James Norris, founder of Handi Capable Fitness, a Boston-based nonprofit dedicated to helping people with disabilities be active, to learn all about the best adaptive shoes. With his guidance, we made our picks based on criteria including:
Ability-focused features
Durability
Price
A Quick Language Note
We make deliberate choices about the language we use when it comes to gender. But because manufacturers typically market shoes according to gender, we've listed both women's and men's picks below.
However, the main difference between most men's and women's shoes is the shoe width and size. In some cases, men's shoes are built to support greater weights. So people with bigger bodies may want to opt for men's versions, whereas people with smaller bodies may prefer women's versions.
The FlyEase is a whole line of Nike accessible shoes and they're a great option for all workouts, according to Norris. These are also a good pick for those who struggle to bend over or tie their shoes, as these shoes require slipping your foot into the sneaker and pressing your heel down — then, the shoe slides seamlessly onto your foot.
However, the athlete does have to press their heel down in order to get the shoe on (you can use your hands, too), he says. So, if that motion is available to you, you can expect Nike-level quality, support and durability.
2. Billy Sport Inclusion TOO White Athletic Sneakers
Billy is an inclusivity-focused shoe brand with both casual and athletic pairs to choose from, according to Norris. And these athletic sneakers are perfect for jogging or cross-training.
Instead of a traditional lace closure system, these have a side zipper, making them easy to pull on and take off. They're available in two different widths and have removable inserts for extra comfort and support.
Nike Metcons are a fan-favorite strength training shoe, and Nike makes a Flyease version for people with varying abilities. While these do have a standard lace system, they're built with a collapsible heel, so you can slip them on without needing to bend over.
These also have a breathable mesh upper and a grippy rubber sole that helps you stay stable on your feet during quicker movements.
4. Reebok Nanoflex ParafitTR Unisex
As Morris mentions, easy on and off is a must-have for many people. And these Reebok sneakers check that box with the zip closure running along the entire side of the shoe. These sneakers also have a low-cut ankle for freedom of movement and mobility (but those who need more support may want a taller shoe).
The sole is made with a high-abrasion rubber that gives you plenty of traction and support. And they have loops on the zipper and heel for easy adjustment and grip.
5. Skechers Twist Fit: GO RUN Pulse
If you have narrower feet, zipper closures may feel a little too loose or roomy. Skechers' Twist Fit design helps solve that problem. These have a twist dial closure that allows you to tighten and loosen the shoe by turning the circular button on the side.
These sneakers are designed like slip ons, with a long-lasting cushion that's breathable and lightweight. The soles are made from Goodyear rubber, making them stable and durable.
3 Factors to Consider Before You Buy
Laces may not work for you, and these days there are many alternative options to tightening sneakers. Zipper closure is one system Morris recommends you look for, as they're easy to open and close.
But zippers aren't the only option. Some accessible shoes have a spin dial that allow you to loosen and tighten a shoe as much as you need. However, these do demand a little more fine motor controls to operate.
Velcro is another option but may not be the best for workout shoes, as velcro can be more easily loosened than some other closure systems.
And if a closure system isn't right for you in general, there are plenty workout shoe options that are slip on and don't actually require any fastening at all.
No matter what kind of workout you're doing, stability is a must-have. Morris recommends looking for a pair that has a grippy rubber sole.
A high-traction sole not only keeps you more stable but can also help you move more confidently during exercises that demand some agility.
Like Nike's line of adaptive shoes, you can find workout sneakers with a collapsible heel, making them easy to slip on without needing to bend over. For many of these, though, you do need to place weight on your heel to secure the shoe, Morris cautions.
Some shoes have a fabric loop on the heel to help you more easily pull them on. This can be a helpful feature for anyone who is able to pull on their sneakers.
Traction offers some stability on the ground but if you need more ankle or heel support, you need to look more closely. For extra ankle support, opt for a design that's a little taller with cushioned edges.
If you need some more support in the heel, look for a pair that has extra cushion in the back of the shoe to help your foot stay in place.