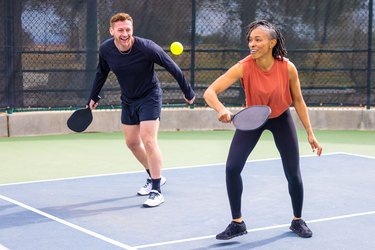 Remember that tennis-adjacent game you played in 4th grade gym class? The paddles were wooden and the ball was plastic with huge holes on the surface?
Yep, that was the pickleball we all grew up with — talk about a glow up! Nowadays, pickleball involves way more advanced gear, shoes and equipment, including paddles. Shop expert-approved, pickleball paddles and show up at the court ready for your next match (and no, none of them are made of wood).
We chatted with Robert Dunn, pickleball instructor at Life Time, and David Dutrieuille, national pickleball director at Life Time, who offered product recommendations and helped us break down what to look for in the best pickleball paddles. We chose our products based on the following criteria. You can learn more about how we cover products here.
Paddle feel
Weight
Materials
1. Best Overall: JOOLA Simone Jardim Hyperion CFS 14 Swift Pickleball Paddle
Pros
High-quality materials
Swift design
Enhanced grip handle
Cons
Pricey
Probably not best for beginners
‌Weight: ‌7.7 oz
‌Material: ‌Carbon Fiber
‌Handle length:‌ 5.5 in
‌Grip circumference:‌ 4.125 in
Recommended by Dutrieuille, this JOOLA paddle has a unique head design that minimizes drag and allows for swifter, faster swings on the court. Plus, the light materials help give the paddle more stability without adding weight.
This paddle is also made with carbon materials (more on that below), so you get a durable, longer-lasting paddle.
2. Best for Beginners: JOOLA Essentials Pickleball Paddle
Pros
Affordable
Wide paddle head
Anti-slip grip
Cons
Heavier materials
Fiberglass head
‌Weight: ‌8.2 oz
‌Material: ‌Fiberglass
‌Handle length:‌ 4.75 in
‌Grip circumference:‌ 4 in
JOOLA makes excellent entry-level paddles, according to Dunn. This Essentials paddle is designed for new pickleball players looking to develop their skills in the game.
This one has a wide paddle shape, which gives you a little more surface area for the ball and makes contact a little easier, he says. Plus, this one has a slip-resistant grip, so you won't have to worry about dropping the paddle when your game gets a little sweaty.
3. Best for Intermediate Players: Selkirk Sport Power Air Invikta Pickleball Paddle
Pros
Lightweight
Edgeless design
Generates spin
Cons
Pricey
Not ideal for beginners
‌Weight: ‌7.7 to 8.1 oz
‌Material: ‌Hybrid carbon and fiberglass
‌Handle length:‌ 5.25 in
‌Grip circumference:‌ 4.25 in
For intermediate and advanced players, Dutrieuille recommends this Selkirk paddle. This paddle is designed for power players, thanks to its hybrid fiberglass and carbon surface (more on that below).
This paddle is also edgeless, which is ideal for more experienced players. Many pickleball paddles are built with an elevated edge to help you make easier contact with the ball, Dunn says. Edgeless paddles are great for more experienced players who don't need the extra assistance.
4. Best Budget: Aieoposo Pickleball Paddle
Pros
Edged design
Budget-friendly
Cons
Heavier than other paddles
Less durable materials
‌Weight: ‌7.8 oz
‌Material: ‌Fiberglass
‌Handle length:‌ N/A
‌Grip circumference:‌ N/A
Especially if you're a beginner, you don't need to spend a ton on your first pickleball paddle, Dunn says. At the same time, though, you still want to get a paddle made with good materials.
This Amazon paddle is made with fiberglass, which provides good spin on the ball when you hit, he says. And this paddle has edges, which is great for newbies, as it helps improve accuracy every time you serve, block and return the ball.
5. Best Edgeless: Selkirk SLK Omega XL
Pros
Edgeless design for experienced players
Comfortable grip
High-quality face material
Cons
Not ideal for beginners
Pricey
‌Weight: ‌7.7 to 8 oz
‌Material: ‌Dual carbon and fiberglass
‌Handle length:‌ 5.75 in
‌Grip circumference:‌ 4.25 in
Most pickleball paddles have slightly raised edges, which can help improve your hitting accuracy, according to Dunn. But they're not the only option on the market.
"Most pickleball paddles have an edge guard that extends past the surface of the paddle, but edgeless paddles are becoming more and more popular," he says. "However, edgeless paddles are thinner and can have a different feel."
Before you commit to playing with an edgeless paddle, it's probably best to borrow one from a friend so you can get a feel for the differences.
6. Best for Kids: JOOLA Kids' Pickleball Paddle
Pros
High-quality carbon face
Smaller grip size
Lightweight design for easy maneuvering
‌Weight: ‌7.9 oz
‌Material: ‌Carbon fiber
‌Handle length:‌ 4.75 in
‌Grip circumference:‌ 4 in
This paddle is designed for kids ages 4 to 14. You also get a smaller grip, which is perfect for kids' hands.
Like many high-quality adult paddles, this one has a carbon-based surface, which is lightweight, durable and provides great spin on the ball, Dunn says.
7. Best High-End: JOOLA Ben Johns Perseus CFS 16 Pickleball Paddle
Pros
Carbon fiber, quality surface
Thicker core for control and power
Shock-absorbing grip
‌Weight: ‌8 oz
‌Material: ‌Carbon friction
‌Handle length:‌ 5.5 in
‌Grip circumference:‌ 4.25 in
This paddle is made with a carbon surface, making it ideal for players who want more control and precision on the court, according to Dutrieuille. The shock-absorbing grip is also a bonus for players who want a little extra protection for their joints.
JOOLA's high-end paddle also has a 16-millimeter core thickness (more on that below), which provides control and power, he says.
5 Factors to Consider Before You Buy
Is there much difference between pickleball paddles? While the variations may appear minor, they do matter, and you should take them into account when deciding on the best pickleball paddle for you.
Although this may sound like a pretty general factor, feel is everything when it comes to picking a new pickleball paddle, according to both Dunn and Dutrieuille. In other words, how does the paddle feel when you hold and use it?
"Every person is different and brings their own unique body, age, athletic ability, style of play, budget and purpose for playing pickleball," Dunn says. "Even though a paddle is good for Ben Johns, the best player in the world, it may not be right for another player."
All the factors listed below affect the feel of a paddle. So, the best plan of action? Try a few paddles and choose the one that feels most comfortable when you're playing. You should be able to maneuver the paddle confidently and the handle should feel secure in your hand.
The shape and size of the paddle's head can affect how easy or difficult it can be to hit the ball. A wider paddle is best for beginners, as there's more surface area for the ball to hit, Dunn says. It also makes maneuvers, like blocking or dinking, easier.
A longer, more narrow paddle is great for former tennis, squash or racquetball players, as it feels more like playing with a longer racquet and allows them to play with two-handed backhands. Longer paddles also provide more reach, which is great for attacking far balls during a game.
Different paddles are made with different materials, so while two pickleball paddles may look similar, they can feel totally different. Generally, a pickleball paddle has a polymer honeycomb core with layers of rigid material to create the surface. By varying the composition and thickness of the core and surface layers, manufacturers can adjust the paddle's characteristics.
Most pickleball paddles are made with either fiberglass, graphite or carbon fiber, Dunn says. Is fiberglass, carbon fiber or graphite better for pickleball paddles? The answer depends. Here's a breakdown of the three materials:
‌Fiberglass:‌ This material is the most cost effective and provides a good spin and makes a popping sound when you hit.
‌Graphite:‌ This material is higher quality than fiberglass and tends to cost a bit more, too. Graphite feels light and soft when striking the ball. It also creates a larger popping noise when you hit the ball.
‌Carbon fiber:‌ Carbon paddles are usually the most expensive and feel lighter, giving you stronger hits on the court. They also enable greater spin on the ball.
This may feel like a nitty-gritty detail, but the thickness of the paddle actually matters.
"An important thing to remember about core thickness is generally the thicker the paddle, the more control you will have," Dutrieuille says. "The most common core that provides great control and sufficient power for doubles is 16 inches. A very popular and common core thickness geared more toward power is 13 inches."
The way you hold a pickleball paddle can help you determine the best handle length, as different players have different grips, according to Dutrieuille.
Players who hold a pickleball paddle like a table tennis grip don't need a super long handle — about 5.25 inches should do. However, if you have a tennis background and enjoy hitting two-handed backhands, you need a little more surface area on the handle. In that case, an elongated handle of 5.5 inches or more is best.
But if you're a brand-new pickleball player, it's best to try out both lengths to see which feels more natural for your body.