Long-distance running success requires discipline, dedication and proper training. A well-designed training plan will improve your running performance and reduce your risk of injury. When you are preparing for a long-distance race, whether it's a 10K, a marathon or an even longer distance, your training plan must include appropriate mileage, strength and flexibility work, quality run workouts and recovery days.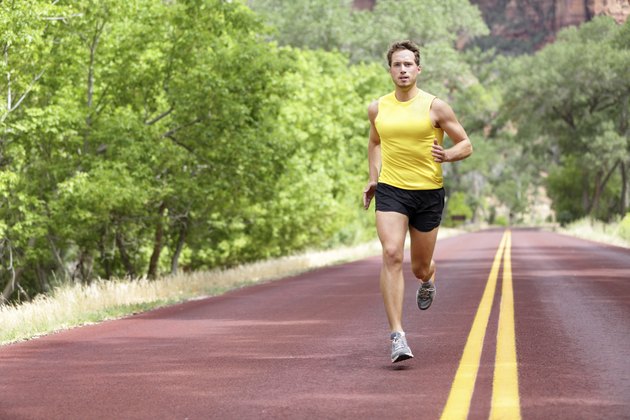 Run Long
Long-distance running requires endurance. To build your running endurance, it's necessary to include a weekly long run. Long runs improve your fat metabolism, increase the body's ability to store glycogen and help your mind and body get used to running long distances. The distance of your long run depends on what distance you plan to race. Running coach Hal Higdon recommends that a half-marathoner build up to a long run of at least 10 miles and a marathoner build up to running at least 20 miles. To incorporate a long run, take your current longest weekly run and increase it by one to two miles per week for three weeks. During the fourth week, reduce your long run by 25 percent to allow for recovery. Continue following this four week cycle until you reach your desired long-run distance.
Run Fast
In order to race your best, your weekly training needs to include at least one quality workout where you run faster than your normal running pace. Running harder in workouts will translate into running a faster overall pace for your long-distance event. Examples of quality run workouts are track intervals, tempo runs and hill repeats. These faster-paced workouts are taxing to the body and can lead to injury if performed too often. Beginners should include just one quality workout each week, whereas more experienced runners can run two weekly quality workouts.
Build Strength
Strength training is important for long-distance runners because it can reduce your risk of injury, improve your running economy and help your body withstand the rigors of running lots of miles. You don't need to lift like a bodybuilder to gain the benefits of strength training. Performing 15 to 30 minutes of strength work two to three days a week is enough for most runners. Running coach Jack Daniels recommends performing a circuit of exercises that strengthen the entire body including legs, core, chest, back, shoulders and arms.
Work on Flexibility
Stretching is an important component of long-distance running training because it reduces the risk of injury, speeds recovery and helps improve your running efficiency. Stretching should be performed after your running workout when your muscles are warm. Never stretch a cold muscle. Your stretching sessions should target your quads, hamstrings, glutes, adductors, abductors, hip flexors and calves. When stretching, hold the stretch for 20 to 30 seconds two or three times for maximum effectiveness.
Take a Break
Rest and recovery are just as important to your long-distance training as running. Your body adapts to the stress of training during rest and becomes stronger in the process. You risk injury and over-training if you do not allow your body this chance to adapt. The amount of rest and recovery you need depends on your fitness and running history. New runners need at least two days off from running each week, whereas more experienced runners need to rest only one day every week to two weeks. If you prefer to stay active on a rest day, stick with gentle activities such as yoga, walking or easy swimming.