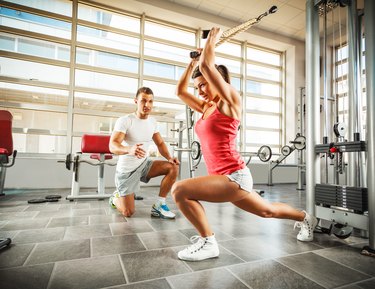 With all of the working parts of a gym of fitness club, a fitness manager is a necessity. Fitness managers are responsible for seeing that the administration and organization of a fitness club goes smoothly, from scheduling personal trainers to keeping up with and demonstrating continuing education. If going behind the scenes at a gym sounds appealing, learning more about fitness managing can help you decide if it's the health career for you.
The Foundation
While there are no specific requirements for a fitness manager, having more certification works in your favor. Many fitness managers start on the floor as a personal trainer, notes the IDEA Health and Fitness Association. That means getting your personal training certification from an accredited organization, such as the American Council on Exercise or IDEA.
Because fitness management also requires administrative skills, business courses are also helpful. Both the American Sport and Fitness Association and the International Fitness Professionals Association offer specific fitness management courses, while sports and fitness administrative courses may be available at local traditional and technical learning institutions.
Building on Skills
Fitness management might mean pushing a lot of paper as you schedule trainers and oversee payroll, but it also entails spending a lot of time with the people at the gym. From employees to patrons, fitness managers may need to train employees, resolve employee and customer disputes, conduct meetings and generally greet and visit with those in the gym. While you'll spend time behind the scenes, you'll need both excellent administrative skills and people skills to excel at the position.
Each facility will have different requirements they seek in a fitness manager. Generally speaking, the manager is in charge of the facility and its employees, which offers a wide variety of responsibilities.
Getting Paid
According to the U.S. Bureau of Labor Statistics, a general fitness trainer makes around $38,160 per year, as of 2016. Meanwhile, the PayScale puts the mean pay for a fitness program director at $45,683 per year. Clearly, the added education and skill necessary to train employees and ensure a club runs smoothing results in a bump in salary. The U.S. Bureau of Labor Statistics also notes that the market for trainers and fitness workers is expected to grow by 10 percent between 2016 and 2026, which offers excellent job security and room for growth.
Pros and Cons
While fitness management can offer great job satisfaction, it's not perfect. If you love to work directly with and track the progress of individuals, you may miss out when you're working behind the scenes instead. Trainers will take over the actual progress of clients, while you oversee operations. You'll also need a great deal of continuing education, from learning to use new machines to certifying in basic first aid, as well as different types of exercise. Still, if you love to learn, keep organized and teach and train employees, fitness management might be an ideal fit.