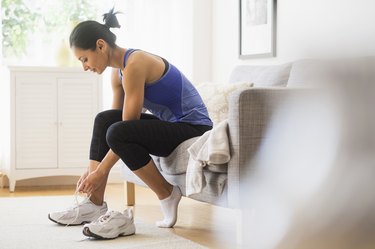 If you have wide feet, you already know that it can put a damper on shoe shopping — say, when your favorite kicks on the shelf don't come in a size you can comfortably squeeze into.
However, the search for great shoes doesn't have to be daunting. We spoke to experts to pinpoint the best exercise shoes for wide feet. Here, you'll find the best shoes for running, lifting, HIIT workouts and more. Plus, you'll learn what to look for in shoes for wide feet.
We chatted with podiatrists and a personal trainer who offered product recommendations and helped us break down what to look for in the best exercise shoes for wide feet. We selected our products based on their criteria. You can learn more about how we cover products here.
Width
Toe box shape
Comfort level
Material and stretchability
Stability
Cushioning
A Quick Language Note
We make deliberate choices about the language we use when it comes to gender. But because manufacturers typically market shoes according to gender, we've listed both women's and men's picks below.
However, the main difference between most men's and women's shoes lies in the shoe width and size. In some cases, men's shoes are built to support greater weights. So people with bigger bodies may want to opt for men's versions, whereas people with smaller bodies may prefer women's versions.
1. Best for Running: Altra Torin 7
Look for a running shoe that's highly cushioned for shock absorption and support, like the Altra Torin 7. This shoe has Footshape Fit technology, which gives your feet more space to sit naturally.
"Given this technology, the Altra Torin has some of the best wide-toe boxes on the market," says Najwa Javed, DPM, a board-certified podiatrist.
One of the best running shoes for wide feet, it also has a molded heel collar and extra cushion to prepare you for any run — plus an engineered mesh upper for comfort and breathability.
2. Best for Walking: Brooks Launch 10
This shoe is built for breathability, fast cushioning and quick transitions, perfect for walking and helping you shift between activities seamlessly.
The Brooks Launch 10 features warp knit fabric and a Speed Heel designed to pull the collar away from your Achilles to prevent rubbing and irritation.
3. Best for Lifting: Reebok Legacy Lifter III
This shoe's toe box is built with plenty of space and the adjustable strap makes it easy to tailor the shoe to fit the width of your foot, says Caleb Backe, CPT, a certified personal trainer for Maple Holistics. Plus, extra heel and sole support helps to alleviate the pressure placed on your ankles and knees during weightlifting.
"It is specifically designed with weight lifting in mind and is great for people with wide feet," Backe says. "Although they are a little bit on the expensive side, the way they are designed will definitely improve your performance."
Inflatable pump technology allows you to fine-tune the fit for squats, then adjust it for deadlifts — meaning you get support through every step of your workout.
4. Best for HIIT Workouts: KURU ATOM
This sneaker has built-in arch support to alleviate stress and pressure on your joints and muscles during HIIT workouts, Backe says. It's lightweight, which can boost your agility and improve your overall performance.
"The KURU ATOM shoes also have a rounder toe box, which is great for people who have wider feet," Backe says.
Designed for those with medium to wide feet, the breathable mesh and athletic fit will deliver comfort throughout your workout (and the sleek design isn't bad, either).
5. Best for Hiking: Merrell Moab
The Merrell Moab takes your hiking to the next level with features for stability and dryness.
"With a wide and extra-depth toe box, these shoes are the best for hikers," Dr. Javed says.
Made with 100 percent recycled laces, webbing and mesh lining, the Moab has a Kinetic Fit Advanced footbed that contours to your unique foot size for a comfortable stride. Added support is built into the ankle to keep your footing stable, even on rocky terrain.
6. Best Budget Pick: Skechers ARCH FIT Shoes
The patented Skechers ARCH FIT insole system provides podiatrist-certified arch support, while still offering stretchability at a great price. Many of the Skechers ARCH FIT shoes come in extra wide sizes.
"With their technology and soft upper mesh material, these shoes are great for those on a budget," Dr. Javed says.
A bonus perk: These shoes are machine washable, so you can easily keep them fresh.
7. Best Laceless: Allbirds Tree Dasher 2
The Tree Dasher 2 is a laceless running shoe made from leftover stock yarns for an earth-friendly design. It's an easy, slip-on option that can provide extra flexibility for those with wide feet.
"This shoe is cushioned and also stretchable for those looking for an easy slip style," Dr. Javed says.
A seamless one-piece upper offers maximum comfort, while the padded heel collar locks your ankle in place for stability.
8. Best for Treadmills: HOKA Clifton 9
This light, cushioned shoe is designed with responsive foam and a breathable engineered knit upper. The plush heel will keep every step on your treadmill light to the touch.
"This is an everyday walking or running shoe that would be great for the treadmill," Dr. Tarr says.
Available in eye-catching hues from rust to citrus and lime glow, the HOKA Clifton 9 makes your indoor workout look ‌and‌ feel good.
9. Best Forefoot Rocker: Asics GEL-KAYANO 30
If you have a bunion, hammer toe or neuroma pain, your doctor may recommend a forefoot rocker. The rocker construct originally designed by MBT was steep, but other companies have taken this concept and modified it for everyday use, Dr. Javed says.
"There are many brands now that feature the rocker design, such as the Asics GEL-KAYANO, which helps with reducing ball of foot pressure," she says.
Available in extra wide sizes, this shoe can provide advanced stability for a wide variety of running distances, like 5Ks or marathons.
10. Best for Working From Home: OOFOS Recovery Slides
It may feel natural to go barefoot as you're working from home or sneaking in a few desk-side squats throughout the day, but proper footwear is key to protect your feet.
"I recommend people working from home use the OOFOS recovery slides to help protect their feet from micro-injury on hard wood, tile or marble floors," Dr. Javed says. "The OOFOS design is all-inclusive with arch support, a rocker sole and cushioning."
The company's OOfoam technology absorbs 37 percent more impact than traditional footwear foam materials to reduce stress on your feet and joints. OOFOS are made in whole sizes, so size up if you're a half size.
11. Best Overall: Brooks Adrenaline GTS 22
The Brooks Adrenaline has been a long-time favorite for over 20 years — and offers those with wide feet added support for walking and everyday runs.
"Made for forefoot and pronation protection, these are great for all-around activities," Dr. Javed says. "They're the best in class."
With a balance of support and softness, this shoe will keep you comfortable for every mile. Expect support that helps you maintain your natural stride, even when you get tired.
3 Factors to Consider Before Buying Shoes for Wide Feet
Sure, you may know generally that you're a size 8, but get clear on your foot's true dimensions for the best-fitting shoe. This is something you should do throughout your life: Feet change with age, typically growing larger and wider, per Harvard Medical School.
‌"‌Before you buy your first pair of shoes in a wide size, it's important to have your foot sized for length and width," Dr. Tarr says. "There are many different types of wide sneakers to buy, and you might need something wider than what that brand carries."
Your foot may also be wide in one particular area, which could affect which shoes are best for you.
"Some people can have a wide forefoot — which specifically means the ball of the foot and toes — whereas some people have a wide arch, which means that the middle of the foot is the widest part," Dr. Javed says. "Knowing these differences are critical when buying a shoe. Unfortunately, most people have no idea what foot type they have or where their foot is the widest."
Ask your podiatrist or a trained shoe fitter to measure your foot before you try on shoes at the store (keep in mind that many stores don't have sizing tools beyond a mat with a foot outline). Buy at the end of the day when your foot has "warmed up," rather than in the morning, or make sure you buy a half size larger if you buy in the morning, Dr. Javed says.
Many companies offer shoe sizes in "wide" and some even have "extra wide" options.
"However, remember that sizes and fits vary from each individual company, so not all fits and sizes will be the same," Backe says. "Your chosen fit should make your feet feel snug and secure, with little movement of your foot inside of the shoe."
2. The Shape of Your Feet
If you have wide feet, it's not always because your feet are flat. Wide feet are seen in those who have high, low or collapsed arches.
"To find your ideal foot shape, do a 'wet test'," Dr. Javed says. "Wet the bottom of your feet and step on a piece of paper. The imprint which ensues can be tested against arch types found online and can help you understand if you have a high, low, normal or flat arch."
Your podiatrist can also help you determine the shape of your feet, which may affect your running style.
"If you have flat feet, then you'll want a pair of shoes with arch support within the sole to prevent the inward rolling of your feet," Backe says. "If you have higher arches, you'll want a pair that has extra cushioning to help your feet absorb the impact better."
3. The Features a Shoe Offers
In addition to the width of a shoe, factors like breathability and heel support will determine how comfortable you are in your new kicks. Look for shoes that have mesh or fabric that will stretch, rather than hard plastic or leather that restricts your feet as they swell during exercise.
"Shoes that are designed with breathability in mind can help reduce sweating and swelling, which not only leads to a better fit, but also eliminates bad odors and sweat build-up," Backe says. "Meanwhile, if you're planning on trail running, the durability of the shoe becomes more important, and you want one that uses strong materials."
Heel support is another important factor to consider if you have wide feet: Extra cushioning around the heel area can boost your comfort and lower the chances of blisters forming.
Laces can also have an impact: Buying longer laces or changing the lacing pattern to feed up the side instead of criss-crossing is sometimes enough to make a standard shoe fit better for a wider foot.
Finally, consider how heavy your new shoes are.
"Lightweight shoes are better suited for long, extended periods of running," Backe says. "They can also improve your performance by reducing fatigue and providing more agility."
Was this article helpful?
Thank you for your feedback!