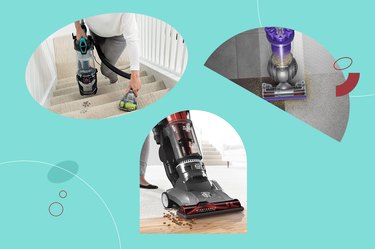 Unlike seasonal allergies, indoor allergies have no off season. It can be a constant battle between your immune system and any dust, mold and pet hair lingering in your home.
If you suspect you might have indoor allergies, an allergist can help identify your symptoms and how to treat them. Allergies can often be treated with natural remedies or medications if needed. And a simple household chore like deep cleaning while using the best vacuum for allergies can be a start to reducing symptoms.
"It helps get rid of allergens such as dust mites, mold, animal dander from carpets, rugs and upholstery," says Purvi Parikh, MD, an allergist with Allergy & Asthma Network. "When your allergies and asthma are better controlled there is less need for medication as well."
The Best Vacuums for Indoor Allergies
We spoke with allergists who explained what can trigger indoor allergies, and how vacuuming can improve symptoms and indoor air quality. They shared what to look for when purchasing a vacuum. Based on their expertise, our selection criteria includes:
Effectiveness
Cost
Ease of cleaning
Use on different surfaces
1. Best Overall: Dyson Ball Animal 2 Upright Vacuum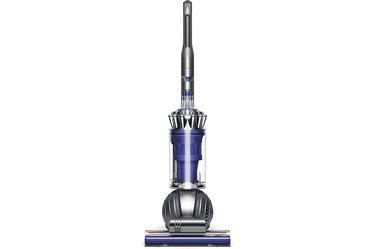 Pros
Powerful suction suitable for all floors
Includes stair tool and combination tool for special areas
Washable lifetime filter
Cons
High price point
Not cordless
No mater how tough the cleaning task, the Dyson Ball Animal 2 is up for the challenge. The vacuum is equipped to deep clean carpets and capture dust, hair, dirt and other allergens that can be hard to reach.
Navigating around home furniture is not problem with the Ball technology that allows the vacuum to easily swivel. The Dyson Ball Animal 2 features a self-adjusting cleaner head that automatically changes its suction depending on the surface. And cleaning this piece of equipment is simple: With just one click, you can empty out dirt then get back to deep cleaning.
Aim to clean the vacuum brushes after every use, and empty the vacuum canister after every few uses to prevent debris and bacteria from piling up, Dr. Parikh says.
Pros
Cost effective
Lightweight
Compact
Large capacity dust cup
Cons
Not cordless
Non-HEPA filter
A high value vacuum without the high cost is a win-win for your cleaning efforts. The Shark NV105 Navigator is a lightweight bagless vacuum that performs multi-surface cleaning. Featuring a detachable wand and hose to reach windows and ceilings, you can get rid of the dust that's collecting and triggering your allergies.
A bonus to this vacuum is its compact size, making storage a breeze without taking up too much space in your home.
3. Best for Pet Hair: BISSELL 2998 MultiClean Allergen Lift-Off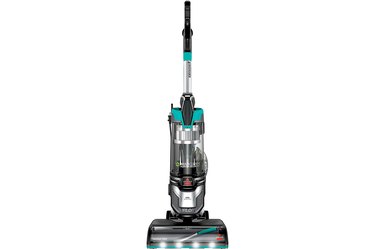 Pros
Specifically designed for pets
HEPA filter
Easy to empty
Lightweight
LED headlights
We love our furry friends, but not so much having their hair all over the house. It's especially necessary to clean up their shedding if you're allergic to pet hair or dander. The BISSELL 2998 is designed specifically to vacuum pet hair on various surfaces at home.
The Lift-Off detachable pod allows for portable cleaning and a tangle-free brush roll to prevent hair from wrapping around the brush. Equipped with a HEPA Sealed Allergen System, you can rest assured that this vacuum is trapping 99.7 percent of dust and allergens.
4. Best for Dust Mites: Hoover WindTunnel 3 Max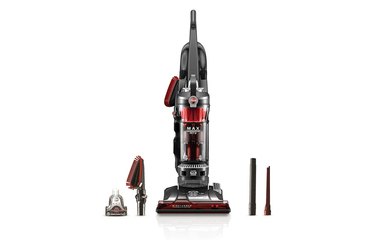 Pros
Powerful suction
Good for pets
Versatile on surfaces
Multi-purpose tools
Long cord
Cons
Not cordless
Can be heavy (18 lbs.)
The Hoover WindTunnel 3 Max is a powerful dust-busting vacuum with three channels of suction to lift all dust and debris that could be hiding in carpet and floors. While this vacuum isn't cordless, you'll still have plenty of room to move about with a 30-foot cord length. And if that's not enough for you, reach further with 15 feet of extended reach. What's also included are specialty tools to clean furniture and stairs, plus a reusable filter to provide long-lasting use.
Dust mites are a common cause for allergic reaction, according to Andrew Dang, MD, an allergist for Premier Allergy and Asthma, located in Ohio. Cleaning and vacuuming a living space can improve allergies and other respiratory conditions like asthma.
"This helps with breathing better through the sinuses and lungs, better asthma control and thus less asthma attacks," Dr. Dang says.
5. Best HEPA Filter: Shark Rotator Professional Lift-Away Upright Vacuum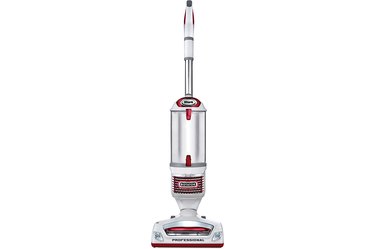 Pros
HEPA filter
LED lights
Advanced swivel steering
The filter in a vacuum can make or break its effectiveness. A HEPA filter is the most effective, standing for "high efficiency particulate air," according to the U.S. Environmental Protection Agency. This type of air filter can remove up to 99.97 percent of airborne particles like dust, pollen, mold and bacteria, similar to air purifiers.
The Shark Rotator Professional Lift-Away Upright Vacuum features an anti-allergen HEPA filter that traps dust and other allergens inside the vacuum cleaner.
Pay attention to the type of filter (whether it's bagged or bagless) if you have indoor allergens, Dr. Parikh says. "If you have bagless you need to change the HEPA filter more frequently than with bagged," Dr. Parikh says. "This may expose you to allergens and trigger an allergy or asthma attack, so you may want to ask a family member to help or wear a mask or gloves when changing it."
6. Best for Carpet: Shark IZ462H Vertex Ultra Lightweight Cordless Stick Vacuum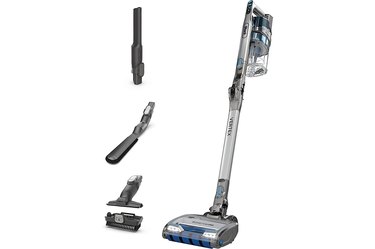 Pros
Lightweight
Cordless
HEPA filter
Multi-purpose tools
LED lights
Cleaning your carpets can be extra tricky when the dirt and debris is trapped inside carpet fibers. The Shark IZ462H Vertex gives even the trickiest allergens some competition with its deep-cleaning nozzle that digs deep into carpets.
What's even better is its ultra lightweight and cordless design, giving you a full powered vacuum without the heavy equipment. For an even more portable experience, try out the removable hand vacuum to clean all crevices of your home. If you notice a musty odor or mold in your carpet, you may need a dehumidifier to remove moisture.
Pros
Versatile
HEPA filter
Brush roll shutoff function
Upholstery tool
Hardwood floors need to be cleaned and cared for with precision and care to avoid damage. That's where the Shark NV352 Navigator Lift Away comes in handy. Made for gentle cleaning and powerful suction on floors, the vacuum can handle transitioning between surfaces while tackling the allergens around your home.
Once you're ready to go from carpet to bare floor cleaning, turn off the brush roll with one click for a quick and simple switch.
What to Look for in a Vacuum
The right vacuum for you will depend somewhat on where you'll be using it, along with personal preferences. But experts agree that you can expect positive changes once you clean your space, especially if you live with respiratory conditions like asthma.
"People do not realize that allergies and asthma are as much an external medical problem as internal," Dr. Dang says.
Here are some considerations to keep in mind when you choose a vacuum:
In general, people with allergens will want to look for a vacuum with a HEPA filter, since it'll help to remove more particles of airborne allergens from your space.
While a bagless vacuum means you won't have to purchase bags frequently, it also means you'll have to empty the canister more often. That could, in turn, set off your allergies.
"If you do not have a model that alerts you, some of the allergens can start coming out when it's too full," Dr. Parikh says.
Dr. Parikh suggests emptying the vacuum consistently before it has a chance to fill up, and deep cleaning the vacuum at least once a year to ensure all allergens have been removed.
Think about where you'll be cleaning. If you have a lot of stairs, a cordless option might make the task easier. Different options may be better on carpet than others, too. If you plan to use the vacuum in multiple rooms, keep in mind how much it weighs. A lightweight vacuum option may be better than a heavy-duty model that's tough to move from room to room.
Your preferences are a factor here, too. You may find that some cordless vacuums don't hold their charge long enough for you to clean your whole space. Conversely, you may feel wrangling the cord discourages you from doing the chore.
Ultimately, the best vacuum for you will be the one that allows you to get the job done and achieve a healthier home.
Is this an emergency? If you are experiencing serious medical symptoms, please see the National Library of Medicine's list of signs you need emergency medical attention or call 911.