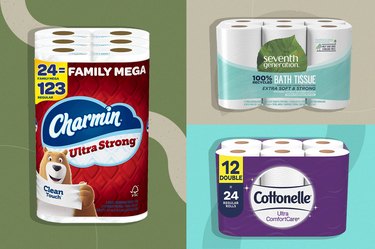 We all know how we use toilet paper — and, for that reason alone, we might not be placing a high enough value on its importance. After all, this is a product many of us use several times in a single day, and one we're essentially rubbing on our skin, not to mention in some of the most private and delicate areas on our body.
While it's tempting to simply opt for the cheapest or most available brand of toilet paper, it actually pays to be choosy. Different brands offer different levels of softness and absorbency, explains Stephanie Hack, MD, ob-gyn and founder of Lady Parts Podcast. "This may seem like a minor detail, but when it comes to something you use in such a sensitive area, it can make a big difference," she says. "A high-quality toilet tissue will be soft, absorbent and gentle on the skin, while a lower-quality brand may leave you feeling rough and irritated."
Allison Rodgers, MD, ob-gyn and reproductive endocrinologist at Fertility Centers of Illinois, agrees, adding that using the wrong toilet paper can even cause vulvar or anal irritation. "This is very delicate skin, and wiping too hard or with rough toilet paper can cause micro-abrasions and tears, which can sting, burn and cause discomfort," she says.
The Best Toilet Paper of 2023
We chatted with doctors, who broke down the most important attributes of quality toilet paper and how to find one that best suits your needs. Our top picks are based on their criteria, including:
Absorbency
Thickness
Softness
Added ingredients
Availability
Cost
Tip
Wondering how many times to wipe after pooping? The exact number can vary, but you should aim to wipe just until the toilet paper comes out clean — over-wiping can cause irritation.
1. Cottonelle Ultra ComfortCare
Pros
Thicker and more absorbent than most brands
Ultra soft
Sustainably sourced
Septic-safe
Cons
Some reviewers note that the rolls come in varying sizes
Not only is this one of the softest toilet papers out there, but it's also ultra-thick and absorbent, with two layers of sheets made from plant-based fibers. This makes it especially ideal for people with sensitive skin, notes Marisa Garshick, MD, dermatologist at Medical Dermatology & Cosmetic Surgery in New York City.
"It's hypoallergenic, free of harsh chemicals and won't leave the skin feeling raw or irritated," Dr. Garshick says. It's also quite affordable as well as sewer- and septic-safe.
2. Charmin Ultra Strong Clean Touch
Pros
Washcloth-like texture
Ultra thick
Gentle on skin
Cons
More expensive than some brands
In addition to being soft and ultra-durable, this brand of toilet paper claims to be four times stronger when wet, with a washcloth-like texture that doesn't break apart like some other brands do. The secret is in the diamond-weave design that allows you to use fewer sheets of toilet paper while remaining equally clean.
Dr. Garshick appreciates that this brand is gentle on the skin and won't lead to irritation.
3. Presto! Ultra-Soft Toilet Paper
Pros
Affordable
Soft and absorbent
Long-lasting
Septic-safe
Cons
Leaves some dust behind, according to some reviews
Not quite as soft or strong as other top brands
This Amazon-brand toilet paper does not disappoint. For less money than the bigger-name brands, you get long-lasting, septic-safe toilet paper that's both strong and soft to the touch. Plus, it comes in a pack of 24 mega rolls — enough to last you months, depending on how many people are using your bathroom on a regular basis.
4. Scott 1000 Sheets Per Roll
Pros
Long-lasting
Breaks up easily in pipes
Septic-safe
If your priority when it comes to buying toilet paper is a brand that won't mess with your plumbing, Scott is the one for you. It breaks up four times faster than other brands, so it's far less likely to wind up stuck in your pipes.
It's one-ply and both septic- and sewer-safe, and it lasts a decent amount of time since each roll has 1,000 sheets.
5. Angel Soft Toilet Paper
Pros
Soft and strong
Comes in mega-sized rolls
Septic-safe
Cons
Contains added fragrance, which isn't ideal for sensitive skin
If you don't mind the added fragrance — or if you're looking for a brand with a refreshing scent — Angel Soft is a great pick. It's super soft to the touch and gentle on delicate areas.
Another perk is that the brand's sourcing practices are certified in accordance with the Sustainable Forestry Initiative (SFI), which ensures that all brands under this certification use sustainably sourced trees.
This toilet paper also comes in a mega roll size that lasts a long time.
6. Quilted Northern Ultra Plush
Pros
Three times thicker than leading brands
Super soft
Long-lasting
Cons
Some reviewers report decline in quality in recent years
Thanks to the fact that this toilet paper brand is three-ply, you can bet it's soft on your behind and holds up to even tough wipes. Each of its three layers is ultra-absorbent, allowing you to use fewer sheets every time you go, which makes this brand last longer than its competitors.
7. Seventh Generation Recycled Bath Tissue
Pros
Made from 100 percent recycled paper
2-ply
Septic-safe
Made from 100 percent recycled paper, Seventh Generation comes through for environmentally minded folks when it comes to their line of bath tissue. The two-ply toilet paper is also soft to the touch and extra strong. It's made without chlorine or other potentially harmful ingredients that can be found in toilet paper, including added fragrances.
What to Look for in a Toilet Paper Brand
1. Free From Added Chemicals or Dyes
Andrew Moore, MD, gastroenterologist in Chicago, recommends avoiding toilet papers with added scents or fragrances, as it's possible you may be allergic to them, which could lead to local irritation and itching that can be very uncomfortable. Instead, he suggests opting for scentless or hypoallergenic toilet paper.
For obvious reasons, it's a good idea to seek out toilet paper brands that are thick enough not to break up when you're wiping, but also soft enough not to cause irritation on your sensitive areas.
"Toilet paper that is both thick and durable will minimize the need for frequent, repetitive wiping, which can lead to irritation of the skin," Dr. Garshick says.
You may want to consider the environmental impact of the toilet tissue brand you choose. "Some brands use sustainable and eco-friendly practices in the production of their tissue, such as using recycled materials and minimizing waste," says ​​Dr. Hack.
To avoid a big (and expensive) mess, don't forget to check that the brand is safe for your septic system if you have one.
Is this an emergency? If you are experiencing serious medical symptoms, please see the National Library of Medicine's list of signs you need emergency medical attention or call 911.