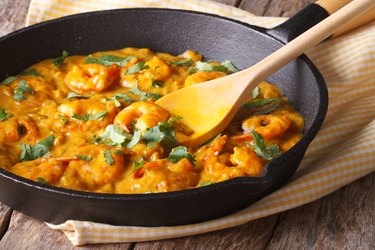 As a nutrition editor and lifelong lover of food, looking for satisfying, nutritious recipes can sometimes feel monotonous. I have nothing against the Mediterranean diet, but there's only so much hummus I can eat before I start to crave the foods I really love.
With this in mind, I came up with this super-simple curry recipe, which is now a weeknight staple in my home. When I think of my mom's homemade curry, I can almost smell the spices as though I were standing in her kitchen. Recreating that feeling has been such an integral part of my own healthy-eating journey.
After all, knowing how to get the nutrients we need is important, but food is much more than nourishment for our bodies. There's something about a home-cooked meal with the aromas, flavors and textures you've come to know and love that gives you a sense of comfort, and maybe even some joy.
First of All, What Is Curry?
Curry is a dish with a rich history. While many believe it was invented as a result of the British colonization in India in 1608, the true origins of curry may date even further back to the Portugese arrival in India in 1498 (and the introduction of chili), according to the Institute for Culinary Education (ICE).
Since its inception, curry has taken on many textures, flavors and variations, but typically consists of a sauce made with a blend of aromatic spices. The main ingredient in traditional Indian curry powder is turmeric, which gives it its yellow color, and it also contains fenugreek, cumin and coriander. The sauce can be water-based, but sometimes chefs opt for a creamier consistency by using coconut milk or dairy cream.
There are plenty of different types of curry and curry dishes, all made with different spice blends, according to Curry Culture. Among them, one thing is consistent: Curry recipes are known for being highly aromatic, filling the home with a mouth-watering scent that will make you want to curl up with a bowl.
A Simple Curry Recipe for Busy Weeknights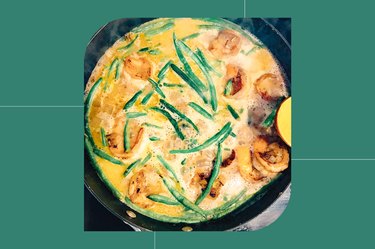 My ancestors may have cringed at the idea of using anything pre-made when it comes to curry, but as a busy mom of a toddler, it's a sacrifice I've had to make in the name of my time, sanity and my belly's persistent requests.
Curry is a dish that is naturally nutritious and holds a lot of sentimental value for people from Asian backgrounds, but it can be time-consuming to make and expensive if you're using fresh produce.
To make things easier, here's what you'll need:
For my simple curry recipe, I love to use pre-made curry mix or jarred curry sauces because they typically have all the spices you need. The convenience of these products cannot be understated — as with curry, you'd otherwise have to measure out teaspoons of several different spices (and still risk messing something up) to achieve the perfect balance of flavors.
Depending on what type of protein I'm using and the flavor I'm in the mood for, I have a variety of these curry sauce jars on hand to break out on hectic weeknights.
Next, choose your favorite source of protein. You can choose from nutrient-dense meat and fish like:
Chicken
Lamb
Salmon
Whitefish
Shrimp
Mussels
Or, go for vegetarian/vegan options such as:
Chickpeas (or channa)
Lentils (any color)
Red kidney beans
Black beans
Black-eyed peas
Green peas
Finally, no nutritious meal is complete without some veggies, and here's another opportunity to get creative. I almost always grab a bag of mixed frozen veggies from my freezer and throw it into the curry pot. This saves me the time and effort of chopping, shredding or grating.
I like using frozen veggies because they help me cut back on food waste (I find myself throwing away less fresh produce that went bad in my fridge), and there's really no downside nutritionally. Many veggies are flash-frozen at peak ripeness — and freezing preserves all those good nutrients, so they last for when you're ready to eat them, according to Harvard Health Publishing.
That said, you can use any veggies you have on hand. Try:
Leafy greens, like spinach and kale
Diced potatoes (any kind)
Cassava
Squash, such as zucchini or butternut
Pumpkin
Sliced bell peppers
Carrots
Broccoli
Cauliflower
Things You'll Need
Large deep pan or pot with lid

Cooking oil or ghee

Curry spice mixture or sauce

Cooking spoon

Salt

Pepper

1 cup water (or other cooking liquid)

Protein of choice

Veggies of choice (frozen or fresh)
Now that the wheels of creativity are turning, here's how to put it all together:
In a large deep pan, heat some cooking oil or ghee over medium heat.
Add your spice mixture or sauce. Let it heat with the oil and become aromatic, stirring gently with a spoon for 1 to 2 minutes.
Add your protein and sprinkle some salt and pepper on top. If you're using meat, cook until the meat is browned on both sides. For cooked or canned beans and pulses, saute in your spice/sauce mixture for about 10 minutes.
Add your veggies, stirring occasionally until heated through, about 5 minutes.
Add your liquid according to your packaging directions. Spice mixes I've used typically call for a cup of liquid, but if you're using a sauce, you may need to add less (or may not need liquid at all). Stir to combine.
Allow the liquid to start bubbling, then reduce the heat to a simmer and cover the pot. Let the curry simmer for 20 to 30 minutes, then remove it from the heat and let it cool before serving.
Tip
To make the sauce creamier, use a can (or half can) of coconut milk in place of water in this curry recipe.
For extra flavor, pound a few cloves of fresh garlic, dice half an onion and grate a teaspoon of ginger, and add these to the pot first (before the spices). Saute for 8 minutes until the onions are translucent.
Making your simple curry recipe with veggies like potatoes, cassava or squash will add nutritious complex carbs and make it a balanced meal.
If you're not using any carb-rich veggies, serve this curry with rice or another nutritious carb option. For a traditional spin, try:
Chapati (white or whole-wheat)
Naan
Roti
Next time you're in search of healthy dinner recipes that don't make you yawn, remember there's often a way to recreate your favorite comfort foods, and most importantly, eating nutritiously doesn't mean you have to exclude these foods entirely.
I learned that creating a healthy relationship with food means both nourishing your body with the nutrients it needs ‌and‌ having positive, joyful experiences with food, ones that instill that feeling of ‌home‌. For me, that means preparing (and, of course, smelling) a pot of curry simmering in the kitchen and sharing it with my family.