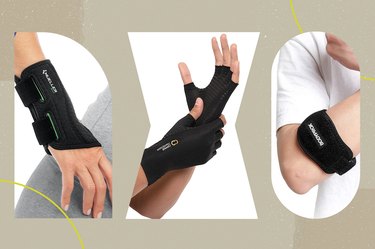 While relatively common, wrist pain is an uncomfortable and sometimes debilitating experience.
You should always see a doctor about wrist pain to determine the underlying cause and make sure you're treating it appropriately. But while you're waiting for an appointment, a wrist brace might provide some relief from the pain and discomfort. And your doctor may also recommend using a brace as part of your treatment plan.
To narrow down our selection of the best wrist braces for carpal tunnel, tendonitis and more, we spoke with Laura Purdy, MD, MBA, a board-certified family physician, and Samantha Harte, DPT, physical therapist and founder of StrongHarte Fitness. They helped guide our recommendations, and we considered the following criteria:
Comfort
Durability
Materials
Fit
Price
Reviews
1. Mueller Sports Medicine Fitted Wrist Brace
Pros
Supportive
Breathable
Comfortable
Cons
May be itchy for sensitive skin
Small thumb opening
Runs small overall
If your wrist is feeling less than stellar but you don't have a specific concern in mind, a general, inexpensive wrist brace is a good place to start, Dr. Purdy says.
This budget-mindful pick is for all wrist sizes and can be used on both the right and left hand.
"It has all of the proper components to prevent a lot of forward wrist flexion, which can often cause or exaggerate wrist pain," Dr. Purdy says.
While the supportive brace prevents over-movement, you can still go about most of your daily rituals with ease, thanks to some flexibility. The mesh lining helps prevent sweat, but the fabric may be itchy for those with sensitive skin.
2. Dr. Arthritis Copper Lined Wrist Brace
Pros
Range of motion
Flexible, yet durable
Lightweight
Cons
Cannot be tightened
Light support
When your job requires you to sit at your desk for many hours a day, on a computer, typing away, you're eventually bound to experience some wrist discomfort, especially if you don't have an ergonomic workspace. (Lookin' at you, sitting on your couch, cross-legged with a laptop on your lap.)
If you start to experience wrist pain at the keyboard, Dr. Purdy recommends this wrist brace because the area of support around the center of the palm does not extend up beyond the metacarpophalangeal joint. "This is the fancy word for the point where the finger meets the rest [of the hand]," she says. "So someone who is using this brace should have a nice range of motion of the fingers to be able to type as they need."
Though many reviewers appreciate the flexible and durable design that's lightweight and easy to use, others wish the brace offered a bit more support.
Also, depending on the size of your hands, it's important to note you can't tighten this brace — so super-small wrists might not work well with this pick.
3. ComfyBrace Wrist Brace
Pros
Lightweight
Breathable
Comfortable
Cons
Only adjustable by Velcro
Less support than some other braces
Bean-bag filling is hit-or-miss
For many people, an overnight wrist brace isn't recommended every single time they hit the hay. As Dr. Purdy explains, generally, this would be when you allow your hand and wrist area to rest. However, some people do sleep with their wrists in a flexed position, which can exacerbate the symptoms of carpal tunnel syndrome.
If this is you, it's important to look for a breathable, lightweight material, like the one found in this brace, so it provides just enough resistance to keep you from having a lot of wrist flexion while sleeping, Dr. Purdy says.
Also, this brace is more comfortable than a super-restrictive one, which might matter more when falling asleep. After all, if your wrist is so stiff you can't get comfortable, you won't reap the hours of zzzs you need for your body to heal.
When adjusting this wrist brace, you only have Velcro — not buttons or fasteners. This means it'll likely lag a little throughout the night, which some reviewers reported as a downfall.
A beanbag-like cushion in the palm is meant to be more cozy for sleeping, but some people find it cumbersome for rest.
4. FEATOL Wrist Brace for Carpal Tunnel
Pros
Sturdy and stable
Pain-relieving
High-quality
Cons
Thick and heavy
Runs large
Velcro is difficult to adjust
Believe it or not, carpal tunnel is a neurological disorder. It happens when your median nerve becomes squeezed or pressed at the wrist, creating weakness and numbness, and it could cause your fingers to swell.
You need a tighter fit than a typical wrist brace for carpal tunnel, so you should look for something like this that gives extra support.
"Since carpal tunnel syndrome is caused by inflammation in the wrist, near the place where the wrist bends, pressure is applied to the median nerve when you flex. So, you want a wrist brace to immobilize the wrist and keep it in place," Dr. Purdy says.
With a carpal tunnel brace, you shouldn't be able to type or lie down at ease. The goal is to prevent movement, so you'd likely wear this while watching an episode or two of your favorite TV show or reading a book.
To keep this brace in place, you'll need to fasten the Velcro straps, which some reviews say is difficult to do with one hand.
Pros
Durable
Stretchy
Comfortable
Cons
Difficult to find the perfect spot to wear it
Runs small
Dr. Purdy says tendonitis in the wrist is fairly uncommon, but tendonitis in the elbow — known as either tennis elbow or golfer's elbow — can cause some wrist discomfort.
Depending on the side of the elbow affected, there are some braces that can prevent the sliding of the tendons across the bony points on the far end of the upper arm when engaging in activities.
"This brace would benefit both golfer's elbow or tennis elbow because it provides stabilization and decreases swelling of the tendon," Dr. Purdy explains.
This two-pack is a bargain, and the design includes a compression gel pad for added comfort.
Whenever you're active, you should wear these to give extra support to your elbows and, thus, protect your wrists.
Some reviewers say figuring out the best place to wear the brace is initially confusing, while others say speaking to a doctor helped them better understand their pressure points.
6. Copper Compression Arthritis Gloves
Pros
Lightweight
Range of motion
Pain relief
Cons
Thinner material
Runs small
Because arthritis typically causes swelling in the joints, a compression glove or brace may be helpful in managing symptoms.
"In my opinion, compression braces are better for arthritis because they gently help decrease the swelling and also can relieve pain," Dr. Purdy says. "However, because the problem with arthritis is located on the inside of the actual joint space, bracing is not as effective for arthritis as it would be for other conditions, such as carpal tunnel syndrome or tendonitis."
These lightweight gloves provide compression while ensuring you have a range of motion for your activities.
They're meant to be worn when you need relief, and many reviewers say they're ideal for the beginning or the end of the day when arthritis symptoms may be more pronounced.
What to Look for in a Wrist Brace
As you can see, not all braces are created equal, and there's no one brace that can address all symptoms or pains.
When shopping for a wrist brace, make sure it's designed to meet your needs, whether that's support while you type or relief from arthritis pain and swelling.
Wrist braces often come in various sizes, so read the brand's guide to ensure it fits your body. Remember, these should be worn semi-tight for optimal relief.
Generally speaking, unless a wrist brace is specifically designed for your needs and is considered a medical-grade device, it shouldn't be too expensive. In our research, $30 was the maximum these braces ran — but if buying from a mass retailer doesn't fit your needs, talk with your doctor about more customized options.
4. Offers Range of Motion
Though some carpal tunnel braces purposefully decrease your range of motion significantly, you should be able to wear most wrist braces and easily continue about your day. This is how you know you've found the right fit.
When to See a Doctor About Wrist Pain
Dr. Purdy says any wrist pain warrants a visit to your primary care physician. Though you may have something minor, wrist discomfort tends to worsen without treatment, and it's better to ensure you need a brace vs. something else.
"There are so many structures that can get sprained [in the wrist], and the type of brace that is best for your particular sprain may vary based on the location and severity of the injury," she says. "If you think you have sprained your wrist, I recommend checking with the doctor first rather than trying to brace it yourself. It is important to ensure you don't have a fracture because you may need a splint or a cast."
1. What's the Difference Between a Wrist Brace and a Wrist Splint?
Dr. Purdy explains that a brace is a softer and more mobile device that is not designed to be fully mobilizing or worn long-term. "They can be bought over-the-counter and self-administered or removed," she says. "People who need to wear a brace will take it off for short periods in between wearing it."
On the other hand, a splint is usually applied by a medical professional and made of a harder, more fixed, and immobile material. "It is closer to a cast but not as aggressive of an intervention as a cast," she says. "A splint is usually prescribed or recommended by the health care provider along the recovery journey from an injury, surgery or procedure. The medical provider will dictate how long it is worn for and when it will be removed."
2. Should I Wear a Wrist Brace All Day?
Unless prescribed by a physician, you shouldn't wear a wrist brace 24/7, Harte says.
When the brace is on, the benefits include added stability and proprioceptive feedback up to the brain, reminding you to be more mindful of that body part throughout the day.
"The downside to wearing a brace all day is the concept of learned non-use, where the brain literally loses its neuromuscular connection with the body throughout sustained disuse," she says. In other words, when you don't use your wrist for a while, you may "forget" how to.
If you do have to keep your wrist immobile for healing purposes (as directed by your doctor), you'll need to rebuild your strength in that area before you go back to your normal daily functioning, Dr. Harte says. In that case, it may help to work with a physical therapist.
3. Should a Wrist Brace Be Tight or Loose?
A good way to think about the fit of a wrist brace is the tighter it is, the more stability it provides. However, that doesn't mean it should be incredibly uncomfortable to wear. In most cases, you need to know the root of your issue and the goal of the brace to determine how tight it should be, Dr. Harte says.
"If there is instability, tighter is often better. If there is less of an acute issue, but someone wants the reminder to pay closer attention to how they're moving, a looser fit works just fine," she says.
"Of course, the fit must allow for normal blood and lymphatic fluid circulation for healthy functioning of the various bodily systems." (In other words, don't wear it so tightly that it cuts off circulation to your hand.)
Is this an emergency? If you are experiencing serious medical symptoms, please see the National Library of Medicine's list of signs you need emergency medical attention or call 911.