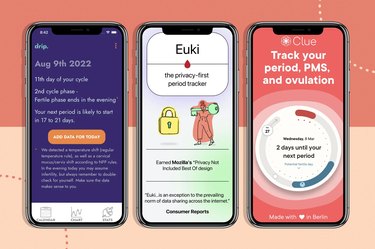 If you're trying to conceive (or trying ‌not‌ to conceive), tracking your menstrual cycle can provide valuable information about when you ovulate, when your period is expected to start and more.
A few decades ago, most people with periods used good ol' fashioned paper calendars to take note of their cycles. Today, though, many free and inexpensive apps are available that make it fast and easy to keep track of pretty much everything to do with your period.
But which ones are the best? And are there any period-tracking apps you should avoid? We've got answers.
The Best Period-Tracker Apps
We spoke with an ob-gyn and female reproductive health specialist to better understand what matters in a period-tracking app. Based on their recommendations and guidance, we narrowed down our top picks based on the following criteria:
Target age group
Privacy policy
Goal or purpose
Accessibility
Ease of use
Price
Pros
Data-secure
User-friendly
Female-led
Deep library of health info
Large online community
Cons
Some users say response time is slow
There's no way to "pause" tracking during pregnancy without upgrading
According to ob-gyn Staci Tanouye, MD, if you're looking for a well-rounded app that helps you track your period, including symptoms and ovulation, give Clue a try.
In addition to logging start and end dates, Clue allows users to track hormonal symptoms throughout the month, so if issues or concerns arrive, you have data to show your doctor. Examples include vaginal discharge, tender breasts, breakouts and mood variations.
If you're not trying to conceive right now but are considering a pregnancy in the future, Clue can grow with your life stages. With an upgraded membership to Clue Plus (cost varies by region), you can toggle among straightforward period-tracking, trying to conceive, tracking a pregnancy and so on.
Additionally, Dr. Tanouye says what sets Clue apart is its extensive library of accurate and well-researched health information.
If you're looking to connect with other people with periods, you might also appreciate being connected to Clue's large online community, which is full of forums, feedback and more.
Pros
Simple
No hidden costs
Data-secure
Cons
Limited functionality compared to some other apps
You want all the information (and the power that comes from it) — but you don't need any fancy bells and whistles. And you'd like to avoid paying for yet another app.
Dr. Tanouye raves about Drip as the top period-tracking app that is 100 percent free. As she puts it, there is no pink, no ads, many ways to track — and an excellent privacy policy.
Like other period-tracking apps, you can monitor any symptom, including your mood, pain/discomfort, bleeding days and so on.
Pros
Focus on fertility
Active community forums
Multiple apps for period-tracking, TTC, pregnancy and baby
Cons
Users say data doesn't sync across sister apps
Some users have privacy concerns
Paying attention to your period becomes a top priority when you decide to grow your family.
For those actively trying to conceive, Dr. Tanouye recommends Glow, a period-tracking app that puts a big focus on fertility and tracking fertility signs.
Glow has a robust TTC (that's "trying to conceive") community with well-researched content.
What sets Glow apart from other apps is its ability to track a plethora of information connected to TTC. You can log up to 40 health symptoms on the daily log within the interface, including your basal temperature, vaginal discharge and much more.
Plus, Glow is part of a family of apps that cover each stage of your TTC journey — conception, pregnancy (Nurture) and baby (Glow Baby).
Glow also has a sister app called Eve that's geared toward sexual health and people who are trying to avoid pregnancy. This means it can be your companion for life.
Glow is free to download, but you can upgrade your membership to unlock additional features, including premium articles and customer support, fertility charts, guided meditation, comparative insights and more.
Glow Premium is available in three tiers:
‌Three-month membership:‌ $29.99/month
‌Yearly membership:‌ $3.99/month
‌Lifetime membership:‌ $79.99 one-time fee (premium access across the whole family of apps)
Pros
Accurate predictions
Tracks birth control pill use
Data-secure
Cons
Only available for Apple devices
Skews young
When you have irregular periods or unpredictable hormonal symptoms, diving into your reproductive health can feel overwhelming.
Dr. Tanouye recommends downloading Aavia for help figuring out your period questions. "It will help you better predict not only periods but also hormonal symptoms and what they mean for you," she says.
The app was technically designed with a younger audience in mind, but it can be helpful at any age.
According to its website, Aavia was founded "because we didn't know that our personal pains — missed periods, migraines, lost vision, breakouts, and sleepless nights —could be related to our hormones."
In addition, if you take birth control pills, you can automatically pair your prescription with Aavia's Bluetooth birth control case to track your pills and alert you if you've missed one, Dr. Tanouye says.
Like other period-tracking apps on our list, Aavia is also dedicated to protecting privacy and has stated it will not sell data to third parties.
Pros
Informative
Data-secure
Available in English and Spanish
Cons
Doesn't predict your period
Users say it's mostly geared toward cis straight women
There's a lot to navigate in the foundational, fundamental teenage years, from the hormonal symptoms that come with menstruation to learning about pregnancy and STI protection when you're sexually active.
With all that in mind, Dr. Tanouye recommends Euki as the best period-tracking app for the teen crowd. It's free and wholly run by a staff of volunteers and funded via donations.
In addition to tracking your cycle, Euki is dedicated to including evidence-based reproductive and sexual health information. This gives teens insight and encourages them to learn about their bodies, desires and symptoms rather than feeling ashamed.
Euki's hope is that by providing doctor-based guidance, teens can make informed choices about their health.
Like the other apps here, Dr. Tanouye says Euki takes privacy seriously, so you don't have to worry about information being sold to third parties.
What to Look for in a Period-Tracking App
First and foremost, when shopping for a period-tracking app, Dr. Tonouye says to make sure it meets your needs where you are right now.
"Some period-tracker apps are meant to help track fertility for people TTC vs avoiding pregnancy. Some are geared towards helping track periods and cycle symptoms, and some are meant for a younger community," she says. "Think about what you'd like to use it for and look for characteristics in the app that serve your needs."
If it isn't straightforward to use…then it won't yield the information you crave from a period-tracking app.
As Dr. Tonouye says, the best way to get the full benefit of a period-tracker is to make sure you can use it easily. This means it's easy to enter data, see your data charted and understand it.
"The more data you enter, the more accurate your cycle predictions will get, so an app that makes it easy for you to enter data reliably is one that will work better for you overall," she says.
What to Avoid in a Period-Tracking App
Dr. Tonouye urges people with periods to avoid any period-tracking app that doesn't guarantee data privacy or ensure no third parties could have access.
"I hate that we have to think about it, but in today's political climate, the last thing you want is a third party interpreting your data," she says. "No one else needs to be aware of a potentially missed period other than you and your doctor."
Dr. Tonouye says if you can't figure out how to view your own calendar or use the features, then you most likely won't use them. And then you won't be able to get the full benefit of tracking your cycles.
"Apps should be simple to use, self-explanatory and easy to enter your data," she says.
3. Too Many Bells and Whistles
The most popular apps may have plenty of features, but they also can have some bigger pitfalls: data concerns, fewer options available on the free versions and more expensive paid versions.
Often, Dr. Tonouye says smaller apps may be more responsive to your experience with better customer service.
Is this an emergency? If you are experiencing serious medical symptoms, please see the National Library of Medicine's list of signs you need emergency medical attention or call 911.