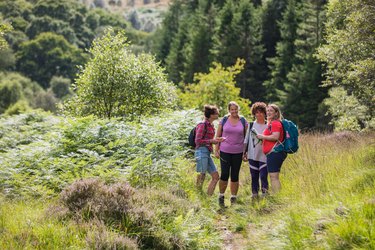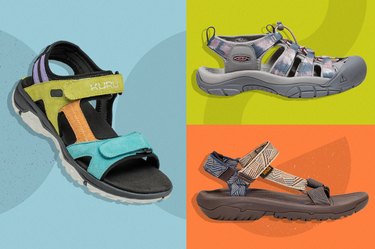 Hiking sandals are becoming an increasingly popular shoe for logging miles on trails during warmer months.
While many have traditionally turned to hiking boots and sneakers, sandals are breathable, comfortable, durable and many are lightweight. They're also adaptable and multifunctional — if you want an all-in-one summer shoe, a solid hiking sandal is the way to go.
However, it's important to choose the right one to avoid pain or even injury.
We spoke to hiking experts, avid hikers and podiatrists, as well as our did our own testing and scoured online reviews, to come up with the best hiking sandals. Then, we narrowed our picks based on the following criteria:
price
availability
durability
With adjustable straps, an EVA footbed that molds to your foot, quick-dry webbing for water control and a rubber outsole, this hiking sandal from Teva is one of its most popular.
Originally branded as the "World's Ugliest Sandal," the Newport from Keen has become one of the most recognizable shoes on the trails.
While technically a sandal, it features a closed-toe design, which Dr. Spector says is beneficial for protection. It also has bungee cord lacing to avoid untied laces and a light-weight midsole.
If you have wider feet or prefer a more natural foot shape, these sandals have room for toes to spread out. Keen's are also one of the best sandals for plantar fasciitis thanks to the supportive footbed. They're also machine washable, ideal for easy cleaning after a muddy, messy weekend.
3. Chaco Mega Z/Cloud Sandal
Chaco's Z sandals are made with a single, adjustable strap that wraps through the midsole, so each pair can be adjusted to fit your foot, whether you need more room in the arch or heel.
This shoe also features a podiatrist-accepted foot bed for arch support and healthy alignment, plus vegan-friendly construction and new tread designs.
The "Cloud" in the name comes from an extra layer of softer foam in the midsole, providing a little more bounce and cushion for longer trail days.
4. Bedrock Cairn Adventure Sandals
These lightweight shoes have become all the rage, thanks to a footbed that conforms to your feet.
"Bedrocks allow for more natural foot motion," Lee Welton, CPT, owner of Trailside Fitness in Idaho Falls, Idaho, says. "That tends to be better than something where you have to alter your foot movements to grasp the sandal, or change your walking mechanics based on the footwear you're wearing,"
If you need more arch support, reach for a pair of Kurus. These all-terrain sandals feature arch, heel and ankle support, hook and loop technology, and waterproof, breathable materials.
The chunky tread, which can help with traction when tackling different terrains, is flexible and durable. And these sandals are totally waterproof.
"They're well made because they have a decent amount of tread, which is something else that you want, and they'll give you comfort as well," Dr. Spector says.
6. Chaco ZX/2 Classic Sandal
With a rubber compound outsole and signature footbed for comfort, this sandal has a secure fit with a toe loop, which allows your foot to move more naturally than when wearing a flip flop.
"Chacos with a toe strap were my first pair of hiking sandals," Jessica Campbell-Salley, Senior Fitness Editor for LIVESTRONG.com, says. "I wore them for 10-plus year until the soles wore out — and I logged a lot of sweaty summer miles in them."
Campbell-Salley cites the availability of wide sizes as one of her favorite things about Chacos. "If you have wide feet, you know the pain of having the side of your foot hand off the edge of a sandal," she says. "That's never a problem with my Chacos, and I don't even have to order men's sizes."
Z sandals are now repairable with the ReChaco program, making it possible to resole or restrap the sandals so that they're like-new.
4 Things to Consider Before You Buy
According to experts, there are several elements to look for when shopping for a quality hiking sandal.
1. Adjustable/Adaptive Straps
"Sandals can have mesh on their upper, so it helps protect your feet from little pebbles and things that can get into your shoe and that might actually cause you to get some blisters and things like that," Maggie Peikon, manager of communications for the American Hiking Society, says.
Fully adjustable straps help keep the foot stable while allowing for comfortable motion, according to Welton. You want to make sure the straps are made out of durable, but not irritating, material, and you want your hiking sandals to be fitted, not loose. Sandals that are too loose will let your foot move around too much, setting you up for a rolled ankle on a rock.
Sandals with velcro closures are great if you struggle with mobility in your hands as they're easier to get on and off.
Dr. Spector says arch support is another huge feature consumers should look for when purchasing a sandal for hiking. Arch support can help distribute pressure, assisting with stability which is very important for navigating rocky and rooty trails.
He says arch buildup and support have greatly improved in hiking sandals in recent years, expanding your choices.
Experts say waterproof materials can be crucial when hiking different terrains. Hikers may come across a stream, mud, puddles and other sources of water that can leave your foot soggy and in need of ventilation. Sandals can provide this breathing room, while still providing support and safety for your foot.
"[Another thing] that's really important to me includes a rubber sole," Peikon says. "Especially if you're walking through water, things are going to be slippery."
Tread can assist with preventing slipping or tripping, which can lead to injury.