The midriff area is located below the chest and above the pelvis. When it comes to this area and the lower back, fat has a tendency to accumulate on both men and women over the years. These areas are no different than any other area when it comes to toning them. Exercises need to be done that can increase weight loss and build muscle. In order to successfully pull this off, you will need a few tools, some body weight and some motivation to go along with them.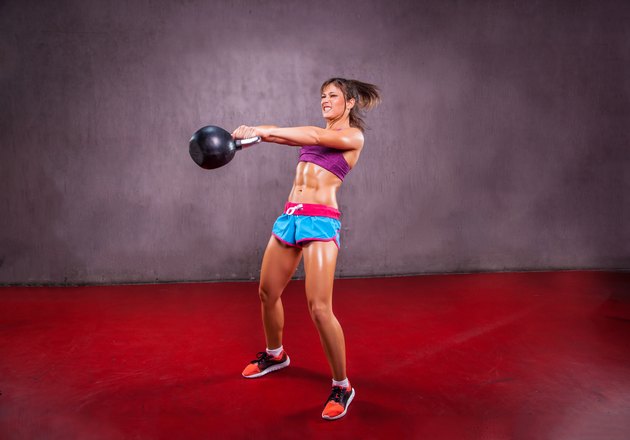 Step 1
Go for a run. Whenever it comes to toning any part of the body, you need to do some cardiovascular training to burn fat all over and the area you are trying to target. Perform some form of cardio training three times a week for 45 to 60 minutes. Some examples are running, biking, stair stepping, swimming or rowing. Rowing would be especially effective because it targets the lower back and stomach area.
Step 2
Climb a mountain with a BOSU. A BOSU is a functional training tool that has an inflated dome side and a flat side that can be used both ways. To do mountain climbers, flip the BOSU over so the flat side is up. Grab the sides of it and come into a plank position. Now alternate, bringing your feet forward one at a time. Act like you are running from a horizontal plane.
Step 3
Hyperextend your back. Back hyperextensions work your lower back. Lie on your Swiss ball with your hips right about at the center point. Place your hands on the sides of your head and slowly lower your upper body all the way down while keeping your lower body still. Lift all the way up until you feel the muscles working in your lower back, then repeat.
Step 4
Do some bird dog crunches. Get on your hands and knees on the floor in what is called a quadruped position. Extend your right arm straight out and your left leg straight behind you. Do a crunch as you bring your knee and elbow in to meet each other. Extend them back out to completely straight, and then repeat. This exercise will work your lower back and midriff area simultaneously.
Step 5
Lie across the ball. Spinal balances will work your lower back and also target your core at the same time. To perform them, lie on the Swiss ball on your stomach. Roll forward and straighten your body until you are parallel to the floor. Hold a balanced position with no contact with the floor whatsoever.
Step 6
Swing a kettlebell. A kettlebell is a functional training tool that looks like a cannonball with a curved handle attached to the top. To do kettlebell swings, stand in a wide stance with the kettlebell on the ground in front of you. Grab the handle with both hands and come into a standing position with your arms straight in front of you. Bend your knees slightly and use momentum to swing the kettlebell between your legs and then out in front of you to the height of your chest.
Things You'll Need
Kettlebell

Swiss Ball

BOSU
Tip
When doing your hyperextensions, place your feet against a wall for better stability. When doing spinal balances, make sure your feet are together and you are looking straight ahead. When you start doing these, keep your hands on the floor and slowly get to the point where you can put less and less pressure on them until your index fingers are all you need to hold yourself up. Then try to remove them as well.
Warning
If you have never exercised before or have not exercised in a long time, make sure to get the consent of your doctor before engaging in any high-intensity physical activity.