The bench press exercise is a very common choice for those who are interested in effectively developing their chest, shoulders and triceps muscles, and the exercise is usually performed with a barbell. Although there are some variety in bars, there is one typical standard weight bar that you'll find in most gyms.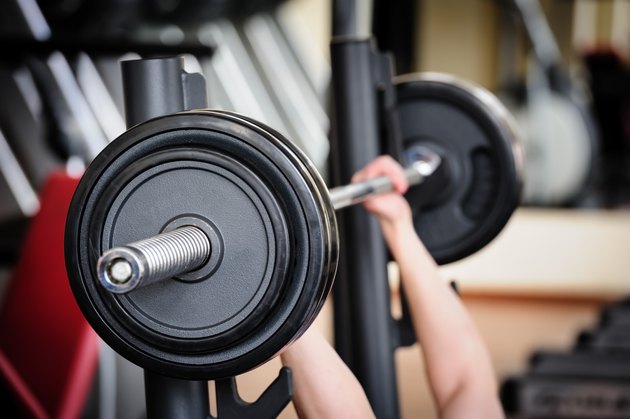 Identification
A standard Olympic barbell is made of metal, is seven feet long and weighs 45 pounds. Adding collars or locks, which are used to securely hold any weight plates to the barbell, will add to its overall weight.
Features
The bar that's used in bench press is made so that weight plates can be added to each end and securely held. This allows people of different strength levels to do the exercises. If you add weight plates to your bar, be sure that the weight is even on both ends and that they're securely placed against the bar and held with collars or locks.
Exercise
Using a bar for bench press requires both of your arms to work together to lift and lower the bar. Grip the bar evenly on both sides so that the weight is evenly distributed to both arms and that the bar stays level.
To bench press, lie on your back on a bench, and grasp the bar slightly wider than shoulder width. Raise the bar off the rack and hold it so that it's directly over your eyes. Lower the bar down so that it gently touches your nipple line, then press the barbell back up until your elbows are straight and the bar is over your eye level again.
Other Options
While the standard weight of a bench press bar is 45 pounds, there are options for those who are not able to complete the exercise with the standard bar. Another bar that is commonly seen in fitness gyms is 33 pounds and offers a thinner grip section for those with smaller hands. If you're interested in adding variety to your bench press exercise, there is also the EZ curl bar, which is lighter and curved throughout the center.
Safety
A spotter should be used while performing the bench press. The exercise requires that you hold at least a 45 pound bar over your face, so any steps to avoid accidents should be taken. Those who are beginners and either are uncoordinated or might be unable to lift the bar from the rack alone should always have a spotter. If you're comfortable with the exercise and are lifting heavy weights, have a spotter in case you lose your grip or are unable to complete a final rep without assistance.