Strengthening your muscles does far more than just make you stand out at the beach. Strength-building exercises improve your health in a number of ways, and it's possible to reap these benefits through the use of body-weight exercises such as pushups and weight-training tools such as dumbbells. Pushups are effective but limited in their scope, while dumbbells provide you with a wealth of muscle-building possibilities.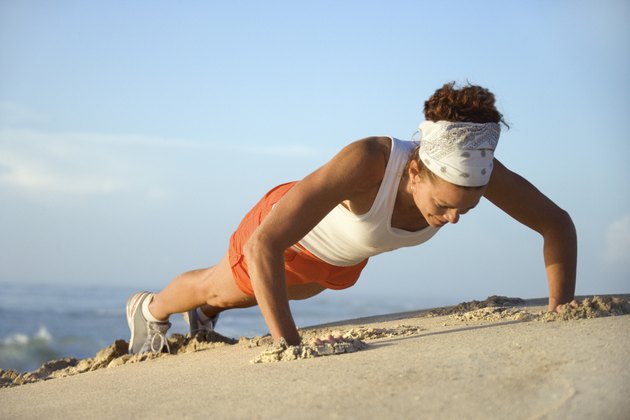 Push Your Way to Stronger Muscles
The pushup is a body-weight exercise that relies solely on the weight of your body to build your muscles. This exercise, which you perform on the ground, targets your chest muscles, but also strengthens your shoulders, arm, core and back. Each repetition of this exercise, in which you push your chest vertically off the floor, requires significant strength. Spectrum Fitness Consulting reports standard pushups force you to lift 71 percent of your body weight.
Strength From Head to Toe
A significant perk to exercising with dumbbells is their ability to help you build a long list of major muscle groups. Dumbbells aren't just a way to strengthen your upper body. While it's true that such exercises as shrugs, curls and bench presses can strengthen your trapezius, biceps and pectorals, respectively, dumbbells are also adept at increasing the benefits of a lower-body workout. With a pair of dumbbells in your hands, you'll instantly elevate the challenge of lunges, squats and calf raises. Lunges and squats target your quads, while calf raises strengthen your calves.
A Long List of Benefits
Pushups and dumbbells each have perks. Pushups are ideal because of their lack of equipment; if you're at home, traveling or even at work, you can perform a set of pushups without needing any gear. Pushups have several variations, and when traditional pushups get easy, incorporating such variations as clap pushups adds a new challenge to your workout. Dumbbells, meanwhile, are beneficial because of their versatility; whereas pushups are limited in their ability to strengthen a significant number of muscles, one set of dumbbells allows you to strengthen your body in a multitude of ways.
Strengthen For Your Health
Strengthening your body with pushups or dumbbells to increase your strength helps you manage your weight, boost flexibility and balance, reduce your stress and help manage the symptoms of health issues such as osteoporosis. If you prefer a body-weight workout, pushups shouldn't be your only exercise, as it's important to strengthen all your major muscle groups. Regardless of your method of gaining strength, performing strength training at least twice a week is ideal.