Medical professionals prescribe phentermine, an appetite-suppressant medication that's chemically similar to amphetamine, for short-term weight-loss programs. Phentermine may cause side effects, such as insomnia, impotence, dry mouth, dizziness, nervousness, diarrhea and constipation, although most of these tend to disappear after you've taken the drug for awhile. Alternative weight-loss aids, some with fewer side effects, offer medicinal properties similar to phentermine. However, check with your doctor before embarking on any weight-reduction program.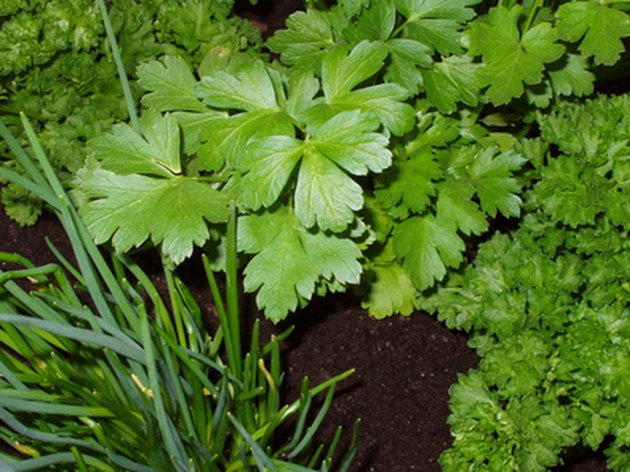 St. John's Wort
Long touted as a natural antidepressant, St. John's wort also offers promise as an aid to weight loss, according to Deborah Mitchell, author of "Natural Medicine for Weight Loss." However, if you're looking for a fast fix, this herb may not be the right one for you. Its usefulness in weight reduction is thought to stem from hypericin, a natural compound that promotes a positive mental state and calmness, thus easing the anxiety and depression that often accompanies the dieting process. Mitchell points out, however, that the desired effects of hypericin may take two to four weeks to develop, so you'll have to stick with St. John's wort for the long haul to reap its full benefits. She also notes that the herb interacts adversely with certain foods and medications, so check with your doctor to see if St. John's wort makes sense for you.
Korean Pine Nut Oil
Dutch researchers studied the appetite-suppressing effects of Korean pine nut oil in a double-blind, cross-over trial on 18 overweight, postmenopausal women. The oil is believed to stimulate the body's production of cholecystokinin, or CCK-8, a hormone associated with feelings of satiety or fullness. Test subjects were divided into three groups and given capsules containing 3 g of Korean pine nut free fatty acids, 3 g of Korean pine nut triglycerides or 3 g of placebo–olive oil. According to findings published in the March 2008 issue of "Lipids in Health and Disease," CCK-8 levels were higher in test subjects given pine nut compounds, compared with those who received placebo, at both 30 and 60 minutes after the capsules were taken. Appetites, based on subjects' estimates of "prospective food intake," were 36 percent lower in those taking pine nut free fatty acids than in those who were given placebo. However, consult a medical professional before you take this or any other alternative remedy.
Nutrients
Certain nutrients can speed up your metabolic rate, which increases the amount of fat the body burns off. Elson M. Haas and Cameron Stauth, authors of "The False Fat Diet," recommend taking daily amounts–in one to two doses–of 1,000 to 2,000 mg each of arginine, carnitine, ornithine and tyrosine; 500 to 1,000 mg each of glutamine and phenylalanine; 500 to 1,500 each of choline and guggul; 10 to 25 mg of DHEA; and 200 to 400 mcg of chromium. Check with your doctor to see if these nutrient supplements are appropriate for you.