Kidney stones are tiny crystals that form in the urinary tract from minerals in urine. Even through they are commonly called kidney stones, the crystals can form anywhere in the urinary tract, including the bladder or the ureters, the tubes that carry urine from the kidneys to the bladder. The medical term for the occurrence of kidney stones is urolithiasis. Often, kidney stone naturally pass from the system and require no medical intervention. However, sometimes doctors may prescribe medications to help break down the crystals. Different types of crystals are formed from different substances and require different types of medication.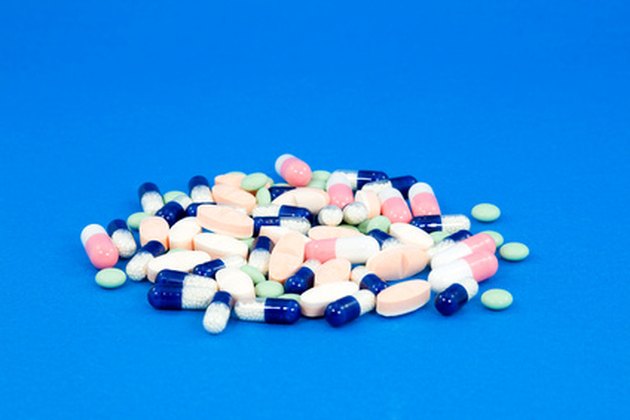 Diuretics
The most common type of kidney stone is formed from calcium. These calcium stones are commonly treated with diuretics, medications that increase urine volume and decrease the amount of calcium excreted into urine by the kidneys. A class of diuretics called thiazides are commonly prescribed to treat calcium kidney stones, including the medications hydrochlorothiazide, sold under the brand names Esidrix or HydroDIURIL; chlorothiazide, sold as Diuril; trichlormethiazide, sold as Metahydrin or Naqua; and chlorthalidone, sold as Hygroton. In rare cases, calcium stones are treated with phosphate solutions, which reduce the amount of calcium released into the bloodstream. Phosphate solutions include potassium phosphate, sold as K-Phos, Neutral and Neutra-Phos, and cellulose phosphate, sold as Calcibind.
Allopurinol and Citrates
Uric acid is another substance that sometimes forms kidney stones. This type of stone is often treated with a medicine called allopurinol, which is sold under the brand names Zyloprim or Aloprim. Allopurinol reduces uric acid levels in the blood and urine. At the same time, doctors often prescribe a medicine that makes urine less acidic such as sodium bicarbonate; or citrate salts such as sodium citrate; potassium citrate, sold as K-Lyte, Polycitra-K or Urocit-K; or magnesium citrate, sold as Citroma and Citro-Nesia.
Alkalizing Agents
A rare type of kidney stone is formed from cystine. These are the hardest types of kidney stones to treat. Similar to uric acid stones, the first treatment given to treat cystine stones are medications that make the urine less acidic, these are called alkalizing agents. If alkalizing agents are not successful, patients are often prescribed medications that lower cystine concentration, such as d-penicillamine or alpha-mercaptopropionylglycine, sold as tiopronin, or captopril.
Antibiotics
Another type of kidney stone, struvite stones, is caused by bacterial infections. Unlike other types of kidney stones, struvite stones must first be treated by surgery to remove the stones. After surgery, antibiotics are often prescribed to prevent bacterial infections from recurring.