Blood pressure monitoring is an essential component of medical care, as this vital sign is checked at nearly every doctor's appointment and monitored regularly while in the hospital. As the goal is to achieve target blood pressure levels, the monitoring technique is essential to get right. For accurate diagnosis and management of high blood pressure and blood pressure-related conditions, monitoring of this vital sign needs to be done using recommended body positions -- whether blood pressure is checked while sitting, lying down or standing.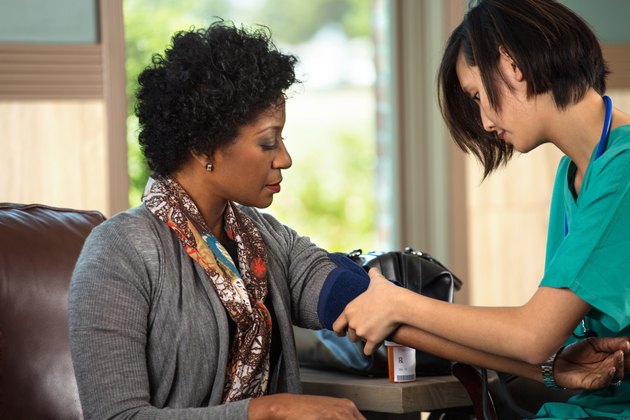 Body Positions
Blood pressure measurements are typically recorded as two numbers -- the systolic and diastolic pressure -- with a slash in between, such as 120/80. The American Heart Association defines normal blood pressure as a systolic pressure less than 120 and diastolic pressure less than 80. Systolic pressure -- the top number -- represents the force of the blood on the artery walls as the heart contracts. The bottom number is the diastolic pressure, which represents the force of the blood as the heart rests in between beats. Three common positions are used when taking a person's blood pressure -- sitting in a chair, lying in bed or standing, and each of these positions can provide different blood pressure readings.
Sitting Position
Medical professionals often check blood pressure when you are sitting in a chair, as your arm is supported at heart level -- for instance, as the arm rests on a table. For this body position, the American Heart Association recommends that you sit comfortably with your back supported, with both feet flat on the floor. If these guidelines aren't followed, your blood pressure reading may be impacted. For example, according to a December 2004 article in "Hypertension," if your back is not supported, the diastolic pressure may be increased by 6 points. In addition, the systolic pressure may be increased from 2 to 8 points if your legs are crossed.
Supine Position
Blood pressures that are checked in an emergency department or hospital are often done when you are in a supine position, or when lying flat on your back. According to the report in "Hypertension," it is widely accepted that the supine position provides a diastolic reading about 5 points lower compared to a sitting position. Alternatively, the systolic pressure is often 8 points higher when monitored lying down compared to sitting. In clinical practice, it's understood that values may be different when lying down, as long as the healthcare provider takes the body position into account when interpreting the results.
Standing Position
Blood pressure may be also checked in the standing position, particularly in persons over the age of 70 who are taking blood pressure medications, or when a condition called orthostatic or postural hypotension is suspected. This condition is characterized by low blood pressure that occurs when you stand up after lying down or sitting. Symptoms include dizziness, lightheadedness and fainting. Standing blood pressure measurements are typically lower compared those checked in the sitting or supine positions, so a comparison of readings in these different positions is useful for diagnosing this condition. In addition, standing blood pressure may be checked as a way for the doctor to assess if an adjustment to blood pressure medications runs the risk of dropping the blood pressure too low.
Arm Position
Whether the blood pressure is checked while sitting, standing or lying down, the arm position is an important factor that can also affect blood pressure readings. In general, the arm needs to be at heart level and supported, and if lying down, a pillow should support the arm for optimal position. If the arm is above heart level, blood pressure readings may run lower than actual, and if the arm is below heart level, readings may run higher than actual. In addition, the arm needs to be relaxed -- and not tense -- for accurate readings.
Warnings and Precautions
Blood pressure measurements help healthcare providers monitor high blood pressure and other medical conditions, so it is important this vital sign is measured using the correct technique, including proper body positions. If you are self-monitoring your blood pressure, be sure to ask for education on the proper technique. While a single high blood pressure reading may not be cause for alarm, a pattern of readings above normal should be evaluated by your doctor, who can determine if and when medication needs to be initiated or adjusted. However, a systolic reading of 180 or above, or a diastolic reading of 110 or above indicates a blood pressure crisis and requires emergency medical treatment.
Reviewed by: Kay Peck, MPH, RD