Hypertension, or high blood pressure, affects an estimated one-third of Americans age 20 or older, according to the National Institutes of Health. Hypertension is defined as a blood pressure of 140 over 90 millimeters of mercury or higher. One or both numbers may be above normal with hypertension. Borderline high blood pressure -- or prehypertension -- is a systolic blood pressure of 120 to 139 mmHg, or a diastolic blood pressure of 80 to 89 mmHg. It is easy to monitor your blood pressure at home using a sphygmomanometer.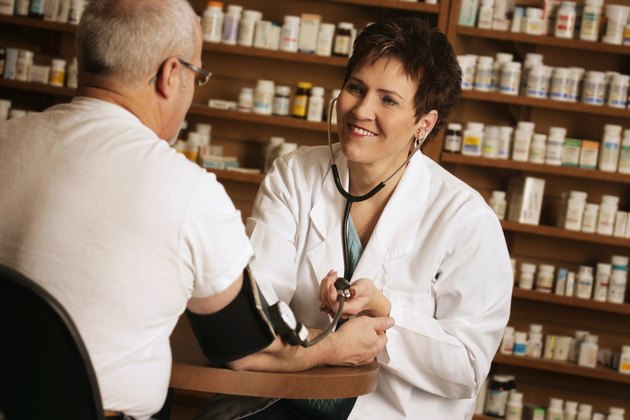 Digital Sphygmomanometers
Digital sphygmomanometers, or blood pressure monitors, are widely available. They consist of an inflatable cuff and a digital display. When choosing a blood pressure monitor, be sure the inflatable cuff is the appropriate size by referring to the arm circumference range on the package. A digital wrist monitor is one variation of the standard arm blood pressure cuff. Wrist monitors fit most body types because the wrist circumference is usually not significantly affected by body weight. Whether you select a wrist or arm cuff, most digital blood pressure monitors are easy to use and require only the push of a button to check your blood pressure.
Aneroid Sphygmomanometers
An aneroid sphygmomanometer consists of an inflatable cuff, a pressure gauge and an inflating bulb. A stethoscope is also required. Because of the skills needed to take a blood pressure with this instrument, aneroid sphygmomanometers are recommended for use by medical professionals or others who have received comprehensive training in taking blood pressure readings.
Measuring Your Blood Pressure
Once you have found a sphygmomanometer, put it to use by applying the blood pressure cuff snugly around your bare upper arm. If you are using a wrist monitor, position the cuff around your wrist. Relax your arm and position it at the level of the heart. Since each blood pressure monitor works differently, follow the manufacturer's instructions for inflating the cuff on your specific monitor. Keep your arm relaxed and still while the monitor is measuring your blood pressure.
Recording Your Results
When the monitor finishes taking your blood pressure, the cuff deflates and your results show on the display. The top number is your systolic blood pressure and the bottom number is your diastolic blood pressure. Many digital monitors also display your heart rate. Record your results and take them to your next doctor's appointment. Bring your blood pressure monitor to your appointment as well. Doctor's office staff can check your monitor to make sure it is measuring your blood pressure accurately.
Is This an Emergency?
If you are experiencing serious medical symptoms, seek emergency treatment immediately.