When toes are normal, they extend straight out and have a natural slight downward curvature. But when hammer toes develop, they're bent at the middle joint; this generally occurs in the second, third or fourth toe. Hammer toes develop as a result of improper footwear in conjunction with the fact that the muscles in the toes can't stretch out. One treatment option is specific exercises.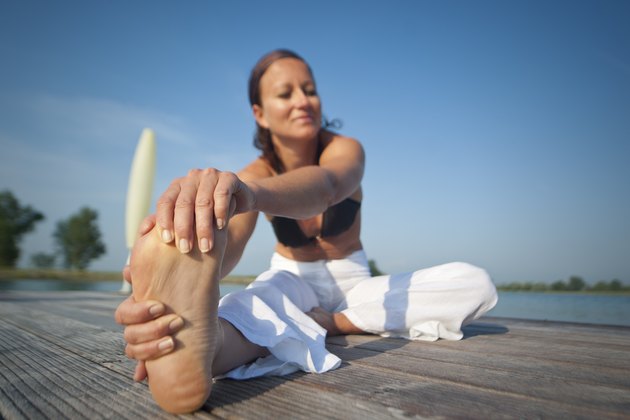 Toe Crunch
A crunch is an abs exercise, but there's another type of crunch that can be done to work the toes. To perform it, sit on a chair in a comfortable position with no sock on your affected foot. Place a towel on the floor and put the upper half of your foot on it. Keep your heel down on the ground and crunch the towel up with your toes. Release them back out and repeat 10 to12 times.
Taps
Taps can be done from the same position as toe crunches. With bare feet, extend your big toe down toward the floor while extending your remaining toes up in the air. Hold this position and lightly tap the floor with your toes. Do 10 to 12 taps and then reverse your toe position so your big toe is pointing up and your other toes are pointing down. Repeat the same taps.
Manual Stretch
You can also stretch your toes with the use of a towel to help lengthen the muscles. Sit on the floor with your legs straight and out in front of you. Wrap a towel under the toes, gently apply backward pressure and hold for 20 to 30 seconds. You can also use your hand to pull the toes back.
Toe Rolls
Toe rolls are similar to when you tap your fingers from side to side on a table. Stand barefoot on a flat surface. Lift all of your toes off the ground together, then roll them down one at a time from the little toe to the big toe. Lift them up and repeat 10 to 12 times, then change directions.
Squeeze
The squeeze exercise can be performed from a seated position. Place your foot over your thigh comfortably. Slide your fingers in between your toes and squeeze your toes together, pinching your fingers. Release and repeat 10 to 12 times. If it's too much to do all of your toes, start with one finger between two toes and work your way up to all of them.