Coconut oil, a saturated fat, has been shown to have significant health benefits and even pharmacological uses. Although unsaturated fats are usually considered to be the healthier kind, studies have found that coconut oil can lower levels of unhealthy fat in the body and promote weight loss. Its anti-inflammatory and antioxidant properties also make it beneficial for the entire body. Coconut oil can be used in cooking or taken in capsule form. Research suggests that virgin coconut oil has better health effects than refined coconut oil.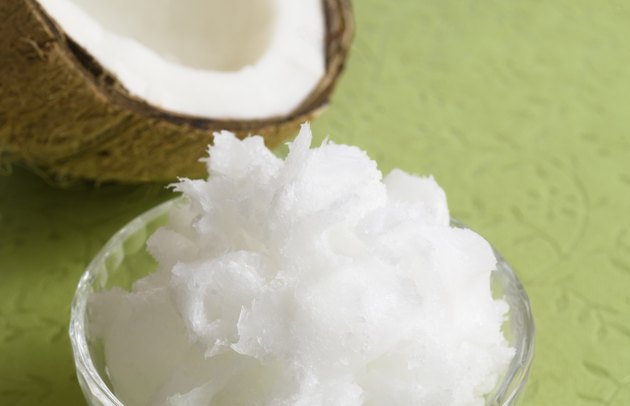 Antioxidant Properties
A 2013 study published in "Food and Function" compared the antioxidant effects of virgin coconut oil, refined coconut oil, sunflower oil and olive oil. Researchers measured the antioxidant activity in the liver, heart and kidneys, the formation of lipid peroxidation and protein oxidation in rats. Across the board, virgin coconut oil turned out to be the most powerful antioxidant. This means it eliminates the most free radicals, which cause long-term organ damage, aging and can cause cancer.
Preventing High Blood Pressure
Research suggests coconut oil capsules help regulate blood pressure and cholesterol levels, preventing high blood pressure. A 2013 study published in "Evidence-Based Complementary and Alternative Medicine" found that repeatedly heated unsaturated palm oil raised blood pressure in rats, while a combination of heated palm oil and virgin coconut oil did not exhibit this effect. In another study on rats, published in "Clinical Biochemistry" in 2004, virgin coconut oil lowered total cholesterol; triglycerides; phospholipids; low-density lipoprotein, or "bad" cholesterol; and VLDL, or "very bad" cholesterol, while increasing levels of high-density lipoprotein, or "good" cholesterol.
Pain and Fever Relief
A 2010 study published in "Pharmaceutical Biology" set out to determine whether virgin coconut oil had anti-inflammatory, pain-relieving or fever-reducing effects. It turns out that it possesses all three effects in rats. When ear and paw swelling was induced in the rats, virgin coconut oil had an inhibitory effect on inflammation. In the same study, virgin coconut oil had pain-relieving and anti-fever effects on rats with yeast-induced hyperthermia. This suggests coconut oil capsules could possibly be used instead of aspirin or other chemical-based pain killers to reduce the inflammation that often causes pain.
Weight Loss
Coconut oil is a saturated fat, a type that's generally considered unhealthy and unhelpful to someone trying to lose weight. But coconut oil is a medium-chain triglyceride -- a healthy type of saturated fat that has been found to improve weight loss. In a 2008 study published in the "American Journal of Clinical Nutrition," 49 men and women were given either olive oil or medium-chain triacylglycerols like those found in coconut oil. After 16 weeks, those who had consumed medium-chain triacylglycerol oil lost more weight, total fat mass and stomach fat than those who had olive oil instead. Although there is no "miracle pill" for weight loss, taking coconut oil capsules and cutting back on other fats may help you meet your weight-loss goals.