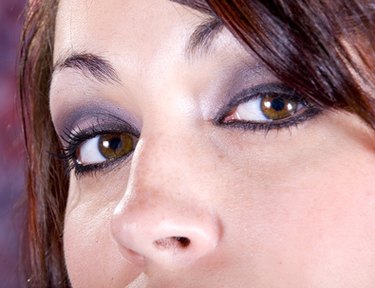 Topical hydrocortisone cream is effective in treating swollen, inflamed rectal hemorrhoids, but you may also get good results using hemorrhoid cream to reduce swelling in other places. Makers of hemorrhoid creams do not support alternative uses of their products, so use caution if you try any other uses for hemorrhoid cream. Avoid getting the cream in your eyes or mouth and do not use large amounts of hemorrhoid cream for an extended period of time to avoid irritation. Consult your health care professional before attempting to use hemorrhoid creams for any purpose.
Reduce Dark Under Eye Circles
The Hemorrhoid Treatment website states that over-the-counter hemorrhoid cream is effective in fighting the appearance of dark under eye circles. Be careful when applying the cream to your eye area. Hemorrhoid cream will burn if it gets in your eyes. For best results, wash and dry your face then apply the cream gently around your eyes using your fingertips. Allow your skin to absorb the cream for 20 minutes, then rinse off the hemorrhoid cream and pat your face dry. Your under eye area will be soft and puffiness will be reduced after using hemorrhoid cream topically.
Lessen Blemish Swelling
While hemorrhoid cream is not effective in clearing up facial blemishes, the anti-inflammatory properties in the cream can help reduce the appearance of acne breakouts. The Hemorrhoid Treatment website states that you can use hemorrhoid cream topically on pimples to reduce swelling and shrink the size of your breakouts.
Improve Muscle Appearance
An article on the ABC News website states that applying hemorrhoid cream to your chest and waist can make you appear more muscular. The hemorrhoid cream draws water from the skin and reduces puffiness and swelling. Bodybuilders often apply hemorrhoid cream to their oblique muscles in an attempt to thin the skin over the muscles by removing excess water.
Reduce Wrinkles
Facial wrinkles, such as forehead lines, may be helped by topical applications of hemorrhoid cream, according to the Hemorrhoid Treatment website. By applying a small amount of hemorrhoid cream to your wrinkles, you may tighten the skin and lessen the visibility of fine lines on your face.
Treat Cold Sores
You can treat cold sores around your mouth using a tube of hemorrhoid cream, according to the Hemorrhoid Treatment website. You don't want to use hemorrhoid cream on your lips or inside your mouth to prevent irritation, but if you have a painful cold sore near your mouth, try applying a small amount of topical hemorrhoid cream to reduce swelling. Allow the cream to absorb into your skin for a few minutes, then wipe off the remainder so you don't accidentally ingest any of the cream.