According to the American College of Obstetricians and Gynecologists, teenage girls should do at least 60 minutes of exercise on most days of the week. With everything else you have to do, it can be difficult to find an hour of free time a day. But if you exercise consistently, you probably will feel better about yourself and be better equipped to deal with the stress of everyday life. Write out your exercise goals and the reasons you want to stay active and fit. Focus on doing things you enjoy, so that you are motivated to continue.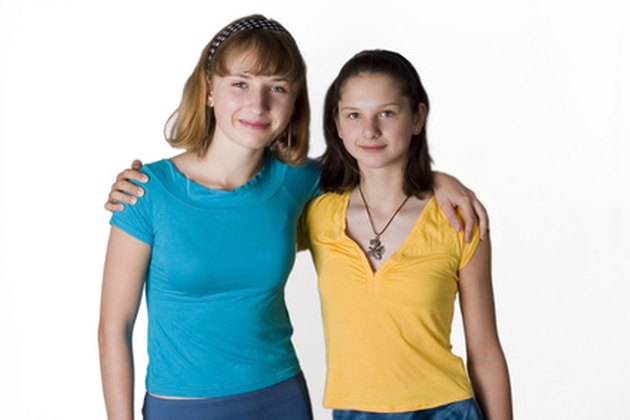 Regular Cardio
Step 1
Carve out time in your schedule for daily exercise. Aim for at least 60 minutes most days of the week, most of this time dedicated to cardio activities that raise your heart rate and breathing.
Step 2
Look into activities that you can do with your friends, like dance classes, home workout DVDs or recreational sports.
Step 3
Switch up your routine to keep yourself from getting bored. Try new activities, and figure out what types of exercise you like the best. You might find that you love kayaking or cycling, but if you don't give it a shot, you'll never know for sure.
Step 4
Pick a favorite podcast or playlist that you can listen to only while exercising. This will keep you motivated to keep on going to the gym.
Step 5
Work out at an intensity level that's either moderate or vigorous. If you exercise vigorously, you don't need to exercise quite as long. If you're working out moderately, you should be breathing hard enough that talking seems relatively easy, but you are not able to sing. If you're working out vigorously, talking should be difficult.
Strength Training
Step 1
Build your bones and stave off future osteoporosis by lifting weights at least two days a week.
Step 2
Attend a class or talk to a personal trainer to learn proper form for strength exercises. Most girls can spend 30 to 40 minutes twice a week doing full-body exercises in order to see results.
Step 3
Lift enough weight so that the last one or two repetitions push you to your limits. This type of lifting gives you greater results when it comes to bone health and overall strength.
Step 4
Incorporate balance training into your routine. Balance exercises on one leg or using a stability ball engage more muscle groups and burn more calories.
Step 5
Try a strength training group exercise class. These classes push you to do more while keeping you motivated with fun music and helpful instruction. You won't feel like you're competing with the boys when you're working out with a room full of other women.
Things You'll Need
Athletic shoes

Athletic clothes

MP3 player
Tip
Invest in cute workout clothes that you'll want to wear and show off. They don't need to cost much, but they do need to make you want to wear them.
Warning
Any exercise program carries risk. Make sure you talk with your parents and doctor before starting something new.