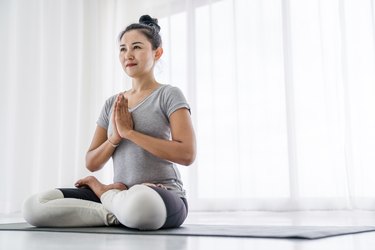 There's something so calming about tackling a workout on your own in the comfort of your own home. No frazzled fellow class-goers. No arguing over the playlist. And you can kiss any excuses goodbye. At home, it's just you, your breath and your practice.
Tackling a yoga workout at home, specifically, can help you de-stress — and build a stronger core. But that's not all. According to Harvard Health Publishing, integrating regular yoga into your routine can lead to:
Reduced joint pain
Increased endurance
Better posture
Greater muscle strength
More flexibility
Heightened balance and mobility
Sounds like a no-brainer, right? Grab a yoga mat, a couple of props (blocks and yoga wheels are welcome) and slip into some leggings. Yoga specialist and celebrity trainer Claire Grieve has got the perfect at-home yoga workout designed to target your abs.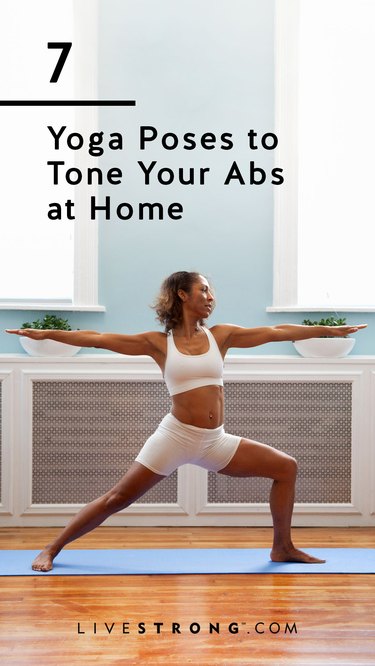 The Workout
Do: Each of these moves in order. Repeat the sequence up to three times.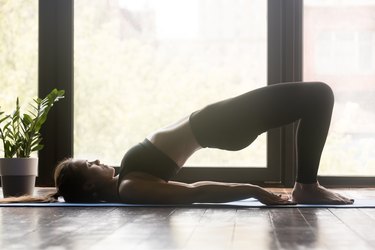 Lie on your back with knees bent and feet on the floor hip-width apart.
Lift your hips to the sky.
Interlace your hands underneath you and straighten your arms.
Draw your chin away from your chest.
Hold this pose for 30 to 60 seconds.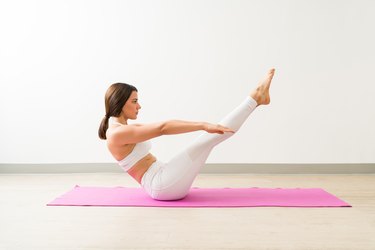 Sit with your knees bent, feet flat on the ground.
Extend your arms forward toward your legs.
Lean back to engage your core.
Raise your feet and slowly start straightening your legs, bringing your body into a V shape.
Hold for 30 to 60 seconds.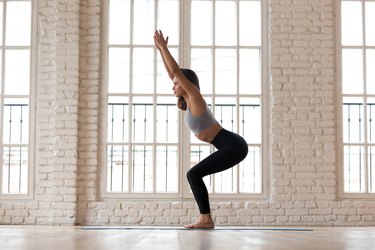 Raise your arms overhead, allowing your shoulders to relax away from your ears.

Bend your knees and lower your hips down as if you were sitting in a chair.
Shift your weight into your heels as you lift through your chest.
Hold for up to one minute.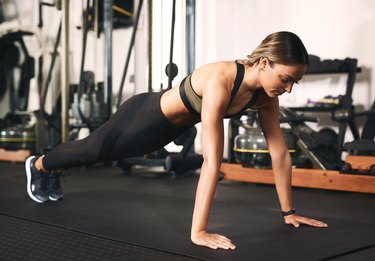 Begin on your hands and toes; lengthen from the crown of your head to your heels.
Keep your core pulled into your spine, back flat.
Hold for up to one minute.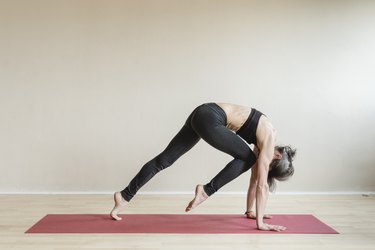 Starting in Downward Facing Dog, lift one leg to the sky.
Shift your shoulders over your wrists and draw your knee into your nose.
Try to kiss your knee as you activate your core.
Hold for 30 seconds and repeat on the other side.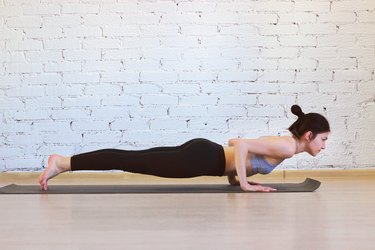 Begin in a plank.
Lower halfway down, keeping your elbows tucked into your sides.
Hold for at least 30 seconds.
Move 7: Upward Facing Dog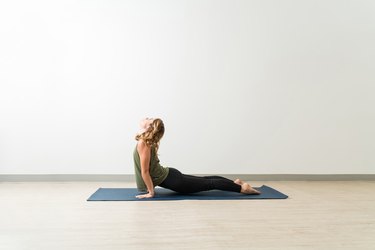 Lie on the floor with your hands by your chest.
Push up until your elbows are almost straight and your hips are lifted off the ground.
Take a deep breath and extend your chest to the sky.
Repeat 10 times.