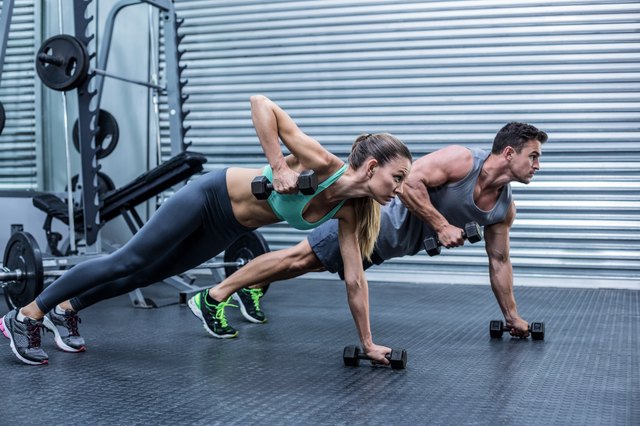 Someone who is physically active can have a lower risk of developing certain types of cancer, heart disease and type 2 diabetes, according to the Centers for Disease Control and Prevention. Regularly doing weight-bearing exercises may also strengthen muscles and keep bones healthy, which could help to prevent injuries.
According to the 2008 Physical Activity Guidelines for Americans at Health.gov, to get substantial health benefits, adults should do at least two and a half hours per week of moderate-intensity, or an hour and 15 minutes per week of vigorous-intensity aerobic physical activity, or an equivalent combination of moderate- and vigorous intensity aerobic activity.
The Guidelines also advise that for further health benefits, adults should do muscle-strengthening activities, two or more days per week, that involve all major muscle groups.
Strength Training the Whole Body
To strength train all major muscle groups, it's not necessary to exercise every muscle, every day. Try splitting up the strength training sessions into separate days for upper or lower body training.
For example, train upper body muscles on Mondays and Thursdays, and then the lower body on Tuesdays and Fridays. Avoid working the same muscle groups two days in a row to prevent excess soreness, fatigue and injury. A good routine could consist of two or three sets of eight to 12 repetitions of each exercise.
Incorporate cardio training before strength-training sessions as a warm up. By doing just 30 to 40 minutes of vigorous cardio before starting resistance training, it's easy to achieve the recommended, weekly hour and 15 minutes over four training days.
Try Cardio Before a Strength Workout
Instead of running or biking outdoors, cardio machines at the gym allow someone to do the aerobic exercise they need with quick access to the weight training equipment.
Whether it's walking, jogging or running on the treadmill, cycling on a stationary bicycle or using a stair climber or elliptical machine; it will be a quick switch to resistance training so the muscles stay warm.
Begin with a slow, steady pace, then work up to a comfortable aerobic workout that is challenging but not exhausting. Use the "talk test" while exercising (talking to other gym-goers without gasping for air) to make sure you are working at a safe level. If you can't carry on a conversation comfortably, dial down the intensity and speed of the machine.
Working the Upper Body
Use free-weights, the appropriate strength training machines or a combination of the two, to target the shoulders, arms, chest, back and core.
It's a good idea to perform multi-joint exercises on upper body days, like bench press, shoulder press, rows and abdominal planks, to work whole groups of muscles. According to a 2016 article at ACEfitness.org, multi-joint exercises burn more calories and elevate the heart rate for cardiovascular benefit.
Of course there is nothing wrong with doing isolation movements like biceps curls and triceps extensions, but according to a 2013 article at ACEfitness.org, multi-joint movements will typically provide exercisers with more all-round fitness benefits.
Lower Body Strength Training
Lower body exercise is pretty basic, and will involve simple movements like squats, lunges, leg extensions, leg curls and calf raises.
Work the thighs, glutes and hips with lunges and squats. these movements can be done with machines, free-weights, a machine or simply with body weight as resistance. Either the calf machine or calf raises on the edge of a step will provide a good workout. Thighs and hamstrings can be worked using the leg extension and leg curl machines, that are available in almost any gym.