Potassium permanganate is a chemical compound with disinfectant and deodorizing properties. Some people, including medical personnel, use it for healing skin conditions. Potassium permanganate is useful for cleansing wounds and treating infected eczema, along with fungal infections such as athlete's foot. Potassium permanganate comes in crystals, tablets and powder for dissolving in water before using as a highly-diluted solution. This substance poses several risks.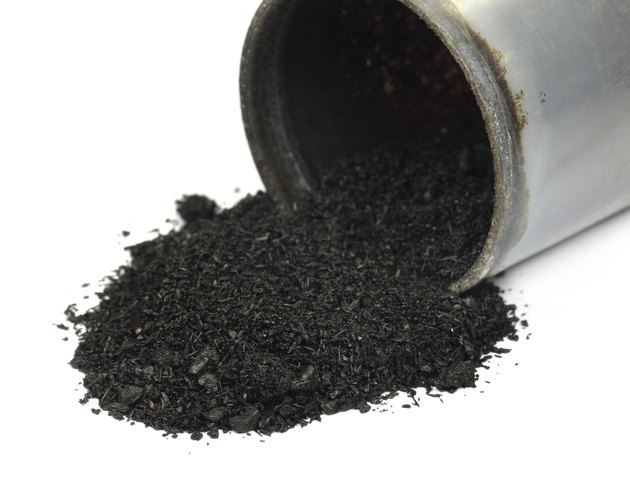 Dangers in General Use
Potassium permanganate is caustic, and concentrated solutions can burn skin. To avoid this effect, make sure you fully dissolve the original material before applying it, and only use highly-diluted preparations. Applying a potassium permanganate solution repeatedly also can lead to skin irritation, ulceration and burns. Contact your doctor if you experience continued skin irritation or redness. Using potassium permanganate solutions for a long time can lead to defatting of skin, where the chemicals gradually remove natural skin fats. This can result in dry and rough skin. If any potassium permanganate solution gets in your eyes, it can cause cause irritation, redness and pain. Flush immediately with water.
Undiluted Substance Contact
If you have skin contact with undiluted potassium permanganate, flush your skin with water for at least 15 minutes, and then seek medical attention. If the substance is on clothing and shoes, remove these items, and wash your clothes and clean the shoes before wearing again. If undiluted potassium permanganate touches your eyes, immediately flush them with water for at least 15 minutes, and then get medical attention.
Ingesting Potassium Permanganate
Ingesting potassium permanganate can be life-threatening, particularly in high concentrations. It causes gastrointestinal distress and possible burning, throat swelling that can result in suffocation and can lead to very low blood pressure, cardiovascular collapse and kidney damage. Even in concentrations as low as 1 percent, ingesting potassium permanganate can cause throat burning, abdominal pain and nausea. Doses of 10 g or higher cause death, an August 1990 article in the "Postgraduate Medical Journal" warns. If you or someone else has swallowed any potassium permanganate, do not induce vomiting unless medical personnel instructs you to do so.
Environmental Considerations
Although potassium permanganate is not flammable, it increases the flammability of other combustible materials. Potassium permanganate in a fire can release toxic fumes in addition to skin irritant chemicals. Because potassium permanganate is very toxic to aquatic organisms, water used for extinguishing the fire should be collected and disposed of as contaminated material, rather than dumped into drains, soil or water sources. Absorb any liquid with a non-combustible material, such as sand or dirt. This is also a consideration when cleaning up a leak or a spill. In that case, wear protective clothing and ventilate the area to prevent buildup of fumes.