H2O2, also called hydrogen peroxide, is a strong chemical oxidizing agent. It's very useful in many common household applications, but it's also a poison, and can be quite harmful if swallowed. The bottles of hydrogen peroxide available at the drugstore are typically dilute, generally containing about 30 percent H2O2 in a solution of water. Pure H2O2 doesn't really have any household utility, though it's commonly used in chemistry laboratories to achieve certain reactions.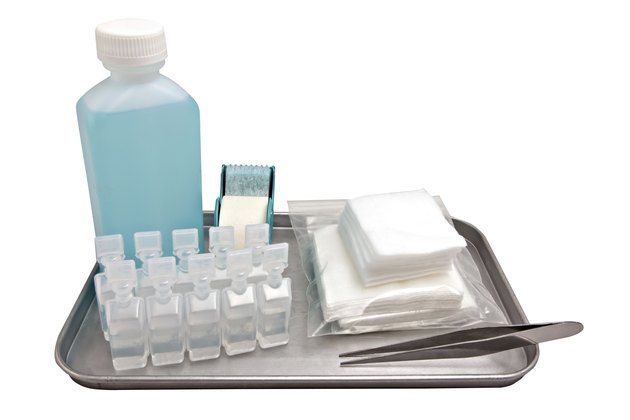 Effect on Cuts
One of the most common household uses of H2O2 is to treat cuts and scrapes, as hydrogen peroxide is a disinfectant and kills bacteria and other pathogens that might otherwise infect wounds. Unfortunately, H2O2 isn't actually as effective as many people think, and simple cleaning of cuts with soap and water works just as well. The American Academy of Family Physicians notes that hydrogen peroxide can be irritating to wounds, and may actually keep them from healing as quickly as they would otherwise.
Effect on Ear Wax
Hydrogen peroxide can help soften and remove ear wax that has impacted the ear canal, notes MedlinePlus, published by the U.S. National Library of Health. The ear naturally secretes wax, or cerumen, and many people try to remove this buildup with cotton swabs. Unfortunately, swabs may simply push wax further into the ear, and hard wax is difficult to remove with a swab. A few drops of hydrogen peroxide in the ear softens the wax and help detach it from the skin of the ear, making it easy to rinse out.
Effect on Teeth
Oxidizing agents, as a class, de-colorize stains. Yellow and brown stains that can form on teeth over the years as a result of consuming coffee, tea and other colored substances can be removed with oxidizers. Many oxidizers, however, are highly toxic, making hydrogen peroxide very useful in dental applications. Chemical and Engineering News notes that most at-home whitening agents use hydrogen peroxide solutions to remove stains from teeth. The peroxide is effective and isn't toxic, as long as it's not swallowed.
Effect if Swallowed
Despite the fact that hydrogen peroxide's chemical formula, H2O2, is very similar to that of water, which is H2O, peroxide is a poison, and can be very dangerous if swallowed. Drugs.com notes that it can cause pain, vomiting and burning of the delicate tissues of the throat and esophagus. They do not suggest inducing vomiting, because this brings the caustic chemical through the esophagus and throat a second time, exacerbating burns. Instead, in the case of ingestion of a large amount of hydrogen peroxide, contact a physician or poison control center.