You put honey in hot tea to soothe a scratchy throat, so it might seem to be a good food to soothe acid reflux, or heartburn. Many home remedy peddlers maintain that honey helps heal the esophagus and lessen heartburn symptoms. But there's no scientific evidence to support that honey works in this way. Furthermore, according to Columbia University Health, sugar -- which is basically what honey is -- can actually worsen heartburn.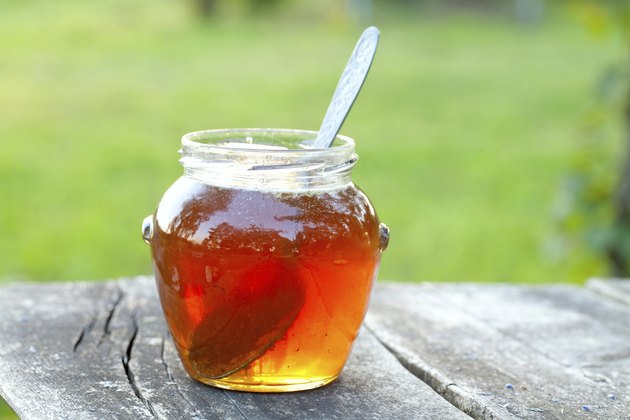 Acid Reflux In Depth
In acid reflux, the lower esophageal sphincter doesn't close the way it should after you eat or drink. This allows the contents of your stomach, an acidic mixture, to flow back up into your esophagus, the organ that transports food to your stomach. Stomach acid in your esophagus is what causes the burning sensation, and you may have a sour taste at the back of your throat. Certain factors, such as being overweight, drinking too much, smoking or being pregnant, make it more likely that you'll experience acid reflux; foods, including spicy, fatty and sugary fare, can also trigger an occurrence.
The Scoop on Honey
Honey has been used as a medicinal substance for thousands of years, particularly as an antibacterial agent. Busy bees make honey from the nectar of flowering plants and save it in hives as a source of food. The flavor, sweetness, scent and other properties of honey depend on which type of flowers the bees that made it visited most often. Once honey is harvested, a number of things can happen to it. It can be sold raw, or unprocessed, or it can be very processed. Either way, honey is still primarily sugar. One 21-gram tablespoon of honey contains 17.25 grams of sugars; water and a tiny bit of protein comprise the other 3.75 grams.
Honey and Acid Reflux
One theory is that honey's viscosity might help coat the esophagus and lessen the burning effects of stomach acid. This is the same reason people drink milk for acid reflux. But this is also a myth; while milk might temporarily soothe the esophagus, it will later increase stomach acid production and make matters worse. The same is true for honey because it is mostly sugar, and sugar promotes acid production.
A Better Way to Feel Better
If you regularly experience acid reflux, you may be suffering from gastroesophageal reflux disease and should seek your doctor's treatment. For infrequent cases of acid reflux, several dietary and lifestyle changes can make a big difference. Avoid trigger foods, such as coffee, alcohol, chocolate, tomato sauce, onions and citrus foods. Eat smaller meals, wear loose-fitting clothing and lose excess weight, which takes some of the pressure off the esophagus. If nighttime is the worst time for your heartburn, avoid eating within two to three hours before bedtime and raise the head of your bed or use extra pillows to position your head higher than your stomach.