Like many exercise related injuries, Achilles tendinitis, or pain in the Achilles tendon at the back of the ankle, typically results from overuse and repetitive stress. The American Academy of Orthopedic Surgeons says that a sudden increase in your running distance or exercising with tight calf muscles that haven't had a chance to warm up can also cause the condition. Stretching and strengthening the calf muscles are ways to regain normal functioning.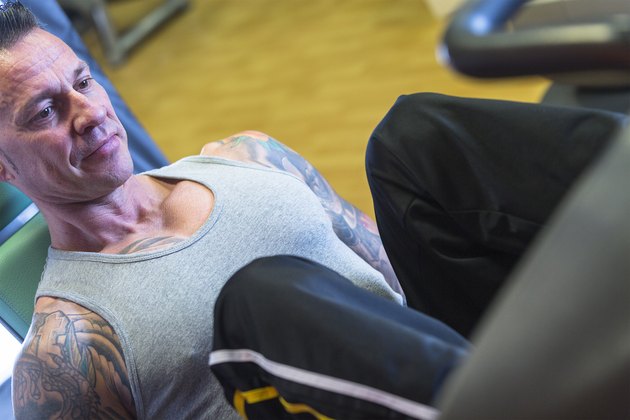 Stretching Exercises
The American Academy of Orthopaedic Surgeons recommends beginning your recovery with one-leg calf stretches by placing your hands on a wall keeping one leg straight behind you and the other bent. Keeping your back heel on the floor, lean your hips forward, stretching the back calf muscle. Keep both legs back for a two-leg stretch presented by Vivian Grisogono in "Sport Injuries-A Self-Help Guide." Use the edge of a step or a 2-inch high block for another two-leg calf stretch; with just your toes on the stair or block, drop your heels below the step and hold for a count of 10.
Strengthening Exercises
Strengthen your Achilles tendon gradually with three sets of 10 repetitions for each exercise. Moves that target the Achilles tendon include: going up and down on your toes, first on both feet and then on one foot at a time; sitting on the floor, legs extended with a towel draped around the soles of your feet and pushing your toes against the towel; and using the leg press machine at your gym, using both legs together and each leg separately.
Exercises For Legs and Feet
In their list of lower leg exercises, the American Council on Exercise includes knee tucks done on a stability ball, ankle flexes that you can do with resistance bands or just by flexing and circling your ankle, lateral hopping or shuffling, simple jumping and squats. According to Grisogono, all kinds of dynamic exercises will strengthen the calf muscles. Her recommendations include walking on your toes, hopping on each foot and running up stairs.