Weight loss occurs when you eat fewer calories than you use during your daily activities. Although a small amount of preliminary evidence shows potential weight-loss benefits from eating certain foods, such as cinnamon and apple cider vinegar, simply adding these to your diet won't result in a significant amount of weight loss. To achieve any real benefits from these substances, you'll need to include them as part of a balanced reduced-calorie diet and exercise program.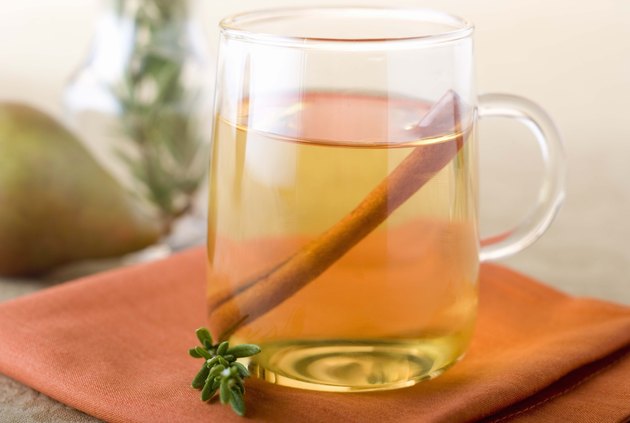 Apple Cider Vinegar and Weight Loss
Including vinegars, such as apple cider vinegar, in your meal may help lower the glycemic index of the meal and increase feelings of fullness, according to a study published in the European Journal of Clinical Nutrition in 2005. Another study, done on mice and published in the Journal of the Egyptian Public Health Association in 2001, found that consuming apple cider vinegar daily may help limit weight gain. However, it also caused problems with the animals' digestive systems. Further research is necessary to verify that any weight loss benefit or digestive issues occur in people.
Regardless of what some fad diets recommend, you shouldn't drink apple cider vinegar straight, as it's too acidic and could cause damage to your teeth, stomach and throat. Instead, include it as part of your diet. Make a vinaigrette with honey and olive oil to dress your salads or include it in marinades. Use vinegar to turn milk into a buttermilk substitute for use in recipes or make homemade refrigerator pickles. Add a splash to soups to give them an extra zing of flavor.
Cinnamon and Weight Loss
While the results are still preliminary and conflicting, a review article published in the Journal of Diabetes Science and Technology in 2010 notes that cinnamon may help people with their weight by slowing down the emptying of the stomach and increasing the amount of lean body mass, or muscle. Muscle burns more calories than fat, and slower emptying of the stomach can make you feel full longer, both of which may help with weight loss. A study published in the European Journal of Nutrition in 2015 notes that a mix of kanuka honey, magnesium, chromium and cinnamon helped people to lose a small amount of weight and lower their cholesterol compared to people who ate the honey alone. It's not clear, however, whether it was the cinnamon, the minerals or the combination that produced these beneficial effects, so further research is necessary to verify the potential weight-loss benefits of cinnamon.
You can add cinnamon to hot drinks, hot breakfast cereals, curries and bean dishes. It works well in pork recipes, sweet potatoes, winter squashes, fruits, baked goods and puddings. An added benefit is that when you use cinnamon, it helps enhance the sweet taste of foods so you can use less sugar, potentially helping you reduce your sugar intake and your calorie consumption for the day.
As Part of a Reduced-Calorie Diet
If you don't eat a large enough volume of food, it can leave you feeling hungry. One way to be able to eat plenty of food and limit hunger between meals while still cutting calories is to trade foods that are high in energy density, or calories per gram of food, for foods that are lower in energy density. Vegetables, broth-based soups, salads and fruits all have relatively high amounts of water and/or fiber, which lowers their energy density and makes them good foods to eat at the start of the meal. Any foods high in fat or sugar will be high in energy density, so you want to eat less of these foods. Try replacing part of the meat or cheese in your meals with vegetables or replacing part or all of your dessert with fruit to lower the overall energy density of the meal.
Calories for Weight Loss
To lose a pound of weight, you need to create a 3,500 calorie deficit, which means cutting 500 to 1,000 calories from your daily intake to achieve a weight loss of 1 to 2 pounds per week or burning that many more calories per day through increased exercise. While eliminating more calories from what you eat may be tempting as a way to speed up weight loss, women shouldn't eat fewer than 1,200 calories each day, and men should eat at least 1,800 calories per day. Eating fewer calories than this could slow down your metabolism and make it harder to lose weight.
In Conjunction With Exercise
Following a healthy reduced-calorie diet is one of the best ways to lose weight, but without exercise, about one-fourth of this weight will come from muscle instead of fat. To minimize the loss of muscle, you need to include a combination of cardiovascular exercise and strength-training exercises in your weight loss efforts. The minimum recommended exercise for adults is about 150 minutes of moderate-intensity cardio along with at least two strength training sessions each week, but getting even more exercise may help further speed up your weight loss.