An energy drink is a functional food product that many people use to improve their mental focus or physical strength. Sugar is a fuel source in some energy drinks, but people who are limiting their calories or carbohydrates might prefer a sugar-free energy drink. A good sugar-free energy drink is one that does not contain alcohol and has ingredients that provide a boost without calories.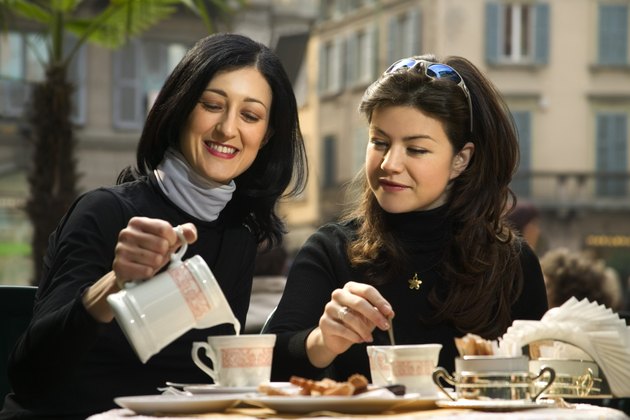 Red Bull SugarFree
Red Bull SugarFree energy drink claims to give benefits such as better concentration and faster reaction speed. It has 80 milligrams of caffeine in each 8-ounce serving. Besides increasing your alertness, caffeine may improve stamina in endurance events because it stimulates your body to metabolize fat for fuel. This sugar-free energy drink has B vitamins to promote fat, protein and carbohydrate metabolism to increase energy. This drink also has taurine, an antioxidant, to replace amounts of this amino acid that your body may lose under extreme stress. The artificial sweeteners are sucralose, acesulfame potassium and aspartame. Red Bull SugarFree claims that the glucuronolactone in this beverage is a natural carbohydrate that helps to detoxify the body.
Monster Energy
Monster Energy Absolutely Zero is a sugar-free energy drink that also has no calories. Each 8-ounce serving provides 100 percent of the daily values for vitamins B-2, B-3, B-6 and B-12, which are all part of energy-producing reactions in the body. Each serving has 1,400 milligrams of Monster's Energy Blend, which includes taurine, ginseng and guarana. Taurine is an amino acid that acts as an antioxidant. Absolutely Zero also has 80 milligrams of caffeine in each serving, which is about half of the amount in an average cup of coffee. Caffeine can temporarily decrease your feelings of fatigue. The sweeteners in this carbonated energy drink include erythritol, sucralose and acesulfame potassium.
XS Blast
Cranberry-grape caffeine-free Blast from XS Blast is a sugar-free energy drink with 8 calories per serving. Aside from taurine and the B vitamins, this sugar-free energy drink has several herbs in a proprietary adaptogenic blend. These herbs include astragalus and schisandra, which may support the immune system. The calories come from the 2 grams of protein in the form of free amino acids. Other flavors from XS Blast include berry, citrus and cola. They are all sugar free, and have sucralose and acesulfame potassium to sweeten them. Caffeine can give you a temporary boost, but it is an addictive substance. If you use it regularly, you may have trouble being alert without it. If you worry about too much caffeine, a caffeine-free energy drink may be a better choice for you.