Water retention is most common in the feet, ankles and legs, although it can occur anywhere in the body, including the face. Edema, the medical term for water retention, can have a wide variety of causes -- from excessive salt intake to pregnancy to certain prescription medications. Although you can't target the face specifically when attempting to reduce swelling, you can take measures to reduce fluid retention throughout your body, including the face.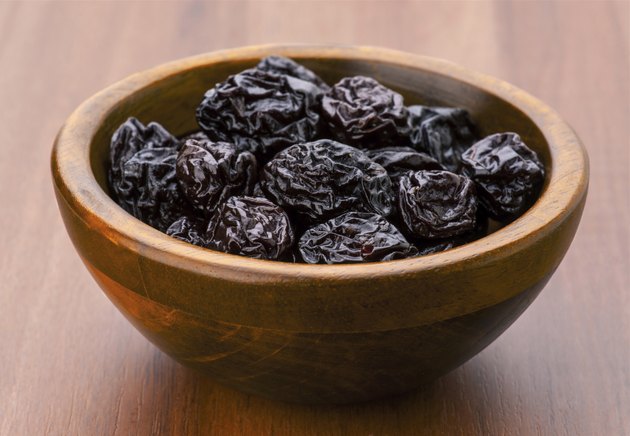 Consume Less Sodium
Among the most prevalent causes of water retention is a high consumption of sodium. To decrease your sodium consumption, avoid fast foods and prepackaged store-bought foods. In addition to limiting your sodium intake, the American Heart Association notes that potassium can be useful in counterbalancing sodium levels. Fruits and vegetables are good sources of potassium. Potassium-rich foods include sweet potatoes, spinach, greens, bananas, prunes, oranges, tomatoes, tomato juice, low-fat milk, fat-free yogurt and cantaloupe.
Pregnancy Tips
If you're pregnant, you are more likely to experience some level of facial water retention. According to the American Pregnancy Association, minor swelling is expected during pregnancy. But the swelling can be made worse by high caffeine consumption, high sodium intake, low potassium, long days of activity or standing for extended periods of time. For those who are pregnant, the association recommends drinking lots of water because it helps flush the body out and reduce water retention. Avoid standing for long periods of time and minimize outdoor activity during hot temperatures. Wear comfortable shoes with supportive stockings and rest with your feet elevated. Additionally, a cold compress on the face can help reduce swelling
Nutrients for Water Retention
According to the Better Health Channel of Victoria, Australia, certain nutrients, including vitamin B-6, vitamin B-5, calcium and vitamin D, can be useful in reducing mild fluid retention. Vitamin B-6 is found in high amounts in brown rice and red meat. According to University of Maryland Medical Center, vitamin B-5 is found in fresh meats, vegetables and whole unprocessed grains in much higher amounts than in processed foods. The best sources of B-5 are brewer's yeast, kale, broccoli, legumes, egg yolks, lentils and beef. Among the best sources of calcium are dairy products, such as milk, yogurt and cottage cheese. The best and most reliable source of vitamin D is produced by the body in response to sun exposure.
More Tips
Alongside nutritional therapy, the Better Health Channel notes that regular exercise can also be an effective tool in preventing and relieving fluid retention. It may also be beneficial to cut back on dehydrating drinks, including alcohol, coffee or tea. Certain herbal supplements including dandelion leaf, cornsilk and horsetail, can also have a diuretic effect, notes the Better Health Channel. Because water retention can be caused by a number of potentially serious problems, including kidney disease and heart failure, it is important to see your doctor if you are experiencing severe water retention.