If you have ever found yourself pulling in your gut to put your pants on, you might have stomach fat. That does not have to be the case. In fact, a slim waist is possible. Treadmill training can help reduce the amount of fat on your body and directly tighten your tummy by shedding excess fat around the midsection.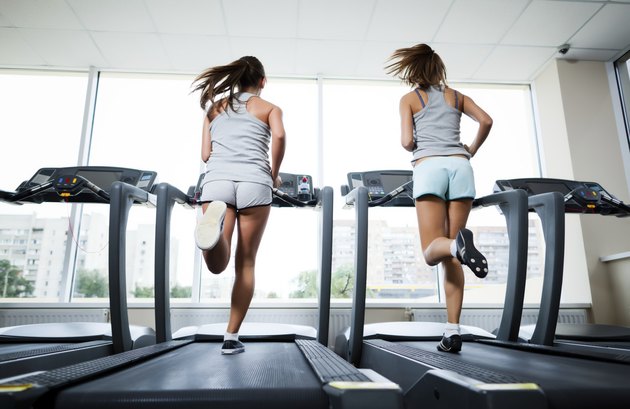 Treadmill History
Treadmills were invented in 1952 as a means for stress testing at the University of Washington in Seattle. In the 1960s, treadmills became a staple in gyms for people to run or walk on year-round. Over the years, treadmills have become more advanced including inclines, heart rate monitors and even built-in televisions and fans.
Significance of Losing Stomach Fat
Losing stomach fat is both important for self-confidence with your appearance as well as highly crucial to having good health. Stomach fat is either subcutaneous or visceral. Subcutaneous fat is the fat that you can see, like the love handles or the muffin top that hangs over your jeans. Visceral fat can be dangerous, because it can be found around the organs. Losing this kind of fat is important, because visceral fat can lead to health problems. Doing cardio on a treadmill can help tackle this stubborn and dangerous fat.
Time Frame
Losing belly fat can be done in a timely period. According to the Centers for Disease Control and Prevention, a healthy weight loss is 1 to 2 pounds. a week. Weight loss cannot be targeted, like losing 2 pounds just off the stomach. Instead, weight loss comes off all over the body, but losing weight from the midsection will happen on the treadmill. To reach the weight loss goal of 2 lbs. per week it, do cardio training, like the treadmill, for 30 minutes daily.
Treadmill Benefits
Treadmill training will not only reduce the size of your waist, but it can help your overall health as well. Aerobic exercise, such as treadmill workouts, reduce health risks like obesity, high blood pressure, diabetes and stroke. Also, treadmill cardio training will help strengthen the heart, boost your mood and help you live longer.
Types of Treadmill Workouts
Switching up your workout on the treadmill will help you to burn calories and melt away the midsection. Interval training on a treadmill will scorch calories. Interval training consists of short bursts of intensity followed by a recovery period. Training on a treadmill by jogging and then sprinting will help to melt fat fast. Also, adding an incline to your treadmill workout will help to keep your calories burning. Mixing up your treadmill workouts will keep your body working hard and challenged.