Nicotine can cause many health problems. It can temporarily raise blood pressure and heart rate because it causes blood vessels to narrow. Nicotine can also make the blood more likely to clot and block an artery, and it can cause damage to the lungs and make breathing difficult. Nicotine in the body is first processed by the liver and then excreted by the kidneys. Over time nicotine can have negative effects on the kidneys.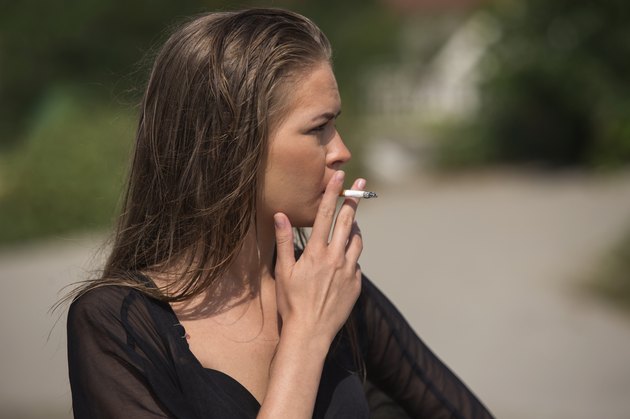 Proteinuria
While the exact link between nicotine and kidney disease is still not well understood, those who use nicotine seem to be at a higher risk for proteinuria, explains the American Association of Kidney Patients. Proteinuria is a condition where there is an abnormal amount of protein in the urine.
When the kidneys are working properly, they filter out waste products and leave important substances like protein in the blood, so it is available to the body. If the kidneys become damaged, protein may leak into the urine and be excreted from the body. This can lead to edema or swelling in various areas of the body, and it is a sign that the kidneys may be failing.
Diabetic Nephropathy
Smoking has also been linked to a faster progression of diabetic nephropathy, states the "Journal of the American Medical Association." Diabetic nephropathy is diagnosed when uncontrolled high blood sugar damages structures in the kidneys called nephrons, which help to filter waste products. High blood sugar can cause these structures to scar and become thicker than normal. Even though quitting smoking cannot reverse the damage that has already been done, it may help to slow the progression of this condition.
Chronic Renal Failure
Smoking can lead to nephrosclerosis, which is damage to the small arteries that supply the kidneys. Nicotine can also contribute to glomerulonephritis, which is diagnosed when there is damage to the glomeruli, or structures within the kidney that help to filter waste products. Both of these conditions can lead to chronic kidney failure, warns a 2004 report in the "Journal of the American Society of Nephrology."
Kidney disease may not produce any symptoms until it is in the advanced stages, explains the National Kidney Foundation. Therefore, it is important for those at higher risk, such as smokers, to be screened through using blood tests.