Seeing lots of blood pouring out of your nose can be a frightening--and sometimes embarrassing--experience if you're a teen. But nose bleeds are common in kids and teens, and most are harmless and easy to control, according to Kids Health. However, in rare cases, nose bleeds don't stop easily and may be a sign of a more serious underlying issue.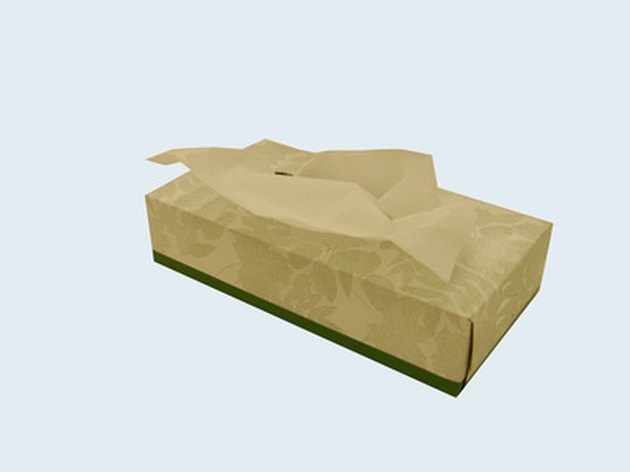 What to Do
Grab some tissue for your nose, then stand or sit upright with your head tilted forward. For the next 10 minutes, pinch your nose below the bony part on the top, using steady pressure. Don't stop the pinch until the 10 minutes is over, or the blood may continue to pour out, according to KidsHealth. Then, wrap ice in a towel and place it on your nose. Tilting your head back when your nose is bleeding will cause you to swallow blood, and blowing your nose within the next few hours can cause you to get another nose bleed.
When to Get Help
Get help from a doctor or the school nurse if you have tried to stop the bleeding with pinching and a cold compress twice and your nose continues to bleed, says Kids Health. Also get help if your nose bleeds after an accident, head injury or a fall or if your nose bleeds often, says the American Academy of Family Physicians. Find help as soon as possible if your bleeding is heavy or if you feel weak or dizzy.
Causes
Dry air can cause the nasal membranes to dry out, leading to uncomfortable crusting within the nose that bleeds if it is picked, according to Kids Health. Other common causes of nose bleeds are colds and allergies, which can irritate the nasal lining. Some teens get nose bleeds if they use cocaine or any other drug that can be snorted. In rare cases, nose bleeds can indicate internal bleeding, and frequent nose bleeds can indicate a serious problem such as leukemia, nasal tumors and blood clotting disorders, according to the American Academy of Family Physicians.
Types
The septum, or area that separates both nasal chambers, is typically where nosebleeds originate in kids and young adults, according to the Mayo Clinic. These bleeds are also most likely to occur at the front of the nose. Posterior nose bleeds, which originate at the deepest area of the nose, are less common in teens because they usually occur due to high blood pressure or facial injuries.
Prevention
Use a saltwater nose spray and dab some petroleum jelly around the front of your nostrils to keep the inside of your nose moist. Also use a portable humidifier or vaporizer in your room if you believe the air inside your house is dry, suggests Kids Health. Finally, trim your nails regularly to reduce your chances of injuring the inside of your nose if you do pick at it and always wear protective gear when you play sports.