Upper abdominal bloating can significantly interfere with your daily function. Not only can it be painful, it can lead to gas and bowel issues as well. Upper abdominal bloating can be caused by several conditions. See your doctor for an accurate diagnosis if you experience these symptoms.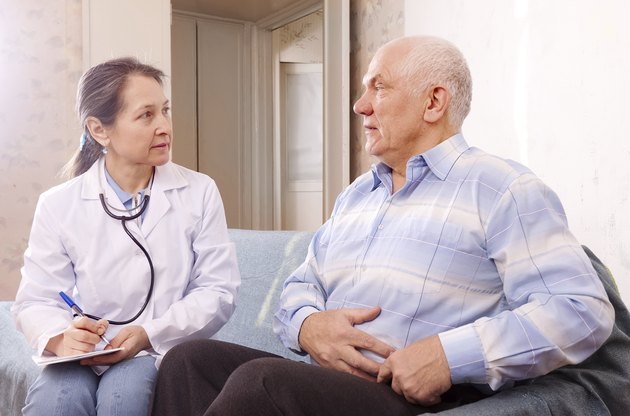 Lactose Intolerance
The small intestine contains enzymes that break down the sugars in dairy products. Lactase deficiency is the most common form of carbohydrate intolerance. Undigested sugars cause an osmotic load within the intestines, attracting water and electrolytes into the intestines and causing watery diarrhea. Bacterial fermentation within the large intestine causes gas, upper abdominal bloating and abdominal pain. Treatment of lactose intolerance may include dietary restriction and ingestion of synthetic lactase supplements.
Irritable Bowel Syndrome
Irritable bowel syndrome, or IBS, is a common disorder that affects the large intestine. This condition affects more women than men, and is often diagnosed before the age of 50. Symptoms include upper abdominal cramping and bloating, flatulence, and diarrhea or constipation. Treatment includes fiber supplements, antidiarrheal medications and eliminating gas-producing foods. Occasionally, people may need stronger medicines to relieve pain and bowel issues, however the long term effects of these medications is not known.
Celiac Disease
Celiac disease is a condition caused by inflammation of the lining of the small intestine. Destruction of the lining inhibits the ability to digest gluten -- found in wheat, barley and rye. The exact cause of the disease is unknown, although the condition is often hereditary. Studies also suggest that breastfeeding may play a role in protecting against celiac disease later in life. People with celiac disease may become malnourished despite eating a healthy diet. Symptoms include upper abdominal pain and bloating, indigestion, constipation, diarrhea, lactose intolerance, nausea and vomiting, foul-smelling stools and unexplained weight loss. Treatment consists of eating a gluten-free diet.