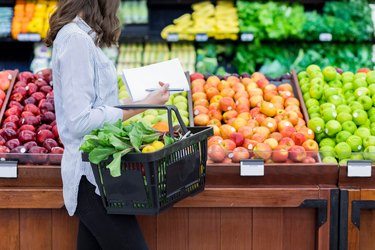 Food is medicine, so working with a registered dietitian to get your diet in order is a critical component of achieving optimal health. But contrary to popular opinion, registered dietitians (aka RDs) don't just help with weight loss. And choosing the right RD for your needs and priorities may require more thought than you realized.
Below, nutrition experts explain everything you need to know about seeing a dietitian, from what to expect during your first session to how to find an affordable provider and more.
What's the Difference Between a Registered Dietitian and a Nutritionist?
Let's start by clarifying that there's a different between RDs and nutritionists.
Registered dietitian is the term for health professionals who have completed an accredited program in nutrition, which includes extensive coursework in subjects like organic chemistry and anatomy and physiology, as well as a clinical internship completed in a hospital setting. Also, registered dietitians must take and pass a nationally standardized exam in order to legally obtain the RD credential.
All RDs are nutritionists, but not all nutritionists are RDs.
"This means that registered dietitians know how to interpret lab results, are well versed in the science and treatment of clinical conditions and disease states, know how to interpret and apply scientific research and are knowledgeable about food science and food policy, among other topics," says Tamar Samuels, RDN, a New Jersey-based dietitian and co-founder of the private practice Culina Health.
Nutritionist, on the other hand, is more of a catchall term for individuals who considers themselves nutrition experts. While the term nutritionist is often used interchangeably with RD, it doesn't indicate formal training and is not a credentialed profession.
"There are many 'nutritionists' who have certificates from non-accredited programs that are not science- or evidenced-based and have no standards of care or training that they must abide by," Samuels says.
The bottom line: All RDs are nutritionists, but not all nutritionists are RDs. When seeking nutrition advice, make sure to work with a professional with the RD credential.
Why Should I See a Dietitian?
Spoiler alert: Dietitians don't just help people lose weight. In fact, RDs are essential players on health care teams, and they can practice in a wide range of settings.
"Dietitians work in hospitals in both acute, critical care and in-patient care, as well as in all medical outpatient settings, WIC centers, schools, dialysis clinics, long-term care facilities, cardiac rehab centers, eating disorder treatment centers and so much more," says Maya Feller, RDN, a Brooklyn-based dietitian and author of ‌The Southern Diabetes Cookbook.‌
An RD can help you boost your energy levels, provide nutrition counseling and gain new cooking skills.
RDs are trained to provide medical nutrition therapy in everything from diabetes and GI disorders, to renal disease, oncology, sports nutrition and pre- and postnatal care.
Dietitians are also well-versed in the kitchen.
"RDs can [help clients] with the basics of healthy eating like meal planning, troubleshooting dining out, advocating for personal food choices at restaurants or family gatherings and learning how to cook," Samuels says.
So whether you're looking to boost your energy levels, gain new skills in the kitchen or are in need of comprehensive nutrition counseling following a new medical diagnosis, meeting with a registered dietitian can help.
How Do I Find a Dietitian?
"Referrals from doctors or other health care providers and even friends are a great way to find a practitioner you can trust," Samuels says. "I also think social media can be helpful, but remember this is curated content, so you're only seeing what people choose to put out there, which is inherently biased."
The same goes for online searches: Just because someone pops up in your first search does not necessarily mean they're a good practitioner.
Worried your budget can't cover visits to an RD? "Many insurances cover medical nutrition therapy, so I recommend starting the search with an in-network dietitian," Feller says.
But if you do opt for an out-of-network RD, some insurance plans will offer reimbursement for these sessions, Samuels says.
Tip
Insurance companies will only recognize nutrition professionals who are RDs, not nutritionists.
There's also no harm in asking an RD in private practice if they are open to a sliding fee scale based on clients' financial needs. Many also offer package plans that help reduce the price of sessions.
If finances are still a concern, seek out zero-cost resources.
"Community-based organizations may offer free or subsidized group nutrition education and Choose My Plate has a number of free resources," Feller says. "Also, some hospitals offer lower-cost nutrition programs and may have information on free resources."
The Difference Between In-Patient and Outpatient Dietitians
In-patient dietitians see individuals who have been admitted to a hospital. As a result, the nutrition problem being addressed is likely related to the reason for admission. For example, if someone is admitted to the hospital for complications associated with their chronic kidney disease, an in-patient RD can provide recommendations and information on a renal diet.
Conversely, if you see an RD in an outpatient setting such as in a day clinic associated with a hospital or at a private practice, there's often less of an acute medical problem at hand.
"In the outpatient setting, there may be more flexibility to talk about longer-term and sustainable nutrition," says Feller.
What to Expect at Your First Session
Come prepared to discuss topics like your medical history, relationship with food, diet preferences, health goals and most recent labs, among others. Every dietitian will approach an initial session in their own way (more on that in a minute), but most will review basics like your blood work and primary reason for showing up.
"Initial sessions are my favorite because they are a great time for you and your practitioner to explore and learn more about your health and your goals," Samuels says.
From there, you'll create a game plan together to figure out how to best achieve those goals.
Subsequent sessions will consist of evaluating a client's progress and tweaking strategies as needed.
"Follow-up sessions are really where all the work is done," Samuels says. "You can expect some nutrition education, tips, strategies and tools for reaching your goals." Ideally you'll end each meeting with actionable behavior changes and goals you can work on before your next session.
How Do I Know if an RD Is the Right Match for Me?
Just like finding the right therapist or partner, it can take some time to find the right dietitian, Samuels says. In the hospital setting, you're unlikely to have a say about who you see. But if you're looking for an RD in private practice, you have more freedom to pick your own health pro.
Here are three considerations to keep in mind:
Remember: "Practitioners are unique in their approaches and this is driven by differences in their training, personalities and experiences," says Samuels.
Those differences will inform how dietitians practice. "Some RDs write out detailed meal plans or specific protocols for their patients whereas others do not," Feller says. "This does not mean one way is better than another, it's simply a matter of provider patient care."
2. Your Specific Situation
When deciding what type of dietitian would benefit you most, consider whether or not you require someone who specializes in a particular area, such as GI issues if you're dealing with IBS or intuitive eating if you struggle with disordered eating behaviors.
"Also ask yourself: 'Do I need a prescriptive meal plan with recipes and instructions on how to follow a diet for a specific goal or do I prefer a collaborative process that works on making lifestyle and behavioral changes?'" Samuels suggests.
3. Your Personal Preferences
Keep in mind your personality type, as well: Do you like tough love or prefer someone who is more gentle? Working with someone you don't click with personally can stall progress.
The good news is that some private practices offer free intro calls or 15-minute consultations for prospective clients. "This helps people get a feel for whether or not working with us will be a good fit, which puts the client and the practitioner at ease and excited about starting this journey together," Samuels says.
How Long Do Most People Work With a Dietitian?
It depends on the person and their goals.
Someone simply looking to lose five pounds may only meet with an RD until they hit their goal weight, while others looking for support as they navigate a new type 2 diabetes or heart disease diagnosis may require long-term care.
Samuels says she typically sees clients weekly or every other week at first.
"We assess every month if they are ready to meet less frequently. Ultimately the goal is for them to not need me anymore because they have integrated all of these changes into their lifestyle as habits that they can consistently do on a regular basis."
Was this article helpful?
Thank you for your feedback!