Monosodium glutamate may have a toxic effect on certain brain cells that may be responsible for the adverse effects some people experience after consuming MSG, reports a preliminary study published in the "International Journal of Clinical and Experimental Medicine" in 2009. If you experience negative effects after eating foods with MSG, it's a good idea to avoid them. But not all foods containing free glutamate, the part of MSG that causes these reactions, list MSG on the label, making it hard to figure out which foods you can safely eat.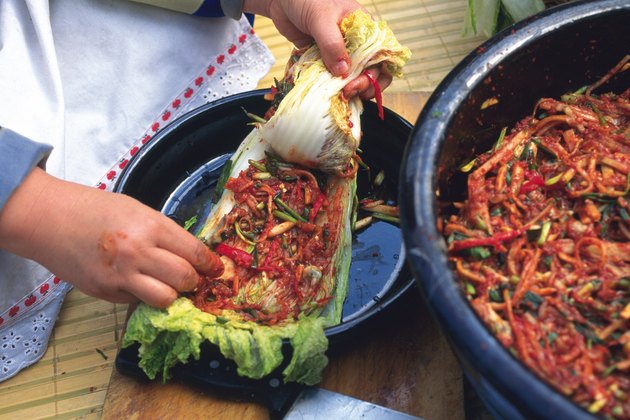 Fruits and Vegetables
Most fresh fruits and vegetables that haven't been processed are MSG-free. Tomatoes, which naturally contain MSG, are the exception. Fruits and vegetables that have been fermented, such as kimchi, sauerkraut and some types of pickles, may contain MSG, so these are best avoided if you can't tolerate MSG. Any canned or processed fruits and vegetables that have added seasonings or flavorings could have MSG, but those that just contain the fruit or vegetable don't.
Whole Grains
Plain grains, such as oatmeal, rice, barley and wheat, don't contain MSG. Once these grains are turned into processed foods, they are more likely to contain additives such as MSG. Avoid any grain products containing added flavors of any type, yeast food, yeast extract, autolyzed yeast, glutamate of any type, calcium caseinate, carrageenan, any type of added protein, any type of added malt, maltodextrin, soy sauce or seasonings.
Protein Foods
Most foods containing protein will contain at least some naturally occurring glutamate, but this glutamate is in a bound form that doesn't cause adverse effects. Additives containing free glutamate or free glutamic acid are the problem. Choose meat, poultry, seafood, beans and other protein foods that don't contain additives to avoid MSG. Avoid foods containing added enzymes, protease, whey protein and soy protein.
Dairy Products
Cheese naturally contains some MSG. Low-fat milk and low-fat dairy products are often made with added milk solids, which could contain MSG, as can milk products that have been ultra-pasteurized, including shelf-stable milk cartons, or fermented, such as yogurt. Your best bet for dairy products without MSG is whole milk, although some types of full-fat dairy products, such as premium ice cream made with only whole-food ingredients like milk, cream and sugar, may also be free of MSG.