Checking labels and paying close attention to ingredients is a way of life if you have a sensitivity to food ingredients or additives. Monosodium glutamate reportedly causes a cluster of symptoms in sensitive individuals, although it has not been proven that MSG is the cause. Some people report experiencing headache, numbness, chest pain and sweating after eating foods containing MSG. If that describes your situation, it's best to know what foods contain MSG so you can reduce your exposure.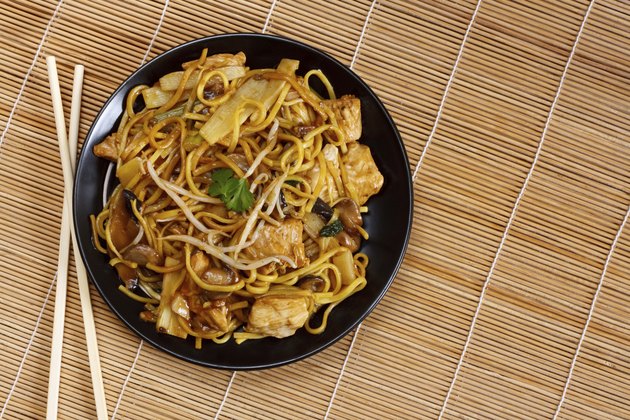 It's Everywhere
Perhaps the most well-known use of MSG is in restaurants that serve Chinese food. However, the truth is, MSG is found in a variety of processed, packaged and restaurant foods, so it's not exclusive to Chinese restaurants. MSG is added to food to enhance its flavor, so you can imagine its abundance in the American food supply. In addition, MSG occurs naturally in certain foods, so you might need to avoid those types of foods also, if you're particularly sensitive.
Packaged And Processed Foods
Potato chips, frozen dinners, cold cuts, gravies, ranch dressing, salty flavored snacks, you name it; any of these items can contain MSG. Because MSG is added to so many packaged and processed foods, it is nearly impossible to list them all, let alone remember them on your next shopping trip. Keep your guard up and read food labels to check for suspect ingredients. Ingredients containing MSG may be listed as hydrolyzed protein, autolyzed yeast, glutamic acid and yeast extract. Fermented packaged foods are such as soy sauce also culprits.
Restaurants
Before you bite into that fast food burger or fried chicken, know that these foods can contain MSG. Fast-food restaurants commonly use MSG to enhance the flavor of anything from chicken nuggets to the seasoning used on some french fries. Even dine-in restaurants may use MSG to flavor food. Some restaurants advertise "No MSG" on their menu. If it's not mentioned, inquire before ordering.
Other Possible Culprits
Some foods contain free glutamate -- formed from the breakdown of protein -- which can combine with free sodium and create MSG. If you're particularly sensitive you might need to avoid foods with naturally-occurring MSG. These foods include potatoes, peas, tomatoes and tomato juice, mushrooms, grapes, grape juice and other fruit juices, as well as cheeses such as Parmesan and Rocquefort. Assess your tolerance first; you wouldn't want to cut out otherwise healthy foods such as mushrooms, grapes and tomatoes unnecessarily.