Meal planning makes your week much easier — but you may not see it that way if you've never tried your hand at it. While creating your first meal plan can be intimidating, committing to one day a week of researching recipes, writing lists and going shopping can save you time, money and even help you gain control over your diet.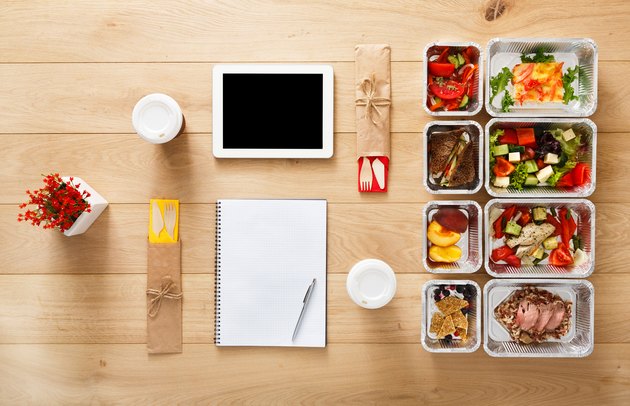 While all of the steps required to make your meal plan might seem overwhelming at first, rest assured that it gets easier as you get used to the process. Eventually, you'll discover some of your go-to easy-to-prep meals, nail down a grocery list that you're shopping from regularly and become a pro at chopping vegetables.
How to Start Meal Planning
When you're on a quest to create your first meal plan, ask yourself one simple question: What do you — or your family — like to eat?
"A good rule of thumb is to start by compiling a short list of foods that you like to eat that can be made in batches," says Celine Beitchman, director of nutrition for the Institute of Culinary Education. Beitchman recommends dishes that are easy to cook in big batches and are versatile enough to be paired with other easy-to-prep foods. Think: mushroom burgers, stewed bean dishes and marinara sauce.
If you're meal planning for a family, don't forget to include everyone else in the conversation. "You have to consider what every family member likes and doesn't like, and how much they eat from day to day," Beitchman says. "Try to include everyone's tastes." By asking for everyone's preferences, you'll cut down on any potential complaining after you've already shopped for and prepped the majority of the food for the week.
Now, ask yourself a few more questions:
How many meals do you need? For example, do you plan to eat every meal at home throughout the week or do you have previously scheduled dinner date or office lunches?
Do you want to eat leftovers? Think about whether you'd like the extras from dinner to double as your lunch the next day.
How much time do you have to cook your meals? While you can plan to make dinner from scratch every night, cooking meals that can be frozen on Sunday and reheated throughout the week is your best time-saving bet.
Step 1: Inventory Your Kitchen
If you're making a meal plan on a budget, it's particularly important to inventory your kitchen before you do anything else, recommends Philadelphia-based sports dietitian Kelly Jones, RD. Make a list of all the protein, starches and produce you already have in the refrigerator, pantry and freezer. "This way, you'll be less likely to let items you already have expire or spoil," Jones says. "Your grocery list will likely be a lot shorter since you only have certain items to purchase."
From there, people who are on a budget should check into the weekly sales at the local grocery store. Make a list of the ingredients that are on sale, and look into recipes that use those particular items. If you want to take it one step further, look for coupons to stock up on some of your favorite healthy ingredients.
Once you know what foods you're definitely using in the weekly meal plan, take into consideration the time of year and what's in season. After all, a winter meal plan will be much more likely to feature hearty soups, stews and casseroles while a summertime plan can take advantage of in-season produce as well as focus on meals that don't require turning on an oven in an already warm house.
Step 2: Choosing the Meals
Here's the fun part of meal-planning: figuring out what you're actually going to eat this week! Take that list you made of recipe favorites and plug them into the weekly calendar where they feel most appropriate. From there, fill in the rest of the meals by doing a little research. You could either crack open those cookbooks or search through LIVESTRONG.com's recipe database.
If you're using a meal plan to help your weight loss efforts, you've made a good choice! Meal planning is associated with a healthier diet and a decreased risk of obesity, a February 2017 study in the International Journal of Behavioral Nutrition and Physical Activity found. Find weight-loss-focused meals by searching through our recipe database or your cookbooks for options that fit the bill, whether it's low-calorie, low-carb, low-sugar or high-protein.
Before you add a recipe to the meal plan, take a moment to think about whether it works for that night. For example, if Tuesday evening is filled with sports practices or late meetings, ensure that you're choosing a recipe for that day that can be whipped up in 15 to 30 minutes or less if you've decided to cook it that day. Once you have an entrée penciled in for a particular day, don't forget to round out the plate with side dishes, such as salads or other greens, as well as healthy whole grains.
If you have busy days coming up, don't forget to pencil in a few grab-and-go snacks. Reach for whole fruit, chopped fresh vegetables such as celery, carrots and cucumbers, whole-grain crackers, low-fat deli turkey slices and nuts, The Centers for Disease Control and Prevention (CDC) suggests.
Step 3: Grocery Shopping
Once you have the week filled up with meals, make a list of the ingredients you need and head to the grocery store. Arrange your grocery list in the order you walk through the grocery store to avoid zig-zagging back and forth, which wasted both time and energy.
If you have room in your budget, add a few pantry basics to your cart each time you shop. By building up the shelf-stable staples in your kitchen, you will be able to meal plan more quickly and cut down on costs in the future.
"I always have onions, garlic and tomatoes on hand," says Beitchman, who also recommends stocking up on quick-cooking grains and beans, such as quinoa, whole-wheat couscous, lentils and split peas. They're fast, versatile and inexpensive, too. "Be sure you always have extra-virgin olive oil and a nice versatile vinegar, like red or white wine vinegar, for cooking with and making vinaigrettes in a flash."
Other healthy kitchen staples to stock up on include low-sodium chicken or vegetable broth for making soup, nuts and seeds for snacks and garnishes and, healthy cooking oils such as canola or olive oil, frozen fruits and vegetables as well as dried herbs and spices. Always make sure to read nutrition labels to make sure you're getting a high-quality product.
Step 4: Prepping the Meals
For some people, making a meal plan just requires picking recipes, making a list and going to the grocery store. For others, it means doing prep in advance, such as browning meat or chopping vegetables, to cut down on the prep work that you have to do on the day you're cooking the meals. Others go even further to prepare the entire meal, divide it up into portions and freeze it to eat later in the week. The right choice for you depends solely on how much energy you have on your meal planning day and how much time you have to cook during your meal prep day.
If you want to get a head start on preparing your food, a few simple tasks will help make your meal plan that much more successful:
Cook the whole grains and legumes. Whole grains are healthier than their refined counterparts, but they take much longer to cook. Prep them in advance for easy meals later in the week.
Marinate proteins. Give your meals an extra boost of flavor by soaking chicken or beef in a marinade about a day before you want to eat it. Seafood needs just 15 to 60 minutes of marinating before it's ready to cook, according to Consumer Reports.
Chop fruits and vegetables. Put each type of chopped fruit or vegetable in its own air-tight container to use throughout the week.
When you're preparing meals ahead of time, it's important to properly store the dishes to avoid food safety concerns. Make sure your refrigerator's temperature is set to 40°F or lower.
Cooked ground beef or poultry can keep in the refrigerator for one to two days, according to Harvard's T.H. Chan School of Public Health, while cooked whole meat, fish, poultry, soup and stews can last three to four days. Hard-boiled eggs and chopped vegetables last for up to one week if they're stored in an air-tight container, while cooked legumes store safely for up to five days. Keep leftover casseroles in the fridge for no more than three to four days, while homemade tuna, chicken or egg salad can keep for up to three to five days, according to the USDA.
Making Meal Planning Easier
Even when you have the best intentions, meal planning can seem like a lot on your plate when you're thinking about what to fill your plate with. And if you're overwhelmed by all the logistics, you're less likely to follow through on finalizing and following the meal plan throughout the week.
If compiling recipes seems especially daunting, stick to planning and prepping ingredients instead, recommends Jones. "Choose three starches and three proteins to prep in advance, and then chop and roast vegetables while the starches and proteins are cooking. This way, you can mix and match to build a balanced meal and flavor your food with whatever sounds good once it actually comes time to eat." Plus, if you have sauces or toppings — such as pesto, hummus or tahini — in the fridge, you can use them to flavor meals differently every day. You'll build a satisfying meal and actually look forward to eating what you prepped.
And don't feel like you have to make a meal plan that includes every single meal for every day of the week, Jones says. "I recommend planning Sunday through Thursday and always making double the amount needed so that you can all eat leftovers." Don't hesitate to enlist the help of other people in the household, too. "Have your spouse or oldest child provide you with two meals so that all of the pressure isn't on you," she advises.
Finally, make the meal plan simple by repeating meals every few days, suggests the Academy of Nutrition and Dietetics. It's a smart nutrition strategy to aim for variety in your dishes, especially when it comes to eating multiple colors of produce. However, you can pick just one or two options for breakfast and lunch to rotate throughout the week. This not only makes the whole idea of meal planning less complicated but it also helps you stick with it when you don't have the mental energy to prepare something new to eat.