When it comes to a heart-healthy diet, fish is one essential component. And when it comes to animal protein, it's a better choice than beef, pork or poultry, says registered dietitian LeeAnn Weintraub.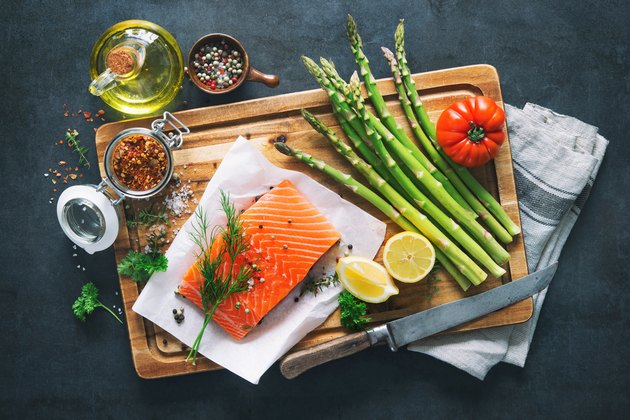 That's because fish is higher in heart-healthy unsaturated fats, while land-based animal protein contains more saturated fats and can raise cholesterol levels. According to an April 2019 study published in Food and Chemical Toxicology, swapping red meat for fish can lead to a longer, healthier life. "Of course, leaner meats and poultry have less fat and saturated fat, but overall, fish is known for having the best heart-health benefits," says Weintraub.
It's also a great source of protein and omega-3 fatty acids, which can help decrease cholesterol and high blood pressure, as well as lowering the risk of abnormal heartbeats and slowing the growth rate of atherosclerotic plaque, according to the American Heart Association (AHA).
Best and Worst Fish for Heart Health
The AHA recommends eating at least two servings of fatty fish a week. This includes eating a variety of the following types of fish:
Salmon
Mackerel
Herring
Lake trout
Sardines
Albacore tuna
King mackerel
Marlin
Orange roughy
Shark
Swordfish
Tilefish
Ahi tuna
Bigeye tuna
These larger fish tend to have more mercury in their bodies, since they've eaten a lot of smaller fish, according to Harvard Medical School. Instead, Weintraub recommends choosing lower-mercury options like shrimp, sardines, crab, chunk light tuna, salmon and cod.
Farm-Raised vs. Wild Fish
First off, what's the difference between farm-raised and wild fish? Farm-raised fish are — like farm-raised cattle or poultry — raised in cages in pods or lakes or in tanks on land. Wild-caught fish are, as the name implies, caught in the wild. The two varieties also differ in sustainability, nutritional content, taste, cost and market options
But unfortunately, there's no definitive answer to this age-old question of which is better for you and the environment. "There are so many factors at play that there is not one simple answer even when comparing farmed versus wild-caught within just one seafood species," Weintraub says.
"While the nutrition of farm-raised fish will be dependent on the diet fed to the fish, the diet of wild fish is not controllable. So we should be looking at the feeding and sustainability practices of fish farming to help decipher among our seafood options."
7 Heart-Healthy Fish Recipes You'll Love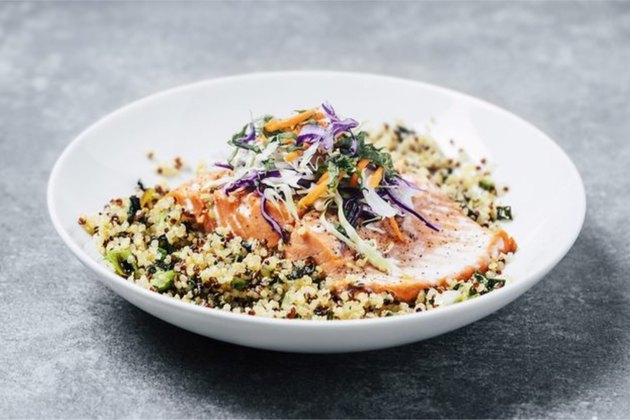 1. Salmon and Broccolette Superfood Salad
Supercharge your lunch or dinner with this colorful "salad" with quinoa, broccolette (a vegetable that's a cross of broccoli and the Chinese kale called gai lan), carrots, tomatoes and of course, grilled salmon.
Other noteworthy ingredients? Avocado. It adds just the right amount of creaminess to the dish, but more importantly, it amps up the nutritional value. This fruit is loaded with healthy unsaturated fats, dietary fiber, vitamin C, niacin, folate and vitamin B-6, plus a good portion of vitamins E and K. And don't overlook the addition of quinoa, a high-protein seed, that's also full of fiber, essential minerals and vitamins.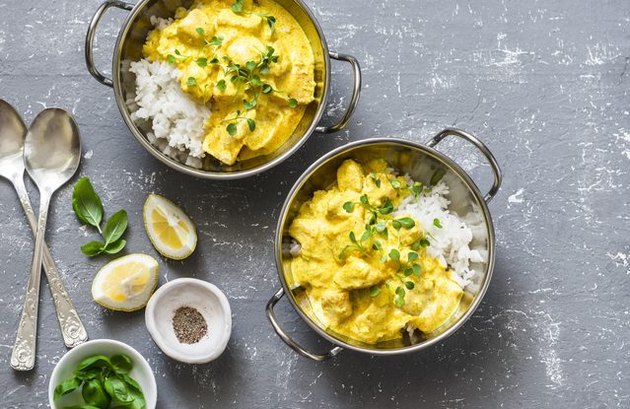 2. Hanoi Grilled Turmeric Fish With Dill and Onion
For a punch of anti-inflammatory power, pair fish and turmeric with ginger, like this Vietnamese dish from Starry Kitchen. Turmeric is widely known for its antioxidant power, as well as aiding in digestion and helping to reduce cholesterol. Additionally, this savory dish includes ginger, another herb that helps reduce inflammation and combat nausea.
3. Sea Bass en Papillote With Mushrooms and Steamed Vegetables
If you haven't tried cooking "en papillote" ("in parchment"), what are you waiting for? Take all your ingredients and put them on parchment paper, create a pocket with the paper and bake it until it's done. Weintraub loves this cooking method and says, "It is a healthy way to bake that actually steams the food that is enclosed in the paper. Plus, it makes for easy cleanup — just toss the paper."
Weintraub is such a fan of the cooking style, she recommends another easy go-to recipe. Layer thinly sliced vegetables, fresh lemon and herbs and your fish of choice en papillote for an easy, flavorful meal that turns out great every time, she says. "The moisture from the veggies and lemon steams the fish, and it is very aromatic," she says.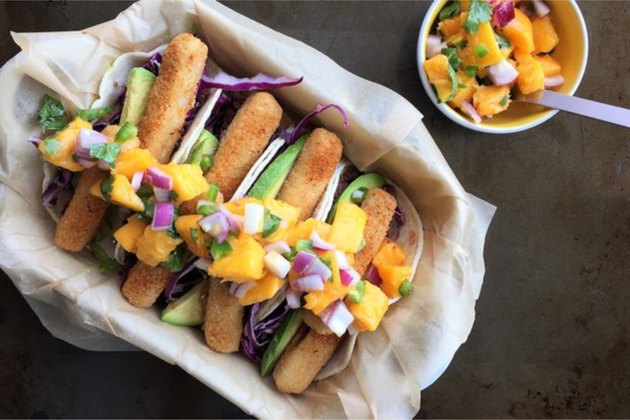 4. Cajun Fish Sticks Tacos With Party Mango Salsa
Fish can quickly become "unhealthy" if you fry it or add heavy sauces. To avoid sabotaging your attempts at a heart-healthy diet, Weintraub recommends preparing fish with flavorful low-fat ingredients like fresh citrus, onion, garlic, low-sodium soy sauce, Dijon mustard and herbs like thyme and dill.
"A combination of these ingredients with a small amount of extra virgin olive oil will make a fantastic fish marinade," she says. You can also try air-frying or baking homemade fish sticks, which eliminate most — if not all — of the oil you might've used in a more traditional fish-fry.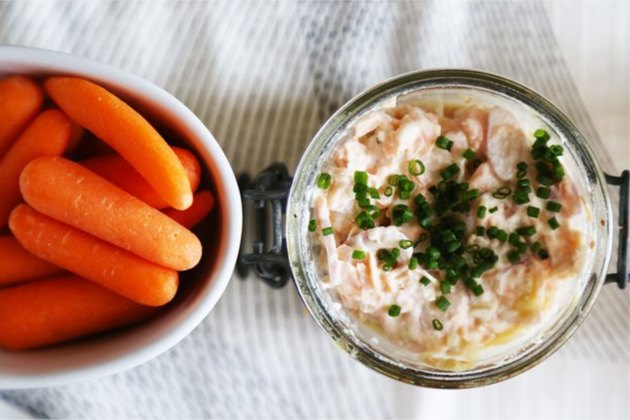 5. Skinny Salmon Rillettes
For those that like to snack, fish is easily adaptable to your go-to recipes, and can even stand in for most meats. Rillettes, a traditional French dish similar to pate and traditionally made with pork, gets a heart-healthy upgrade thanks to steamed salmon fillets.
Opt for light mayonnaise to keep this dish lower in calories, fat and sodium. Then use as a dip for your favorite vegetables or spread it on whole wheat crackers for a mid-afternoon treat that won't wreck your healthy-eating efforts.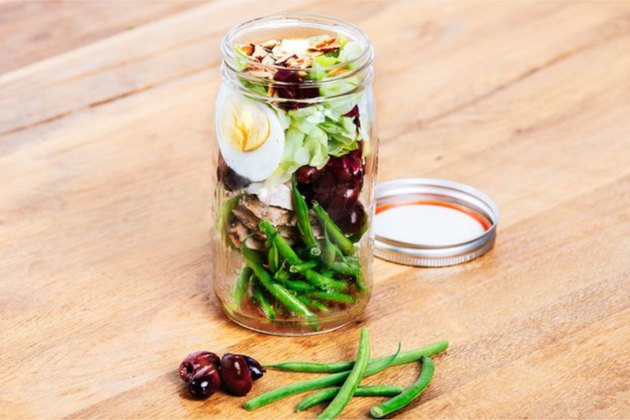 6. Modern Nicoise Mason Jar Salad
While a traditional Nicoise salad is made with tuna, try swapping it for sardines. There are a lot of nutrients found in this fish. In addition to a slew of minerals and vitamins, just 3.45 ounces of sardines provides more than your recommended daily dose of omega-3 fats and around 45 percent of your daily value of protein.
And yes, it's true, sardines can be polarizing when it comes to taste and smell. So if you're on the fence about them, Weintraub suggests pairing the salty fish with olives, vinegar, tomatoes, peppers, preserved lemon, potatoes, fennel and garlic. "I think the key to sardines is enjoying them with many other flavorful ingredients so the fish isn't too overpowering.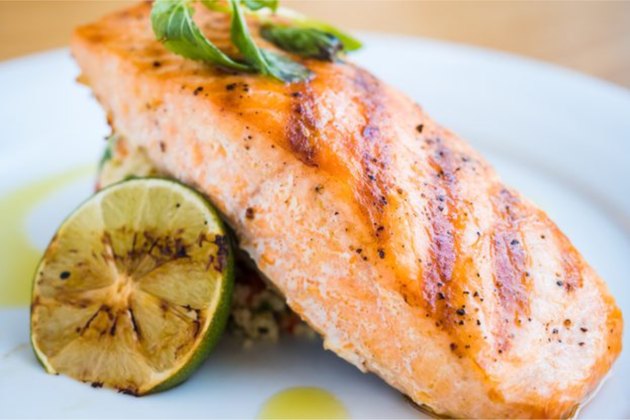 7. Grilled Sweet-n-Spice Salmon With Rice
Weintraub's favorite way to prepare and eat fish? Pan sautéing it first before finishing it in the oven. "I think this is a nice way to crisp the skin and get the fish to the right temperature without drying it out," she says. "I love the simple seafood in Greece that has lemon juice, olive oil, salt and pepper."
No matter what your flavor preference, fish is arguably as adaptable as chicken to flavor and ingredients. Focus on adding spices, opting for Mediterranean influences like lemon juice and olive oil, and you'll have no problem incorporating more, healthy fish recipes into your weekly diet plans.