There are two important steps that come between stocking your home with healthy foods and enjoying those items at mealtime: prepping and cooking them. While your kitchen is likely already equipped with the basics like a sharp chef's knife, cutting board and pots and pans, there are several other gadgets that can transform your groceries into nutrient-dense meals and snacks while also eliminating unnecessary additives.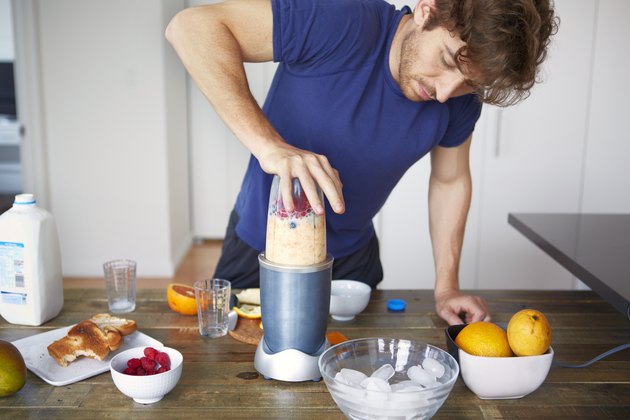 Here are eight kitchen tools you might not already own but that dietitians and healthy-cooking experts believe are essential for boosting the quality of your diet.
1. Dutch Oven
Though hefty in weight (and sometimes in price), investing in this kitchen essential is well worth it, says Sonja Overhiser, recipe developer behind A Couple Cooks and co-author of the cookbook "Pretty Simple Cooking."
Made of cast iron with a porcelain enameled exterior, a Dutch oven retains heat well, making it ideal for cooking healthy-eating staples like soups, stews and roasts.
2. Herb Saver
Not only are fresh herbs natural flavor boosters, they've also been shown to help fend off diseases like diabetes, heart disease, cancer, Alzheimer's and more. But when you only need a little at a time, it's disheartening to watch them wilt in your refrigerator.
Enter the herb saver. "Fresh cilantro that's stored in a plastic bag wilts within a day, but lasts weeks in the refrigerator when stored in an herb saver," Overhiser says. Having access to fresh herbs in your fridge means you'll be able to incorporate them into your meals in a variety of ways, such as sprinkled on roasted veggies, blended into smoothies and mixed into guacamole.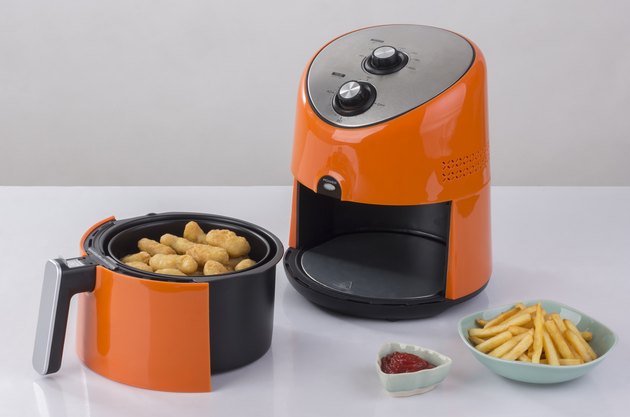 3. Air Fryer
Mary Ellen Phipps, RDN, of Milk & Honey Nutrition, says that the air fryer has recently become her favorite healthy-cooking appliance in the kitchen. "It's like a combination between a microwave and toaster oven," she says.
The device uses hot air and just a tiny bit of oil to cook food — including salmon, steak, veggies and, of course, french fries — quickly and with a fraction of the fat and calories.
4. Handheld Milk Frother
Coffee-shop concoctions aren't only loaded with fat, calories and sugar, they're also brimming with preservatives, thickeners and emulsifiers (i.e., stuff your body doesn't need).
With a handheld milk frother, you can make fluffy cloud-like milk to pour over your coffee or espresso for a healthier sip without all of the added junk, Phipps says. Bonus: You'll save a bundle and don't have to change out of your PJs to get your caffeine fix.
5. Food Processor
"I've had the same food processor for a decade and am still finding new ways to use it," says Therese Bonanni, RDN, nutritionist at Navesink Wellness Center. Examples include chopping veggies, grinding oats into flour for baking, making homemade hummus, pesto or white bean dip, combining ingredients for energy balls, sorbet, smoothies and much more.
Another great use you might not have thought of? "I often use my food processor to grate large blocks of cheese, which is better than buying pre-shredded cheeses that often contain mold inhibitors, such as the anti-fungal natamycin," Phipps says.
6. Handheld Strainer
The humble handheld strainer is surprisingly versatile. "I use the strainer to rinse and sort lentils, rice and quinoa," Bonanni says. "Rinsing removes natural plant defense compounds that can otherwise make certain legumes and beans taste bitter."
You can also use the strainer to rinse a handful of grapes or berries (waiting to wash them right before eating helps them last longer) or veggies before tossing them into an omelet.
7. Instant Pot
The Instant Pot garners a lot of credit for speedily cooking homemade meals, but there's another benefit you may not be aware of: It preserves more nutrients in food compared with other methods, such as steaming or baking, according to a 2007 study published in the Journal of Food Science.
This may be because food is actually cooked at a lower temperature (usually around 250 degrees Fahrenheit) in a pressurized pot, and it cooks quickly so there are fewer opportunity for nutrients to leach out during the cooking process, says Megan Gilmore, the blogger behind Detoxinista and author of "The Fresh and Healthy Instant Pot Cookbook."
8. Immersion Blender
With the press of a button, this handheld gadget quickly purees foods, which can help you make healthier versions of some of your favorite eats. You can also grab the multitasking tool to make pesto, vinaigrette for salads, smoothies and even homemade baby food.
"I like to add a potato or can of beans to soup and use the immersion blender to create a lower-fat meal that still has that satisfying, creamy texture," Bonanni says.