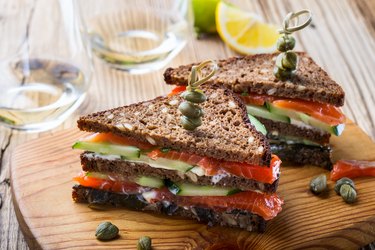 Quick, easy and portable, there's no doubt that sandwiches are convenient (and perfect for when we've got cooking fatigue). But while you can stack a PB&J or a turkey club in five minutes flat, let's be honest — these sandwich staples don't always satisfy your hunger.
To stave off the stomach rumbles, a sandwich must be robust enough to stand alone as a proper meal. That means it should supply a balance of protein, fiber and healthy fats. These six healthy sandwich recipes pack more than 20 grams of protein and check all the boxes for a happy belly.
1. Smashed Chickpea Club Sandwich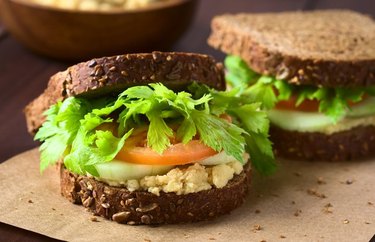 ‌Calories:‌ 524
‌Protein:‌ 21 grams
With healthy helpings of red onion, cucumber, microgreens and tomatoes, this high-protein sandwich will easily help you meet your daily veggie target. Smashed chickpeas — which provide a protein punch and gut-friendly fiber (17 grams per serving) — round out the satiating sandwich filling, guaranteed to keep your appetite in check until dinner.
Meanwhile, pantry staples like a splash of lemon juice and a drizzle of olive oil offer a ton of taste.
2. Lightened-Up Chicken and Fig Sandwich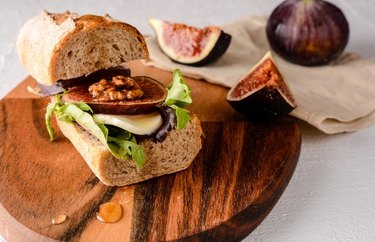 ‌Calories:‌ 427
‌Protein:‌ 40 grams
This beautifully balanced baguette with a balsamic reduction may seem fancy (think: Parisian bistros), but it's a breeze to make (literally five minutes from prep to plate). Fresh figs and chèvre, a cheese made from goat's milk, supply the sweet and savory factor while baby spinach lends an extra layer of texture and a host of nutrients. Use rotisserie chicken to save more time.
3. Rainbow Sandwich Pinwheels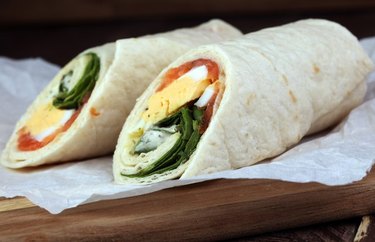 ‌Calories:‌ 438
‌Protein:‌ 26 grams
Stuffed with hard-boiled eggs, cheddar cheese and creamy avocado, these simple sandwich rolls deliver all the healthy carbs, fats and protein you need in one palate-pleasing package. And with the contents neatly wrapped in a whole-wheat tortilla, these protein-packed pinwheels are practically spill-proof and ideal for grab-and-go lunches.
4. Florentine Grilled Cheese Sandwich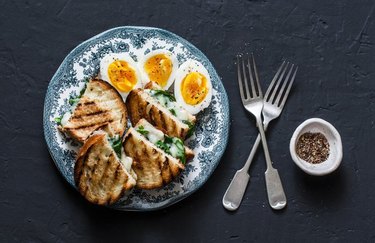 ‌Calories:‌ 439
‌Protein:‌ 28 grams
There's nothing like an ooey-gooey grilled cheese to stir up care-free childhood memories. The classic comfort food gets a grown-up upgrade in this savory sandwich thanks to the complex, nutty notes of Gruyere cheese paired with poached eggs (melty cheese combined with runny yolk = next-level gooeyness).
5. Smoked Salmon and Caper Sandwich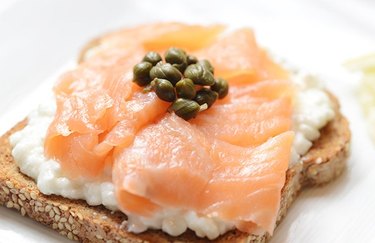 ‌Calories:‌ 279
‌Protein:‌ 33 grams
Just four simple ingredients stand between you and this satiating smoked salmon sandwich, which serves up a slew of heart and brain-supporting omega 3s. A healthier twist on lox and cream cheese, this high-protein sandwich sacks the starchy bagel for a slice of fiber-rich whole-grain toast and cans the cream cheese for high-protein, low-calorie cottage cheese. That means you'll still get the flavors you love but with more nutritional value.
6. Black Bean Melt With Slaw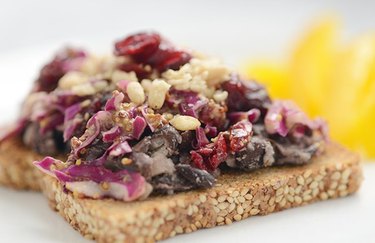 ‌Calories:‌ 455
‌Protein:‌ 32 grams
Looking for a way to use that can of black beans in the back of your pantry? Sweet honey, tart cranberries and savory Swiss cheese combine to create a feast for the senses in this mouthwatering black bean melt that boasts 32 grams of protein. Shredded red cabbage made into a succulent slaw with red wine vinegar and mustard adds great crunch.