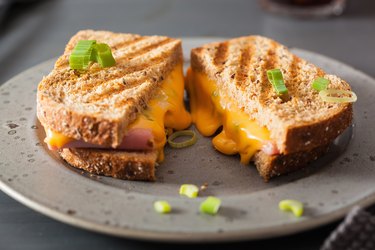 Nothing spells comfort like a classic grilled cheese sandwich. While the thought of ooey-gooey American cheese and buttery bread may make you all warm and fuzzy inside, the truth is these ingredients don't provide much nutritional value.
But you don't have to give up on grilled cheese just yet: "With a few modifications, your favorite childhood sandwich can be a healthy part of your diet," dietitian Laura Burak, RD, CDN, tells LIVESTRONG.com.
These six geared-up, good-for-you grilled cheese recipes still hit the spot like your old-fashioned sandwich but are packed with protein (19 grams or more) and other nutrient-dense foods to keep you full longer.
1. Florentine Grilled Cheese Sandwich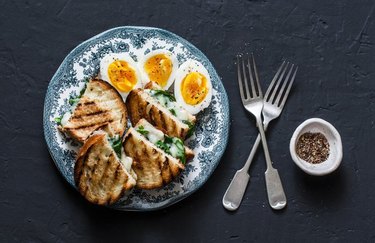 ‌Calories:‌ 439

‌Protein:‌ 28 grams
Gruyere cheese replaces American and gives this staple grilled sandwich a gourmet makeover.
"The spinach provides a boost of super greens which in turn ups the nutrition factor in this sandwich," Burak says. But if you'd rather munch on romaine, kale or arugula, that's fine too. "Any greens will provide extra vitamins, minerals, antioxidants and fiber," she says.
Incorporating an egg increases the protein in the sandwich (to 28 grams!), which will slow digestion and keep you fuller longer, according to Burak. And to top it off, the use of whole-grain bread in place of the enriched white stuff boosts the fiber and vitamin B content.
2. Grown-Up Grilled Cheese With Basil Aioli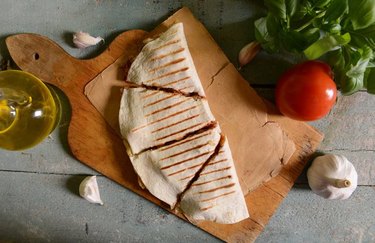 ‌Calories:‌ 236

‌Protein:‌ 21 grams
This grown-up grilled cheese will keep kids happy but is also sophisticated enough for an adult palate thanks to the addition of flavorful basil aioli.
Instead of the traditional thick and caloric bread, this savvier sandwich swaps in a high-fiber wrap to create a healthier version of the comfort food while part-skim cheese and Greek yogurt cut the calories and still provide the crowd-pleasing creaminess factor, Burak says.
Sneaking in fresh baby spinach and juicy tomatoes dials up nutrients and fiber and adds hearty volume to your sandwich. The cherry on top: prep and cook time only take a total of 10 minutes.
3. Turkey and Green Apple Grilled Cheese Sandwiches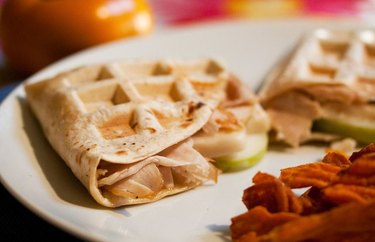 ‌Calories:‌ 385
‌Protein:‌ 42 grams
"By cutting down on the portion of cheese and adding in turkey, this sandwich becomes a lighter version of a traditional grilled cheese with fewer calories, less saturated fat and more protein," Burak says.
Packing more protein on your plate is linked to improved satiety, less body fat and more preserved lean muscle during weight loss, according to a November 2014 study in ‌Nutrition & Metabolism‌‌.‌ And this sandwich serves up a whopping 42 grams (that's only 9 grams short of the daily recommended protein intake for a 40-year-old active woman weighing 140 pounds).
In addition, Granny Smith apple slices not only pump up this savory sandwich's volume and fiber factor, but also give it a hint of sweetness, Burak says.
4. Grilled Cheese Sandwiches With Avocado, Arugula and Fried Egg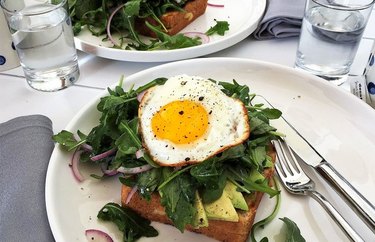 ‌Calories:‌ 563
‌Protein:‌ 20 grams
"The combo of heart-healthy olive oil, avocado and eggs bring this version of grilled cheese to a whole new nutrition level," says Burak, adding, "the filling protein and fat from these three powerhouse food staples will keep your body satisfied whereas a plain grilled cheese may not."
Top these healthy ingredients on whole-grain bread, and you get even more bang for your nutritional buck. Whole grains contain a gamut of good-for-you nutrients including dietary fiber, which may help reduce your blood cholesterol levels and your risk of heart disease, obesity and type 2 diabetes, per the USDA.
Plus, they're bursting with B vitamins which are mandatory for a healthy metabolism and nervous system.
5. Cauliflower Grilled Cheese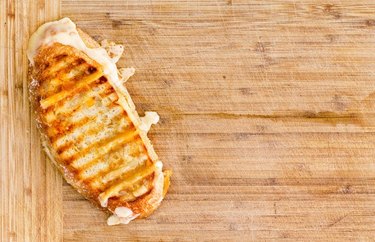 ‌Calories:‌ 311
‌Protein:‌ 19 grams
This souped-up sandwich supplies triple the cheesiness — mozzarella, parmesan and cheddar — for three times the gooiness.
Made with cauliflower bread, this tasty twist on grilled cheese proves that you can still consume your classic comfort foods and stick to a low-carb diet. By ditching Wonder Bread for the cruciferous veggie, you slash a slew of carbs and calories, Burak says.
And, at the same time, you add a heap of healthy nutrients. Vitamin-rich and versatile, just one cup of raw cauliflower contains 57 percent of your daily value of immune-boosting vitamin C.