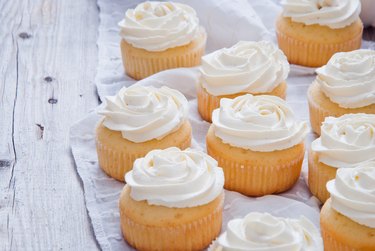 There are few indulgences as satisfying as a slice of cake or a holiday cookie covered in buttercream frosting. If you're trying to make stiff buttercream icing for piping roses, ruffles or other shapes, here's a stiff buttercream recipe along with some tips that can help.
Stiff Buttercream Recipe
The American Egg Board (AEB) lists a recipe for buttercream frosting. For this stiff buttercream recipe, you will need:
1 pound or 4 cups of powdered sugar, sifted
5 tablespoons of water
1/2 stick or 1/4 cup of butter at room temperature
1 egg yolk
1 teaspoon of vanilla extract
Follow these steps to make stiff buttercream icing for piping roses or other shapes:
Cook the egg yolk with some sugar: Put 3 tablespoons of the powdered sugar, 2 tablespoons of the water and the egg yolk in a saucepan and stir until smooth. Cook the mixture over medium heat. Stir it constantly, until it starts to bubble.
Let it cool: Take the pan off the heat and let it rest for at least 15 minutes. The mixture should cool down to room temperature so that it doesn't melt the butter when you add it in, because that will soften the frosting.
Beat the frosting: Beat the butter using the beater's high speed setting until it is smooth. Add 2 tablespoons of water, 1 cup of the powdered sugar and the sugar and egg yolk mixture. Gradually add the rest of the powdered sugar. If required, you can add 1 teaspoon of water at a time to adjust the consistency. Once the frosting reaches a consistency that is thick enough to spread, add the vanilla and beat it until it is smooth.
Add colors and flavors (optional): The AEB says you can flavor the buttercream frosting with extracts or lemon or orange zest, or add food dyes to the frosting to give it color.
According to the USDA, a 2-tablespoon serving of buttercream frosting provides 140 calories, 19 grams of carbs, 7 grams of fat and no protein. Given that it has a lot of sugar and is very calorie-dense, it is best enjoyed occasionally, in limited quantities. If you're willing to experiment with a healthier alternative to buttercream frosting, try our Low-Sugar Sweet Potato Chocolate Frosting.
Adjusting the Buttercream Frosting's Consistency
Getting the consistency of frosting right is tricky. On the one hand, you need stiff buttercream icing for piping roses, ruffles or other shapes; if the icing is too soft, it won't hold its shape and the ruffles and flowers will either droop or melt and slide right off the cake. On the other hand, if the icing is too stiff, it will be difficult to pipe and the edges of the ruffles and roses will start to crack.
According to the James Beard Foundation, you may not need to use all the sugar specified in a recipe; in the last stages of beating the frosting, you should add sugar and water gradually, adjusting them until you reach the desired consistency. Adding sugar makes the frosting stiffer whereas adding water softens it. You can test the frosting and adjust it by adding more sugar or water as required.
However, be careful not to beat the frosting too much. This could cause air bubbles to form in the frosting and when they burst they could make your flowers and ruffles look uneven.
Be warned though, sometimes even if you do everything right, hot or humid weather could sabotage your frosting, causing it to be softer than you would like.