Buttercream frosting is one of the few food products for which healthy ingredient substitutions can produce undesirable results. Stick butter and solid shortening are necessary to produce its characteristically thick texture, and a lot of powdered sugar adds stiffness to the frosting, making it suitable for decorative borders and add-on art, as well as to cover the cake. Even with these ingredients, however, it can still be difficult to get the consistency of buttercream frosting just right. Creating a stiff frosting depends on your environment, the frosting ingredients and a few frosting tricks.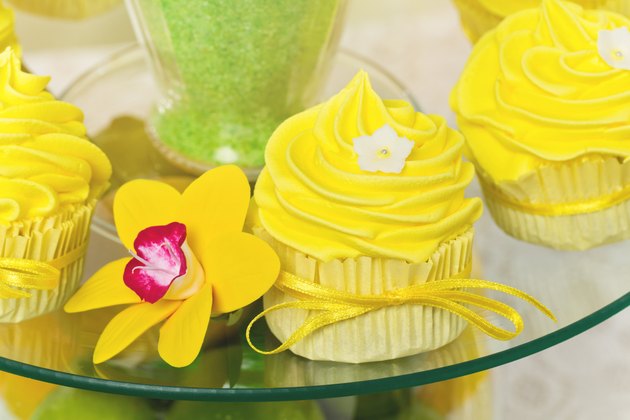 Step 1
Control heat and humidity levels in your work area. If you are planning to make buttercream frosting on a hot or humid day, turn on an air conditioner or room dehumidifier or make the frosting early in the day. While stick butter has a melting point of about 85 degrees F, it starts to soften in temperatures above 60 degrees F, so the cooler the room, the firmer stick butter will be. Humidity adds moisture to the frosting, which keeps it from getting stiff
Step 2
Adjust ingredients when you cannot control the environment. Reduce or eliminate butter by substituting 1/2 cup of solid shortening for each stick of butter. Increase the amount of powdered sugar by one to two cups.
Step 3
Add cornstarch to absorb excess moisture and help get the frosting stiff. Start with 2 to 3 tbsp. and add up to 1/2 cup if necessary.
Step 4
Mix buttercream frosting manually or with an electric mixer set to low speed. This prevents air bubbles that can make it difficult to get the frosting stiff.
Step 5
Allow the frosting time to set by making it a day in advance. Refrigerate buttercream frosting in an airtight container, but allow it to return to room temperature before frosting the cake.
Things You'll Need
Air conditioner

Dehumidifier

Cornstarch

Stir spoon

Electric mixer

Container, air tight
Tip
Add about 1/2 tsp. of butter extract to flavor buttercream frosting if make the frosting using only solid shortening.