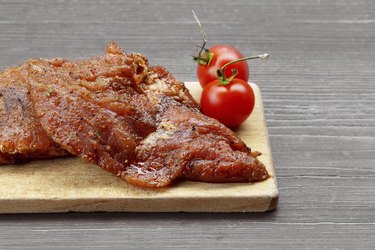 Flap steak is cut from the bottom sirloin and is sometimes call beef loin tip. It is less tender than more expensive steaks, but has a good beef flavor. It is ideal for marinating and needs to be cooked quickly on high heat to medium rare. Cut the cooked steak thinly across the grain before serving. This is the cut of beef that is often used for carne asada. In Hispanic grocery stores, it is often called steak ranchera.
Step 1
Combine the citrus juices in a measuring cup. Add an equal amount of olive oil. Put the juice, oil, spices, garlic and soy sauce in a resealable plastic bag and mix well. Add the flap steak and seal the bag, squeezing out the air. Marinate up to 24 hours in the refrigerator, occasionally turning the bag.
Step 2
Preheat the grill to high heat. Remove the steak from the plastic bag and discard the marinade.
Step 3
Grill the flap steak over high heat about three minutes per side, until the steak is browned on both sides. Use the instant-read thermometer to test for doneness. Insert it from the side into the center of the steak. Cook to 140 degrees Fahrenheit for medium rare. Remove the steak from the grill and allow it to rest for 10 minutes before serving.
Step 4
Slice the steak thinly across the grain. Serve it with salsa, tortillas, hot refried beans, salad and tomatoes.
Things You'll Need
Juice of 1 lime, 1 lemon and 1 orange

Olive oil

2 tbsp. chili powder

1 tsp. dried oregano

1 tsp. ground cumin

4 cloves of garlic, chopped

1/3 c. soy sauce

Resealable plastic bag large enough to hold the meat

2 to 3 lbs. beef flap steak, less than 1-inch thick

Grill

Tongs

Instant-read thermometer
Tip
Make the marinade with other flavors. Use equal amounts of oil and acid, such as a mild vinegar or wine. Add your favorite fresh herbs, garlic or spices. Add 1 tbsp. of brown sugar to the marinade to help the meat brown quickly. If you don't put soy sauce in your marinade, season the steak generously with salt just before grilling it.