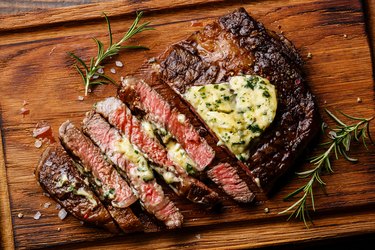 There is no one best way to cook steak. Many different cuts, seasonings and cooking methods can result in a delicious piece of meat. But if you're aiming for a seared crust, a tender and juicy inside, and rich flavor in each bite, cooking steak with butter on the stove top might be your best bet.
Butter Pan-Fried Steak Recipe
The Splendid Table offers a simple and delicious recipe for cooking steak with butter on the stove top. This recipe is designed for large bone-in steaks such as porterhouse, T-bone, rib-eye and New York strip steak. To make this recipe at home, you will need:
1 steak, at least 1 1/2 to 2 1/2 inches thick

(1 1/2 to 2 pounds)

Kosher salt

Freshly ground black pepper

1/4 cup vegetable or canola oil

3 tablespoons of unsalted butter

2 finely sliced large shallots

6 sprigs of fresh rosemary or thyme
Begin by patting your steak dry with paper towels. Next, season it liberally with salt and pepper on both sides. The Splendid Table recommends letting your steak rest after seasoning for at least 45 minutes at room temperature or up to three days uncovered in the refrigerator.
Your pan should be hot enough to make the steak sizzle as soon as you place it in. If the steak starts steaming instead, your pan is not hot enough and your steak is in danger of sticking to the pan instead of forming a crispy, seared crust. According to the Auguste Escoffier School of Culinary Arts, you will know you've hit the right temperature when your oil just begins to smoke.
Place the steak in the pan and reduce heat to medium-high. Begin flipping the steak frequently for about four minutes. This will form a golden crust on both sides without heavily cooking the steak directly beneath the surface.
The Butter Herb Bath
Now, it's time for the butter and herb bath. Add the butter, herbs and shallots to your pan and continue cooking the steak, flipping and basting it with the foaming mixture. Do this until your steak reaches an internal temperature of 120 degrees Fahrenheit for medium-rare or 130 F for medium as determined by inserting an instant-read thermometer into the thickest part of the steak.
Finish by removing the steak from the pan and letting it rest on a platter for five to 10 minutes. According to the USDA, for the first three minutes after being removed from the heat source, the internal temperature of beef continues to stay constant or rise, which, along with cooking, destroys harmful bacteria. Finally, cut the steak away from the bone and cut against the grain into 1/2-inch slices.
According to the Auguste Escoffier School of Culinary Arts, one classic approach of cooking steak is pan frying it first and finishing it in the oven. This ensures that you do not overcook or burn the crust in the pan while allowing the inside of the steak to continue cooking in the oven.