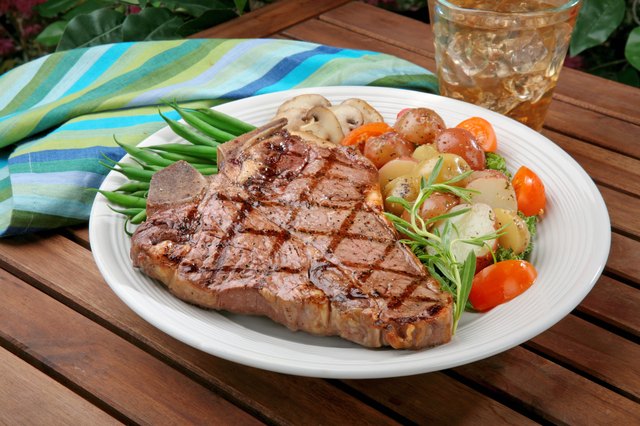 Timing and technique are the keys to grilling a 1-inch-thick T-bone steak to perfection. This thicker cut requires different treatment from a T-bone, for example, 1/2- to 3/4-inch thick. While grilling a thicker steak may be a bit trickier, a benefit is that with proper attention, your steak is less likely to dry out during cooking. To increase your chances for success, start with the best grade steak your budget will allow and a clean grill.
Preparation
Step 1
Purchase your steaks with an eye toward color and the amount of marbling. Look for T-bones with a light cherry rather than deep red color. For the best flavor, get one with a generous amount of marbling. Marbling, or the flecks of white fat running through the meat, relate to its United States Department of Agriculture, USDA, grade of either Prime, Choice or Select.
Step 2
Scrape the grates on your grill to remove any residue, then use a vegetable oil spray to make sure your steaks do not stick when cooking.
Step 3
Remove your T-bones from the refrigerator at least 30 minutes before grilling. Trim fat, leaving a 1/4-inch ribbon around all sides and pat the steaks dry with some paper towels. Grilling your steaks as close to room temperature as possible is important because the colder the meat, the more it will contract when hitting the hot grill and the greater chance it will become tough.
Step 4
Preheat your grill using two temperature settings. If you are using a gas grill, set one side to high and the other to a medium setting, then close the lid for 10 to 15 minutes. If you are using a charcoal grill, stack most of the coals to one side and leave only a single layer on the other. Do not close the lid on a charcoal grill when preheating or when cooking.
Grilling
Step 1
Put your steaks on the hot side of the grill and sear each side for two minutes. Use tongs when flipping the steaks to prevent piercing the meat.
Step 2
Move your T-bones to the medium heat side of your grill and continue grilling. If you like your T-bone medium rare, grill for four to five minutes on each side or until a meat thermometer reads 130 to 140 degrees Fahrenheit. For a medium steak, grill six to seven minutes per side or until a meat thermometer reads 140 to 150 degrees. For a well-done steak, grill about eight to nine minutes per side or until a meat thermometer reads 160 to 170 degrees Fahrenheit.
Step 3
Remove your steaks from the grill, set them on a platter and cover loosely with aluminum foil for about five minutes. This is important to allow the juices to absorb into the meat and helps increase its flavor. Then, season with some salt and pepper and enjoy your meal.
Things You'll Need
Grill scraper

Vegetable oil spray

Paper toweling

T-bone steaks

Tongs

Meat thermometer

Aluminum foil

Salt

Pepper
Tip
For a juicier steak, do not salt before grilling. Salt will draw the juice out of your meat and make it drier.