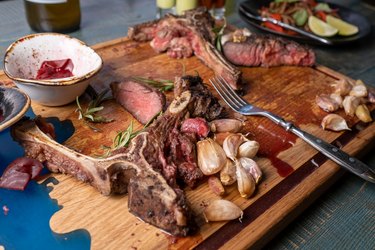 Omnivores can agree that one of life's simplest pleasures is a perfectly cooked steak. But it's pretty easy to overcook your steak, turning your dinner into a lackluster piece of protein. However, there are a few tried-and-true ways to grill a T-bone steak to perfection.
Claudia Sidoti, head chef at HelloFresh, has some tips to help you avoid the heart-breaking experience of overcooked steak. Whether you're new or seasoned behind the grill, these tips will help you master the art of grilling steak.
T-Bone Steak Ingredients
T-bone steak: When purchasing your steak, avoid any packaged meats with tears or liquid in the tray. Make sure the edges of the steak aren't ragged and are firm and cold to the touch.
Salt: Try kosher salt, sea salt or truffle salt for an umami boost!
Oil: For light brushing
Garlic clove: For rubbing the bone.
How to Grill a 1-inch T-Bone Steak
Prep your steak: Remove the steak from the fridge at least 40 minutes before grilling. Spray the meat with oil to make sure it doesn't stick to the grill while it cooks. Then, trim the fat, leaving about a quarter-inch ribbon around the sides.
Add garlic rub: If you have some raw garlic on hand, use it to rub down the bone for some extra flavor.
Preheat your grill: Make sure your steak is as close to room temperature as possible before throwing it on the grill. If the meat is cold, it will become tough. Set one side of your grill to high and the other side to medium. Then, close the lid for about 10 to 15 minutes.
Grill your steak: Lay your steak on the hot side of the grill and sear each side for about two minutes. Consider using tongs when flipping to prevent piercing the meat. Then, move the steak to the medium-heat side and continue grilling.
Decide on doneness: If you like steak served medium rare, grill it for four to five minutes on each side or until your meat thermometer reads 140 degrees Fahrenheit. For medium doneness, grill it for six to seven minutes per side. For well done, shoot to grill your steak for about eight to 10 minutes per side.
Season your steak: Remove your steak from the grill and allow it to rest — this allows the juices to absorb into the meat and enhances the flavor. Season generously with salt and pepper or try a finishing salt here. "I love to squeeze a little lemon over a freshly grilled T-bone," Sidoti recommends.
Serving Your Steak
Steak tastes its best if it's eaten soon after cooking. If you like your T-bone extra juicy, avoid adding salt before you grill your steak, Sidoti advises. Salting in advance draws the juice out of the meat, leaving you with a dry dish.
When it comes to serving your steak, you don't need to add too many spices. "Steaks don't need much seasoning to make them delicious," Sidoti says. If you prefer added flavor, however, she recommends adding chili powder, paprika or garlic powder to the meat for some kick.