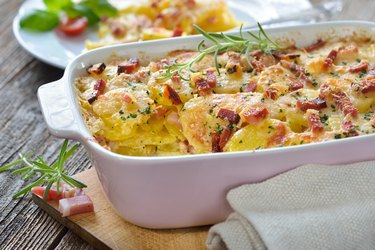 It's no secret that most of us overdo it when it comes to shopping for and prepping a holiday meal. Because let's be honest, a family of three probably doesn't need a 10-pound ham. But hey, it's better to have too much than too little, right?
In the spirit of minimizing waste, try incorporating that leftover ham into quick and easy dishes that the entire family will enjoy. We rounded up five simple and delicious recipes that can be enjoyed for any meal and make your leftover ham the star.
1. Ham, Cheddar and Broccoli Quiche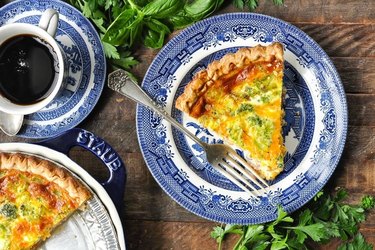 Any type of egg dish comes in handy when you're short on time or low on groceries, and this quiche is no different. You can stick to this specific recipe using your leftover ham or you can swap for any veggies or starches you have on hand. Consider trading the whole milk/heavy cream for low-fat milk to cut back on calories and saturated fat, says plant-based dietitian, Amy Gorin, RDN. You can also add double the veggies for even more nutritional value.
2. Split Pea Soup With Ham
This leftover ham recipe is super easy to follow and is sure to impress any holiday guests you may be hosting — even if it's just your immediate family. This Split Pea Soup With Ham incorporates various vegetables that add extra nutrients and fiber, Gorin says. Because this soup is high in sodium, Gorin recommends using low-sodium broth instead.
3. Leftover Ham and Potato Hash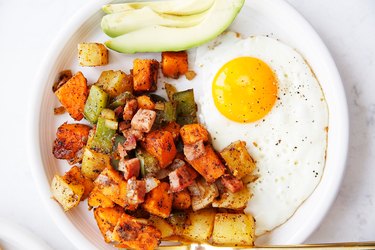 There's so much to love about customizable recipes like this Leftover Ham and Potato Hash. Even though leftover ham is the star, "you can add any other leftover ingredients like sweet potatoes, onions and bell peppers," Gorin says. To make this a complete meal, consider serving alongside freshly cooked eggs and a side of fruit.
4. Turkey and Ham Chef's Salad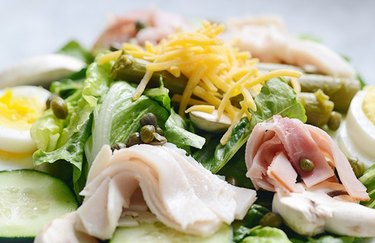 While this salad calls for deli meat, you can swap for your leftover turkey and ham or any meat (or side dish!) left over from your holiday table. It's also a great way to load up on veggies, so pile on as many as you please. You'll get additional protein and fiber if you add beans — just opt for the no-salt-added version, Gorin recommends.
5. Ham, Broccoli and Cauliflower Casserole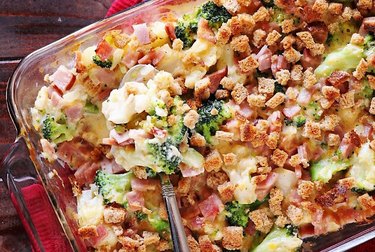 When in doubt, make a casserole, right? This recipe requires very little prep work and the ingredients are simple, too. "I like that you get both cauliflower and broccoli in this recipe," Gorin says. And like all the other dishes, feel free to add even more veggies if you please. To reduce the saturated fat in this dish, Gorin suggests using less butter — particularly in the topping.
6. Egg, Organic Ham and Toast Scramble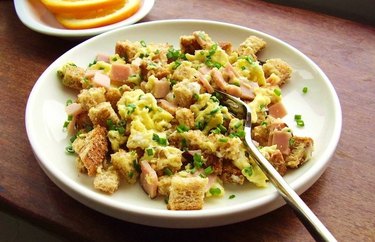 It's the day after your big soiree and you're contemplating what to have as your post-holiday breakfast. That's where this scramble comes in. Grab some holiday ham, fresh eggs and whole-grain bread and mix it all into a bowl-friendly dish that can be topped with your favorite sauces and seasonings. Plus, eating 1 1/2 cups of this scramble gets you 25 grams of protein, so you'll get plenty of energy to start your day.